WESTERN CAPE NEWS - The Easter weekend is traditionally a busy time, with many people moving around the province. Whether you are undertaking a trip, or staying home this year, the Western Cape Government urges extreme caution.
The Western Cape's Covid-19 continues to reflect declines in infections.
However, we must be hyper-vigilant, especially as many people will be traveling, meeting or attending religious services this weekend. I appeal to everyone to wear their masks, wash their hands, and avoid the 3 Cs: close contact, confined spaces and crowded places. Keeping gatherings small, short and outdoors presents the least amount of infection risk.
The elderly remain at high risk of becoming seriously ill and Minister of Social Development Sharna Fernandez has called on residents to protect their elderly loved ones.
"I would like to remind all members of the public that COVID-19 is not on holiday. Before and whilst visiting your loved ones over the long weekend, please take the necessary steps to prevent contracting and spreading COVID-19.
"We do this to protect not only ourselves, but our communities, and especially those who are older and live with high-risk comorbidities. Senior citizens are at greater risk of severe COVID-19 infection, requiring hospitalization or other forms of specialised health services.
"As such, the Department of Social Development (DSD) remains on high alert, and responsive to any potential risk of infections increasing in old age homes."
Schools closed today for the Easter break and Minister of Education, Debbie Schafer has appealed for learners and their families to take precautions.
"Over the last year, we have seen that super spreader events result in a spike of cases, particularly amongst young people. Unfortunately, while learners and staff follow the safety protocols well while they are at school, the attention to these often lapses during social occasions," Minister Schafer said.
Minister of Transport and Public Works, Bonginkosi Madikizela meanwhile has urged residents and holiday makers to abide by the Covid-19 regulations, and the rules of the road while launching the Easter traffic safety plan today.
Minister Madikizela said: "We will be stringently addressing habitual offenders who repeatedly break the law on our roads. As part of a first phase, we have been able to upload records of habitual offenders where vehicles that have 10 or more infringements recorded over the last 6 months will appear. The purpose of the function is to alert the traffic officers through their handheld devices whenever these offenders are sighted through the ASOD sites. This will enable the officer to stop and engage such motorists."
The province will be conducting a number of integrated road traffic operations over this time to ensure safety. I appeal to motorists and drivers to drive safely, keep to the speed limit and to ensure everyone is buckled up. Do not drink and use our roads- whether you are a pedestrian or a motorist.
Make sure you abide by passenger limits in vehicles (100% of licensed capacity for shorter journey and 70% for any journey longer than 200km). Open all windows at least 5cm at all times. Passengers using public transport should wear their masks at all times.
Minister of Community Safety, Albert Fritz meanwhile is urging residents to drink responsibly, should they wish to do so, over the long weekend.
Minister Fritz said, "We have seen over the last year how super-spreader events can take place around socialising, and so we all have to have heightened vigilance and act responsibly.
Liquor Inspectors will be conducting Easter Weekend enforcement operations with heightened vigilance to increase compliance. We urge businesses to follow the health and safety protocols so that we don't allow any space to cause a super-spreader event."
Residents can report license holders who are trading irresponsibly, or contravening their license conditions, to the Western Cape Liquor Authority (WCLA) by calling (+27) 21 204-9805, emailing liquor.enquiries@wcla.gov.za or click here.
Update on the coronavirus and vaccine rollout
As of 13:00 on Wednesday 31 March, the Western Cape has 2 258 active Covid-19 infections with a total of 280 029 confirmed Covid-19 cases and 266 269 recoveries.
A total of 45 960 out of the 53 820 vaccines received to date as part of the Sisonke trial, had been administered by 17:00 on 30 March.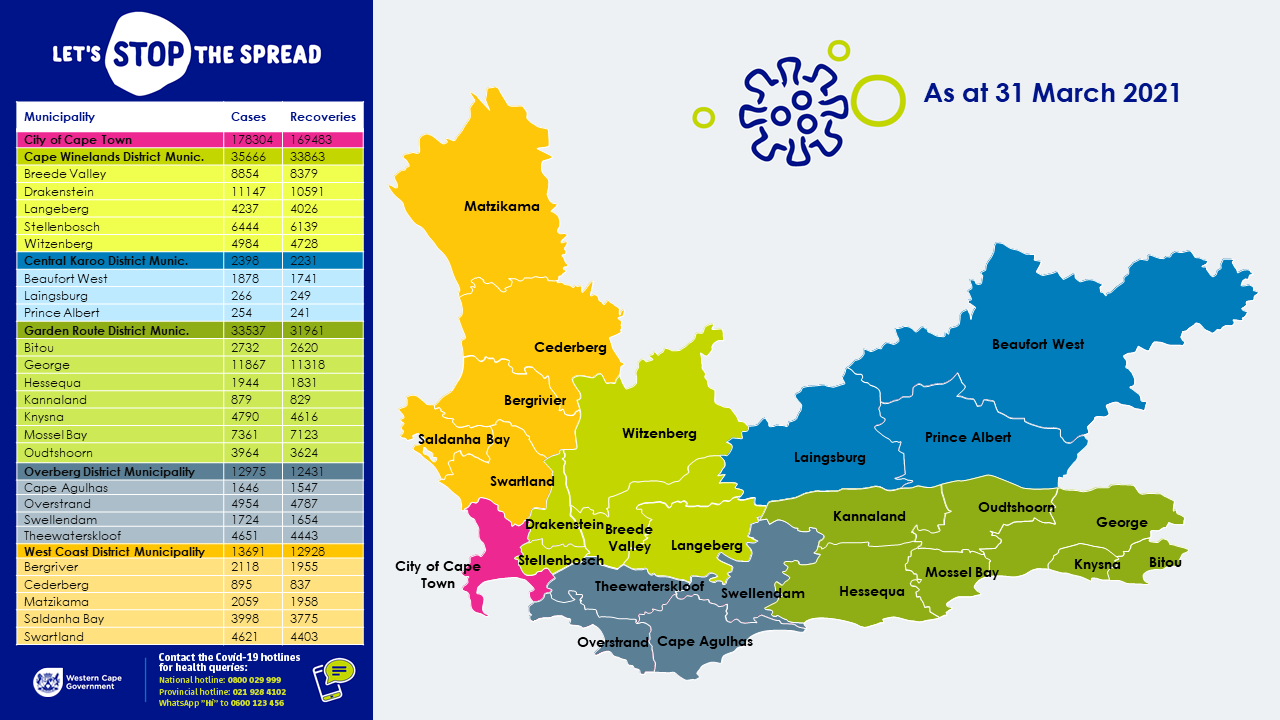 The Western Cape has recorded 9 additional deaths, bringing the total number of Covid-19 related deaths in the province to 11 458. We send our condolences to their loved ones at this time.
Additional data is available on the Western Cape Covid-19 data dashboard which also features active cases per sub-district, active cases per 100 000 and 7-day moving averages. Access the data dashboard here.
'We bring you the latest Garden Route, Hessequa, Karoo news'