Gallery
GEORGE NEWS - Over 400 athletes participated in the third 10 km Avis Van Rental Run2Raise road race to raise money for "blade runner" Ronaldinho Davidson who recently received his prostheses.
Run2Raise is a registered Nedbank Running Club George event taking place annually on Workers Day Tuesday.
Davidson (8) was born with Type II Tibial Aplasia - the absence, partial or mal-formation of the tibia - the weight-bearing main bone in the leg below the knee.
Not to be outdone, Ronaldinho, finished the 3 km fun run event, which attracted over a 100 runners from across the Garden Route. Francois Ras of Barkley Oates Inc, who made Ronaldinho's prostheses that fits onto the blade said they intended the young boy to walk the 3km, but that he impressed everyone by running the entire stretch. "We were hoping that he would complete it walking, but he insisted on running. He ran the whole distance, only stopping occasionally. At the halfway mark we stopped to check that Ronaldinho and the prostheses was okay."
Ronaldinho was clearly chuffed with his performance and enjoyed the day. The cute young blade runner was the centre of attention and his mother Fahima said the event boosted his determination to overcome his handicap. She thanked all the sponsors for making it a most memorable day.
Mike Barkley of Barkley Oates Inc, who sponsored the prostheses and the fitting to the blade, said an Icelandic company is sponsoring the blade. "Össur, whose headquarters are in Reykjavík, developed the blade, and will cover the shortfall in funding."
Elna Schwartz,of Avis Van Rental George, the event organiser, was delighted at the number of runners and spectators at Farm and Fellow Guesthouse and Restaurant at Tramonto in Geelhoutboom. "It is a perfect autumn day. Thank you to all."
Click here for a photo gallery.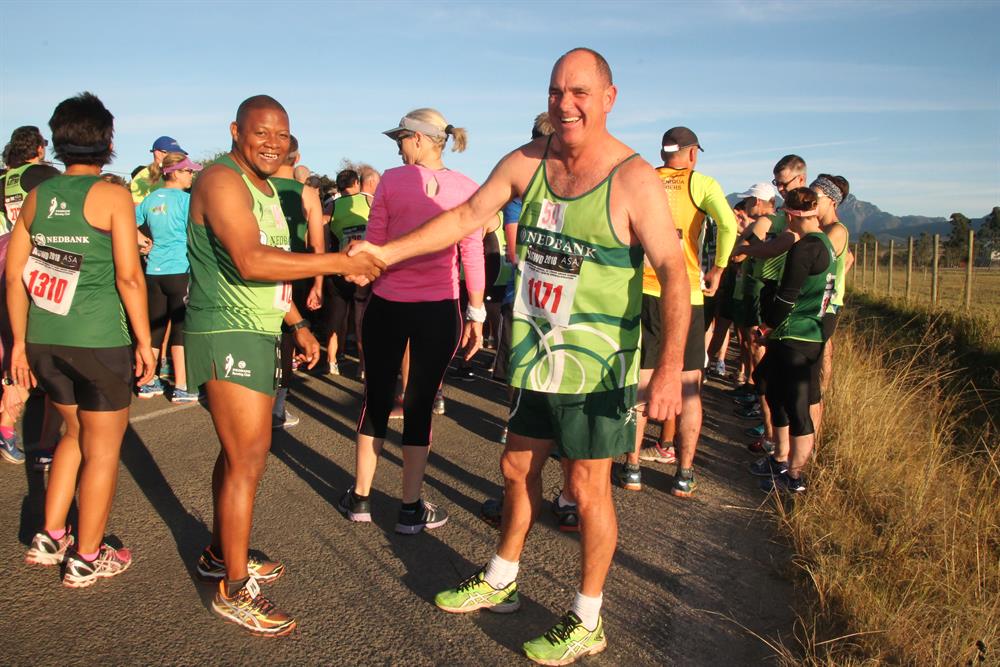 Old acquaintances Petrus le Roux (left) and Peter Deister renew their friendship in front of Tramonto in Geelhoutboom.
'We bring you the latest George, Garden Route news'