Video
GEORGE NEWS & VIDEO - It was not all plain sailing at the launch of the Invest in George initiative at Fancourt Hotel and Conference Centre last Wednesday, 6 March. Members of the audience had many questions, varying from the composition of the audience to questions about George Municipality's new partnership with Wesgro that was announced at the event.
George Municipality, in partnership with Wesgro, launched an updated version of the 'Invest in George' publication. An overview was also given about research that Wesgro has done regarding George. Some of the business and community leaders who had been invited asked why the audience were not more representative of the broader community and later questions were also asked regarding what George Municipality will pay Wesgro for its services.
Investment
While other municipalities like Drakenstein and Saldanha Bay have formal agreements with Wesgro, it appears that George is the only municipality in the Garden Route to have joined forces with them.
In his opening remarks Melvin Naik, mayor of George, said the municipality has decided to invest more in infrastructure. There are plans to upgrade the CBD and the municipality needs partners. He said George also needs jobs.
Cornelius van der Waal, chief research officer of Wesgro, said according to the information set out in the documents, the economic output of George can be favourably compared to that of the Seychelles, and this makes it difficult to understand why someone wouldn't want to invest in George. He named unemployment, especially amongst the youth, as the biggest challenge in George.
From left are Pedro Oliphant (George Municipality); Wesgro Head of Investment James Milne; George Councillor for Strategic Services Iona Kritzinger; George Mayor Melvin Naik; Wesgro Investment Promotions Manager for Special Projects Rehana Boolay and Wesgro Chief Research Officer Cornelius van der Waal.
Tim Harris, CEO of Wesgro, said the formal partnership between George and Wesgro means that the George Invest message can be taken to the world. It has to begin with Cape Town, he said, and after that the other regions like the Garden Route will be linked. Harris said the rest of Africa is George's biggest market and Wesgro plans to bring individual companies to investment sites in George.
Watch a video below:
Questions
Members of the audience had several in-depth questions that varied from alternative energy resources in George to transport infrastructure. Amongst people asking questions were Prof Francois Hanekom, well-known resident and a former director-general of Environmental Affairs and Tourism. He emphasised the importance of community involvement and wanted to know how Wesgro and the business community plan to get the broader community and other sectors, such as environmental groups, involved.
Kassie Karstens, manager of Mediclinc George, said the company wants to invest in George but there are obstacles, and if there is not clarity soon, the opportunity will be lost. "We are ready to build. We can start tomorrow."
Servaas de Kock, sales and marketing manager at Group Editors, asked if there was a specific political agenda with the investment opportunities in George or whether it will be looked at independently.
After the meeting, George Herald asked Naik about the cost of the agreement with Wesgro. "I am not prepared to divulge what George paid Wesgro for their services, but I shall do it at a later stage," he said.
Dr Dennis Farrell, chairman of the George Business Chamber, said while he is excited that there can now be direct engagement with Wesgro about business opportunities in George, to many projects have been identified. One or two out of the 11 must be identified to start with.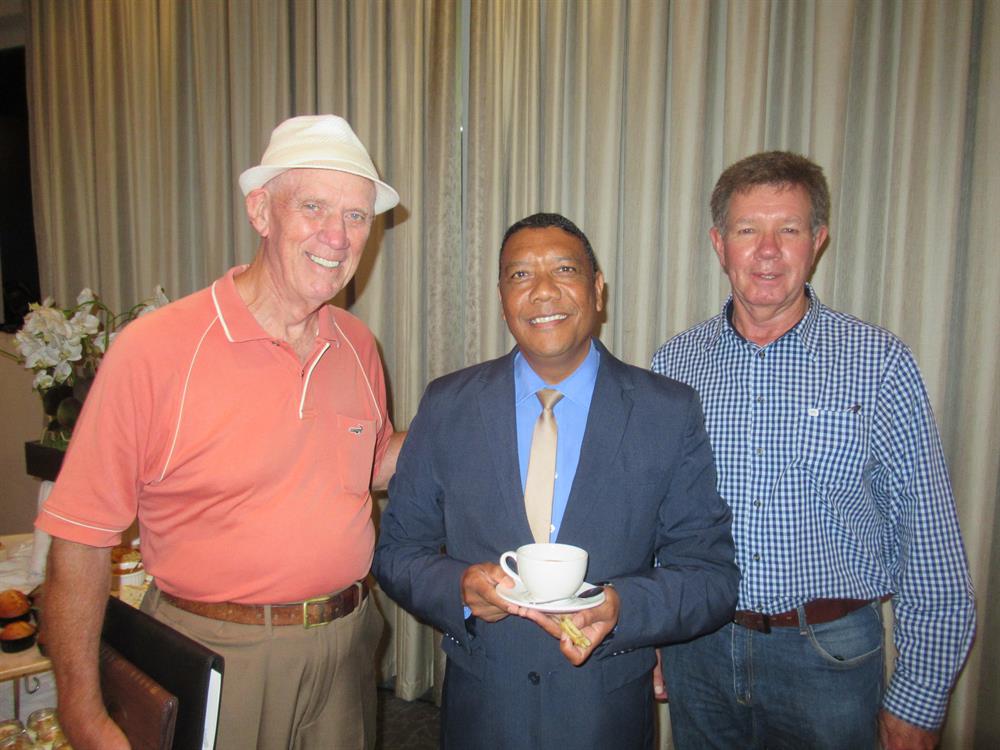 Philip de Vries of Garden Route Film Studios, Melvin Naik, mayor of George, and Dennis Farrel, chairperson of George Business Chamber.
Part of the audience that attended the launch of the Invest in George initiative.
'We bring you the latest George, Garden Route news'