GEORGE NUUS - Sowat R90 000 se dwelms, hoofsaaklik tik, Mandrax en dagga, asook gevaarlike wapens, is binne drie dae van die strate van Pacaltsdorp verwyder.
Volgens Pacaltsdorp-polisie se stasiebevelvoerder, kol. Hans Blaauw, is dit te danke aan die samewerking van die plaaslike polisie, Pacaltsdorp-buurtwag en die Pacaltsdorp-gemeenskapspolisiëringsforum (GPF) tydens 'n misdaadvoorkomingsoperasie verlede week.
Sowat 160 mense is oor die naweek in hegtenis geneem vir verskeie misdrywe, met dwelms altyd êrens in die prentjie.
"Hierdie gesamentlike operasie het sedert April reeds meer as 1 000 arrestasies vir verskeie misdrywe opgelewer. Om misdaad hok te slaan in Pacaltsdorp het ons die gemeenskap se samewerking nodig," sê Blaauw.
Mense wat graag by die Pacaltsdorp-buurtwag of -GPF wil aansluit is welkom om vir die GPF-voorsitter, Isaac Felix by 073 124 1878 te skakel, of die Pacaltsdorp-buurtwag se voorsitter, Charlie Daman, by 065 159 2851 te skakel.
Lede van die Pacaltsdorp-polisie, -buurtwag en -GPF wat saamspan om misdaad vas te vat.
"Die veiligheid van die gemeenskap is ons prioriteit en ons nooi graag inwoners van Pacaltsdorp uit om deel te word van die strukture wat reeds in plek is. Die afgelope naweek is 'n bewys van die suksesse wat ons kan behaal wanneer ons saam staan," het Felix gesê.
Blaauw noem ook dat enigiemand van die gemeenskap met inligting oor kriminele aktiwiteite welkom is om met kapt. Mzwandile Kama by die Pacaltsdorp-polisiestasie te gaan gesels. "Sy deur staan altyd oop en enige inligting sal vertroulik hanteer word," sê hy.
Kama kan by 079 894 1530 geskakel word.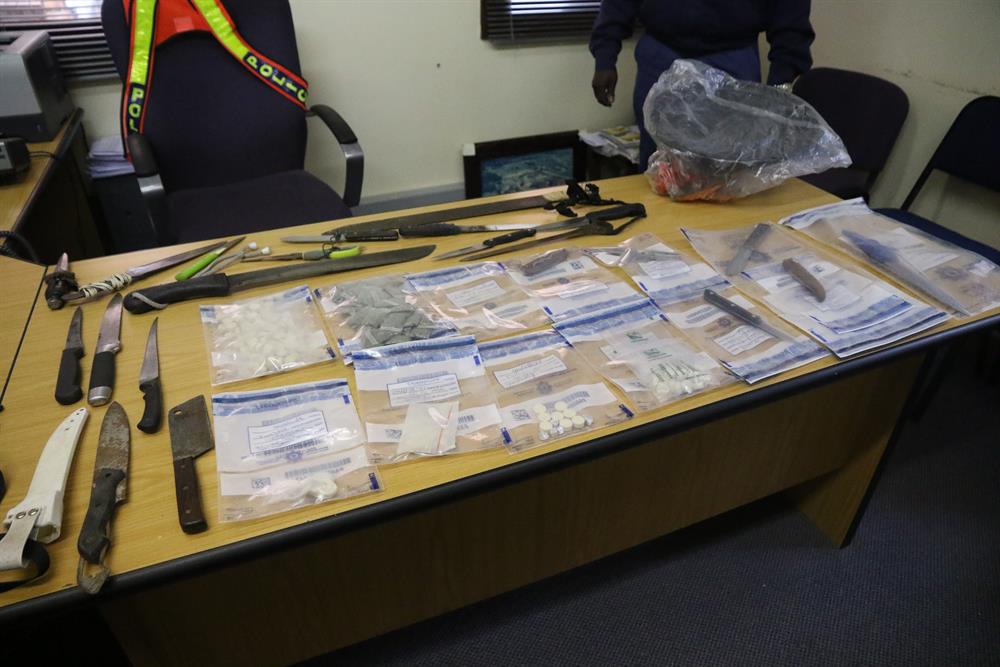 Wapens, tik, Mandrax, dagga en vermoedelik gesteelde goedere wat verlede naweek deur die Pacaltsdorp-polisie, Pacaltsdorp-buurtwag en -GPF gekonfiskeer is. Foto's: Kristy Kolberg
'Ons bring jou die nuutste George, Tuinroete nuus'