GEORGE NEWS - As part of their annual RED Day, estate agents from Keller Williams (KW) Eden spent Thursday 13 May fixing up the Tip Toe educare centre in Pacaltsdorp.
Team leader Gawie Rossouw and the agents spent the day with owner and principal of the school, Joline Fridie, her staff and children, giving the building in Geelhout Street a new coat of paint - yes, you guessed it, red paint - laying new gravel and generally sprucing up the premises while also entertaining the children.
"The Tip Toe family - teachers, children and parents - are so blessed and grateful for the generosity and love that KW Eden has shown us," said Fridie.
"We are thankful for the time they took out of their busy schedule. Also thanks to the sponsors involved. Thank you so much. God bless you all in everything you do on your way forward."
Ben de Villiers and Stefan Laynes erected a new fence and gate.
Rossouw told George Herald that annually on RED Day, more than 180 000 KW agents across the globe take time out to assist their communities.
"RED stands for 'We Renew, we Energise and we Donate'. This year was our fourth RED Day and we had the honour of assisting Fridie and her school. She is an exceptional lady that started her first educare with two Zimbabwean children in her living room many years ago.
"Today she is teaching a much-needed biblical pre-primary curriculum to almost 100 kids. She is the real hero of the day," said Rossouw.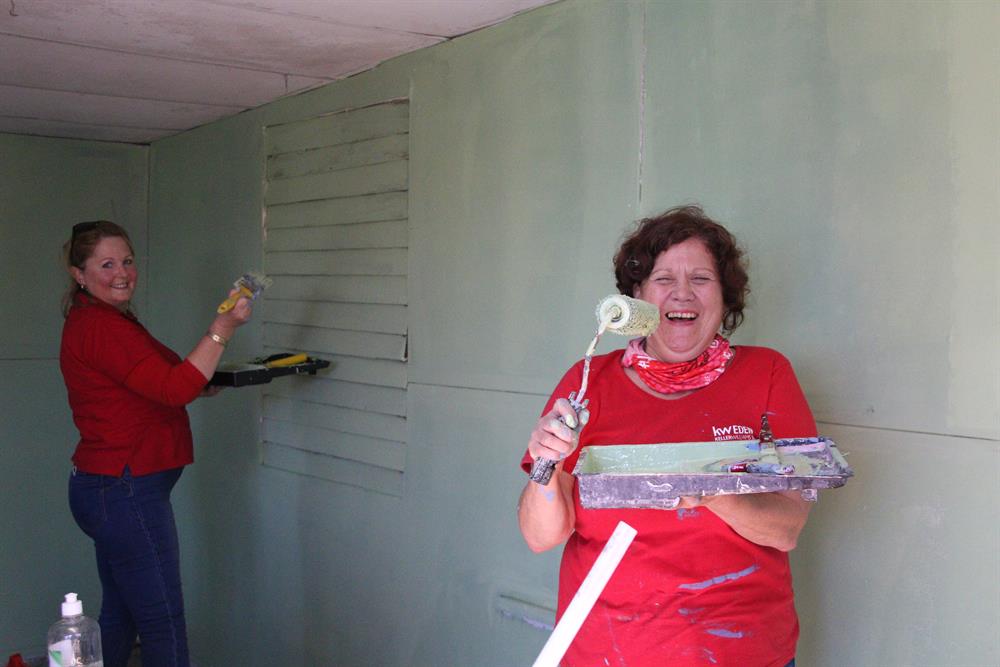 Bertie Kingsley and Beverley Schuin having fun painting one of the classrooms.
"We believe profit is the goal of a business but not the purpose. The purpose is to make a difference in the lives of those who need it. This RED Day I believe we made a huge impact on the Pacaltsdorp community. Thank you to all who help and supported us."
Part of the KW Eden team with Tip Toe's Joline Fridie (second right) after the building received a new coat of bright red paint. Photos: Kristy Kolberg
'We bring you the latest George, Garden Route news'