GEORGE NEWS - Although strict lockdown regulations have been set by the South African government, it seems that there are people who are still not taking it seriously.
On Wednesday 1 April, a 51-year-old man from Oubaai was arrested not only for the contravention of lockdown regulations, but also for reckless and negligent driving.
This follows an altercation with municipal traffic officials in Herold's Bay earlier that morning.
National police spokesperson Brig Vish Naidoo said the preliminary investigation by the George detectives indicates that the suspect was on his way to the beach when he was spotted by a traffic officer doing routine patrols.
"Whilst the suspect walked towards the beach, after parking his vehicle, the traffic official warned him that he was in contravention of the Covid-19 regulations and that the beach was closed.
"The man ignored the traffic official's call to inspect his driver's licence and also refused to cooperate and sped off in his vehicle with the traffic official in hot pursuit. Whilst speeding to his house in Oubaai, he also disregarded various traffic rules," said Naidoo.
The suspect was later arrested in the golf estate and detained in the police holding cells.
He was charged and released on a warning the following day. The suspect is scheduled to appear in the George Magistrate's Court on 11 June.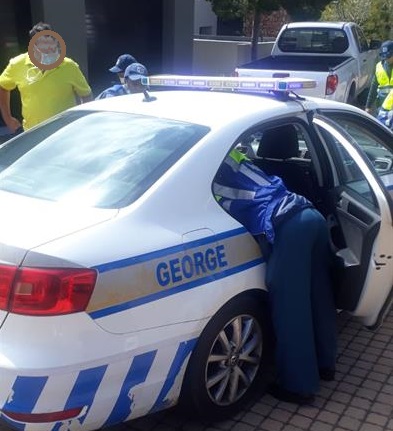 The man was arrested at his home in the Oubaai golf estate.
Provincial arrests
According to Western Cape traffic chief, Kenny Africa, 2 395 people had been arrested by Monday morning, 6 April, for contravention of lockdown regulations across the Western Cape.
Of these, 430 were made in the Garden Route district, 79 in the central Karoo, 188 in the Overberg region, 245 along the West Coast, 361 in the Cape Winelands and a whopping 1 092 in the Cape Town metro.
Despite numerous attempts to contact Naidoo regarding the number of arrests made in George since lockdown started, George Herald has not received a reply.
Dear reader, As your local news provider, we have the duty of keeping you factually informed on Covid-19 developments. As you may have noticed, mis- and disinformation (also known as "fake news") is circulating online. Group Editors (publications and online platforms) is determined to filter through the masses of information doing the rounds and to separate truth from untruth in order to keep you adequately informed. Local newsrooms follow a strict pre-publication fact-checking protocol. A national task team has been established to assist in bringing you credible news reports on Covid-19.
'We bring you the latest George, Garden Route news'