GEORGE NEWS - It is safe to say the staff and volunteers of Up With Downs School (UWD) have their hands full on Thursday mornings with the learners on their way to George Riding Club (GRC) for their weekly horse riding.
The learners' excitement shine from their faces as they get off the buses to make their way to the hat box on the livery mound. Most learners know exactly which safety hardhat fits them as they have colourful covers for easy recognition.
Some even get a little impatient to wait their turn. And they all know which their favourite horse is. The sterling Up With Downs staff help to get the hardhats on and securely fastened before the very willing grooms of the riding club lead the horses around under the watchful eye of some UWD staff and volunteers.
A few clients whose horses are kept at the GRC livery yard allow Up With Downs to use their horses for these children. A riding club member provides two of the five horses being ridden and she especially sends her groom and two horses to GRC on Thursday mornings.
The therapeutic effect that horses have on disabled or special needs people is a well-known fact. A few learners who are not brave enough, or for some reason cannot ride, have the opportunity to brush and interact with a horse under supervision.
It is amazing to watch how they make remarkable progress in confidence, with even the short amount of time just brushing a horse once a week. Their pride in the fear that is faced and overcome can only put a smile on one's face.
The types of disabilities range from Down's syndrome, to autistic and severely autistic children, and one learner has William's syndrome. Currently 34 learners benefit from the horse riding at GRC.
Each rider benefits in a different way from the horse riding with therapeutic benefits including sensory stimulation and improving balance, posture, core strength, coordination and confidence.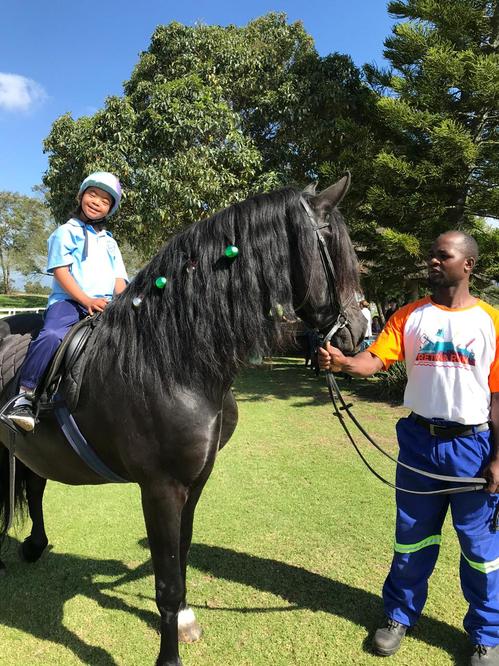 Cassidy Julies is all smiles while Paul Zintambira, one of the volunteers, assists.
At the end of the ride, when all the smiling faces hop back on the buses on their way back to UWD, it's our hearts that are filled with joy, and our minds with a sense of fulfilment because we notice the rider that does not want help to get on, because "I know how to get on", and does it with so much flair and confidence.
And we see the groom sneaking in an extra round with a rider they are having a fun conversation with.
It is indeed special to see the difference horse riding at GRC makes in the lives of these special riders.
'We bring you the latest George, Garden Route news'