GEORGE NEWS - Municipalities must learn to do more with fewer resources. So said Western Cape Minister Tertuis Simmers this morning during a briefing at the George Municipality. Simmers and his team presented the funding model of the Western Cape Department of Human Settlements, and will be visiting some of the Human Settlements sites shortly.
George Mayor Leon van Wyk, Deputy Mayor Charlotte Clarke, Municipal Manager Trevor Botha, as well as District Mayor Memory Booysen, senior officials and a few councillors attended the briefing at the George council chambers.
During the meeting a commotion could be heard outside the building, which was confirmed by Botha to be due to an "unprotected" strike by workers of the civils department.
Work together
Simmers said a lot of things can be done a lot quicker if all spheres of government work together. He said the decline of income for the municipality during this trying time of Covid-19 lockdown will definitely affect the budget.
"However, outside the City of Cape Town, the Garden Route gets the biggest share of my budget," said Simmers. He said George is blessed with land and should be proactive by planning with rezoning, making use of all the pockets of land.
"See the bigger picture, expand and integrate," he said. "Jy kan alles maak, maar jy kan nie grond maak nie (You can make everything, but you can't make land). Your municipality is blessed with land. Leadership is about foresight, not hindsight."
Simmers said the middle income section of the economy has been left out in the cold for many years and that assistance in this regard will be a focus point.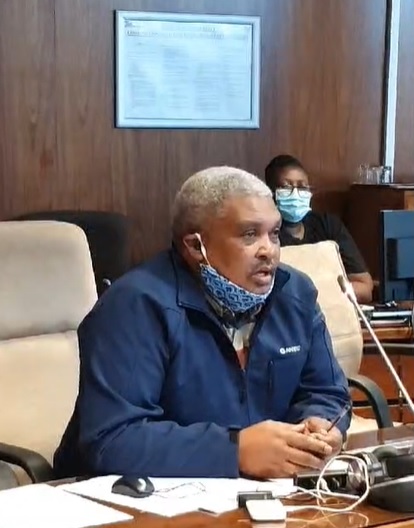 Municipal Director of Human Settlements Charles Lubbe.
Moving forward
Van Wyk said it is time to move to more comprehensive planning and a clearer view of what needs to be done regarding housing opportunities. He said discussion with the department on the way forward is much needed.
Botha said there is a huge market for GAP housing in George. He emphasised the importance of attracting investors to George. "Our bulk services must be tip top. We have made provision in our budget, but it will take some time." He said insufficient grant funding is one of the biggest challenges, but, "we do what we have to do with what we have".
Director of Human Settlements Charles Lubbe said one of the challenges they are facing is the fact that many Flisp (Finance Linked Individual Subsidy Programme) housing beneficiaries don't qualify for loans.
The provincial department will be revisiting George at a later stage to present the concept of home vouchers – a prequalifying letter from the department which a beneficiary could submit at the bank, stating that they qualify for a certain amount.
Booysen said he truly believes that the time has come for joining forces between George, the district and the provincial department. "There are lots of pockets of land in George that belong to the Department of Public Works. Some are on strategic areas. They have been lying there for many, many years. With your guidance and assistance we can get Public Works to come to the table as well," he said.
'We bring you the latest George, Garden Route news'