Update
KNYSNA NEWS - With riots still raging on in Hornlee in Knysna, leaving the area crippled and the N2 closed, Knysna Municipality has issued a strong statement against the riots.
"One cannot call the current situation in Hornlee 'protest action' as it is blatantly destructive, violent and criminal," said mayor Ricky van Aswegen.
"This municipality is now drawing a line in the sand and will take any and all steps necessary, through the channels available to us, to make sure that the situation is brought under control and the perpetrators are held responsible for their detestable actions."

The municipality's statement also confirmed that the Red Ants were this morning acting under contract from the municipality. "No legitimate homes were removed and no residents were removed from their homes," van Aswegen stated. "The buildings in question were illegal structures that were illegitimately constructed on land not owned by the illegal dwellers."

The removal of structures elicited a strong response from the community, with the crowd driving both the Red Ants and police out of the area by pelting them with rocks. The crowd was made up by at least a few hundred people by the time law enforcement had been pushed back to the N2.

According to the municipal statement, one Red Ants officer was shot during the violent action, but was wearing a bulletproof vest and is not seriously injured.
"The situation has degenerated into chaos due to instigators simply looking for an excuse to indulge in destruction, theft and general lawlessness," van Aswegen continued. "I condemn this kind of irresponsible behaviour strongly, as does council and the administration. We will not stand for this any longer."
The crowd also began looting in the area, with the general store at Lamco suffering extensive damage.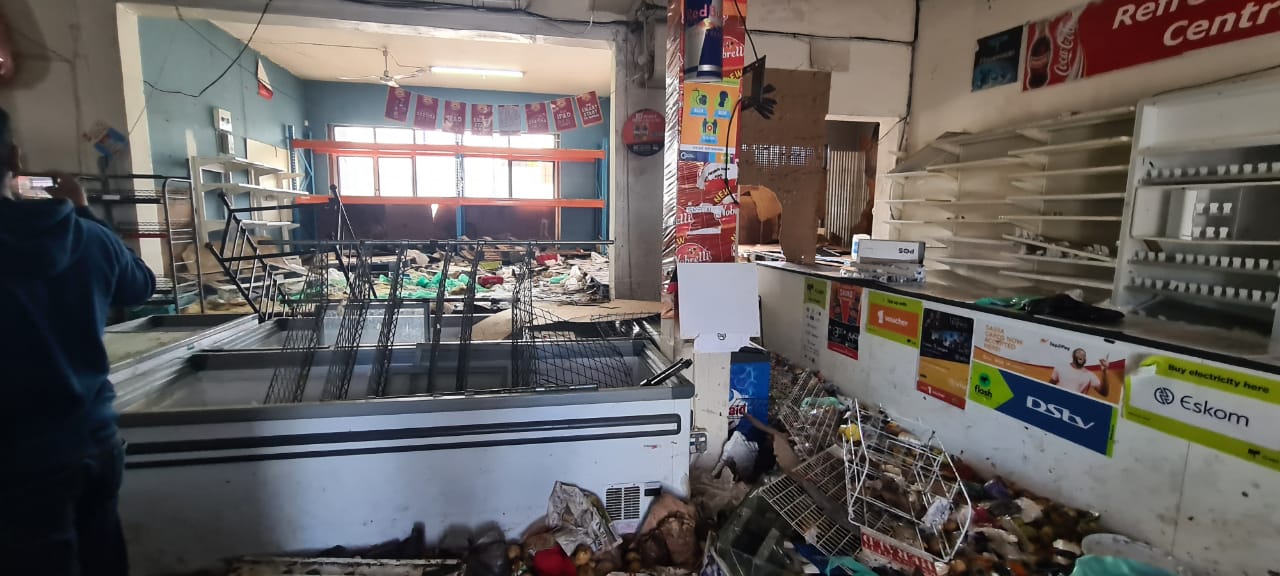 Destruction caused during looting at the general store in Lamco. Photo: Supplied
Earlier today, Southern Cape police spokesperson Captain Malcolm Pojie confirmed that police were on scene to assist the Red Ants in controlling the situation.
The N2 has been closed for nearly five hours now, and public order policing (POPs) vehicles raced through town en route to the riots at about 15:00.
'We bring you the latest Knysna, Garden Route news'