GEORGE NEWS - Acting Executive Mayor Charlotte Clarke yesterday again issued a plea for calm and adherence to the national lockdown regulations.
"First and foremost, George Municipality has to ensure that essential services such as the supply of water, electricity, refuse collection and so on continue unabated.
"We want to assure our residents that all shops selling food supplies will remain open from 08:00 – 18:00 daily and this includes Spaza shops."
Conflicting information has been received and sent out but please note the sale and purchase of alcohol is not allowed.
"I again appeal to all of our citizens to stay at home. Be safe and regularly clean our hands and our surroundings to stay free of the COVID-19. The spread of this virus can only stop if we work together.
"The existence of the coronavirus in our country is a reality. If we continue to abide by the regulations of the Lockdown we will lessen the number of new infections by a great number and save our lives and of our loved ones, families, colleagues and friends'."
The George Acting Fire Chief and our Disaster Management Officer attend daily Garden Route District Municipal Joint Operational Meetings and feed this information into the George Municipal Covid Committee which meets daily via using technology.
The George Fire Station remains on lockdown to protect our first responders, for fire emergencies only the public is reminded to contact 044 8016311.
George Municipal and GIPTN vehicles participated in loudhailing actions with SAPS in various areas from Wednesday 25 March to Sunday 29 March and our Anti-land invasion unit put up over 700 A3 information posters in vulnerable areas last week.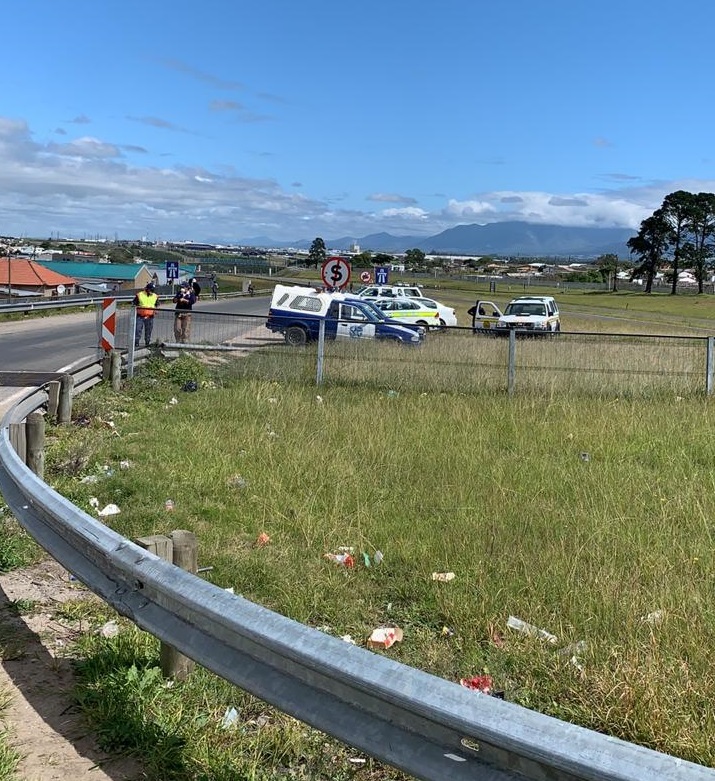 Traffic officials maintained high visibility over the weekend to assist with lockdown regulations.
Areas covered by loudhailing include: Thembalethu, Syferfontein, Pacaltsdorp, Conville, Borcherds, Parkdene, Touwsranten, Wilderness Heights, and Kleinkrantz.
Municipal Law enforcement, traffic and anti-land invasion officials have worked collaboratively with SAPS since Friday 20 March in setting up roadblocks to monitor traffic violations (R30 000 worth of traffic fines were issued for Sunday 29 March) , ensuring high visibility and addressing areas where the public was not adhering to the lockdown regulations.
Several complaints of illegal alcohol sales points were investigated as well with the bulk being found not to have any alcohol on the premises. Those visited which were in contravention were closed down, this included retail outlets not selling only essential food supplies.
George Municipal Law Enforcement has also assisted in removing homeless persons to places of safety and assisting with monitoring the passenger capacity on Go George buses.
Listen to Deputy Mayor Charlotte Clarke on a summary of things achieved up to now since lockdown and summary of essential services.
Rosedale Sport Stadium has been outfitted as a temporary shelter and is currently housing 30 persons in the clubhouse and another 43 persons in the sporting arena.
Security and provisions are being supplied and George Municipality would like to thank Van Kervel school and GRDM for the supply of mattresses. The Night Shelter in George continues to accommodate their maximum number of persons allowed.
Law Enforcement officials assisted with public awareness around the lockdown regulations.
George Municipal social services has also issued a Registration form via our social media channels for the public, NGO's and any company's to register their willingness to donate non-perishable items and goods that can be redistributed to our vulnerable communities and homeless persons.
You or your company, NGO will be contacted after registration. The mechanism for collection of these items will be put in place to ensure that the public etc do not flout any of the lockdown regulations.
George Human Settlements department has since Friday built 4 structures in George , replacing those lost due to fire damages. Another two will be built this week in Thembalethu. One structure has been replaced in Uniondale this weekend and a second will be built this week.
Six additional chemical toilets have been installed in Borcherds, 6 in Rosemore, and other areas will be reviewed to see where more chemical toilets can be can be placed. Human Settlements will increase water installations to informal areas which have no water supply at all (Thembalethu), by acquiring and placing 10 water tanks (various sizes).
An assessment is taking place at the All Bricks Settlement today for the installation of additional water points.
Our Electro-technical directorate continues to respond to all power, lighting and traffic light outages. The help desk remains open for phone calls only. They have amended their working structure and could, for example, concentrate on street lights where a whole section is not functioning.
There is also specific focus on attending to the maintenance of our High Voltage network to avoid long outages on our networks for large areas.
The Civil Engineering Services directorate continues with the supply of essential services and is working with our Human Settlements Directorate with regard to the challenges they are experiencing in informal settlements.
Our cleansing division has reduced the number of refuse trucks on the street in order to limit exposure to staff and other parties, and staff will be rotated from Monday 30 March.
This means collection of black bags may take longer than usual and extend into the night (until about 20:00), but all refuse will be collected on the scheduled day. If black bags have not been collected by 20:00 please report to 044 801 6300.
For more information of the Lockdown and COVID-19 and to stay informed, please visit the following George Municipal communication platforms:
For other reliable sources of information visit our local newspapers and radio stations which are working closely with us to keep you informed; please visit their websites and social media pages.
* NATIONAL COVID-19 hotline on 0800 029 999.
* WESTERN CAPE PROVINCIAL COVID-19 HOTLINE on 021 928 4102
* WHATSAPP SUPPORT LINE 0600 123 456 - Put the number into your contacts and Whatsapp "Hi"
* For more information and the latest news on COVID-19, click here
'We bring you the latest George, Garden Route news'