GEORGE NEWS - The woman who allegedly threw her baby boy into a pit toilet in Thembalethu and left him there to die earlier this year, has been arrested and appeared in the George Magistrates Court last Friday.
Nomonde Masingile (27) is charged with attempted murder. Her case was postponed to next week for a formal bail application.
The Family Child and Sexual Offences (FCS) unit responded to information they received from a member of the community who recognised the woman from the identikit the police released.
After receiving this information, the FCS investigating officer Warrant Officer Vernon Sparks discovered that his colleagues at the George Detective branch were also looking for the woman, after a warrant of arrest was issued for her. She was arrested on 28 February for shoplifting and failed to appear in court.
Police arrested her last Wednesday at a house in the Asazani informal settlement.
The woman, who is not married, has two other children who police are now attempting to remove from her care.
As for the baby boy, he is still in a place of safety. He has since been named Baby Survivor because - in his short life - he has learned to do just that.
The then four-month-old boy was found alive, but traumatised, exhausted and dehydrated on the evening of 9 May after he was thrown into the pit toilet in the Asazani informal settlement earlier that day. He was hospitalised for some weeks before being released into the care of Social Services.
It is suspected that the woman's other child was with her the day she dumped Baby Survivor in the pit toilet.
Capt. Malcolm Pojie, the provincial police spokesperson, this week said that the thorough investigation and follow-up of information that was received from a member of the public, led to arrest of the accused.
"Together, the detective branch of George and the FCS investigator were commendable in their efforts, as the accused ducked and dived by changing her appearance and her hairstyle - but she was not able to escape the long arm of the law," Pojie said.
*
Die polisie het na maande se ondersoekwerk die vrou wat haar babaseun in Mei in 'n puttoilet in Thembalethu gegooi het, opgespoor en in hegtenis geneem. Sy het verlede week in die George-landdroshof verskyn.

READ A PREVIOUS ARTICLE HERE.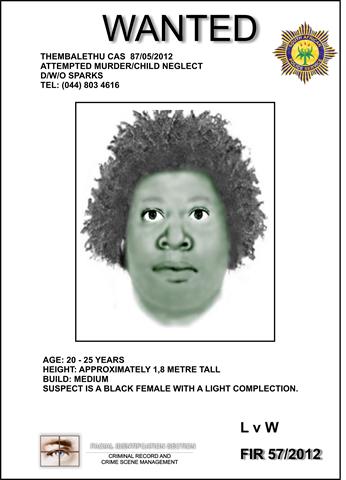 The identikit police released this picture of the suspect after 'Baby Survivor' was found in a pit toilet.

ARTICLE: LIZETTE DA SILVA, GEORGE HERALD JOURNALIST