Video
GEORGE NEWS & VIDEOS - Business owners at Masakhane Mall operating from shipping containers on municipal premises in Nelson Mandela Boulevard, want the property to be transferred to them.
The containers were donated in 1993 by the Small Business Development Corporation (SBDC) in collaboration with the George Municipality, that made the land available.
These days the dilapidated state of the containers is a source of embarrassment. But, says Nomamsi Dlepu, spokesperson for the business owners, this can change - if the municipality transfers the land to them.
"We obviously do not want to invest in upgrading the containers while the land is not ours. We have asked the municipality, but there seems to be no progress," she says. "What we have here today is hardly fitting for a mall. We do not have ablution facilities as the container with the toilets burned down."
She also complains about illegal dumping on the property that is not being removed.
Delia Power, acting director of Planning and Development, says attempts to assist the operators at the mall have been ongoing since 2010. "The municipality tried to negotiate the revival of contracts and agreements with the operators but were unsuccessful, as scheduled meetings were not always well attended."
Various solutions are being investigated. "Input from legal services are being awaited on proposals to revive the project in a manner that is aligned with the MFMA (Municipal Finance Management Act) and Municipal Asset Transfer Regulations. The business owners on the Business Zone 11 (Romans 2) land, 1 300m² in size, do not have a lease agreement with the municipality and do not pay rent."
Watch 3 videos below:
She says it was explained to the business owners that the municipality will have to go through an open tender process if they want to obtain ownership of the properties.
"It was agreed that the department submit a report to Council in which approval is requested to revive the lease agreements. The report was completed before lockdown and will be submitted to Council for consideration via the mayco."
Regarding the dumping, Debra Sauer, municipal communications officer, says the Community Services Directorate does not consider the mall as a hotspot for illegal dumping.
"Previous complaints have been addressed by the cleansing section. After the last complaint, the dumping site was cleared. The cleansing section will review the site on a regular basis. The toilets were assessed by the Human Settlements Directorate. They are in a bad state, however at present, Human Settlements does not have the budget to repair the toilets."
Spokesperson for the business owners at Masakhane Mall, Nomamsi Dlepu, at the container with the toilets that burned down. Photo: Alida de Beer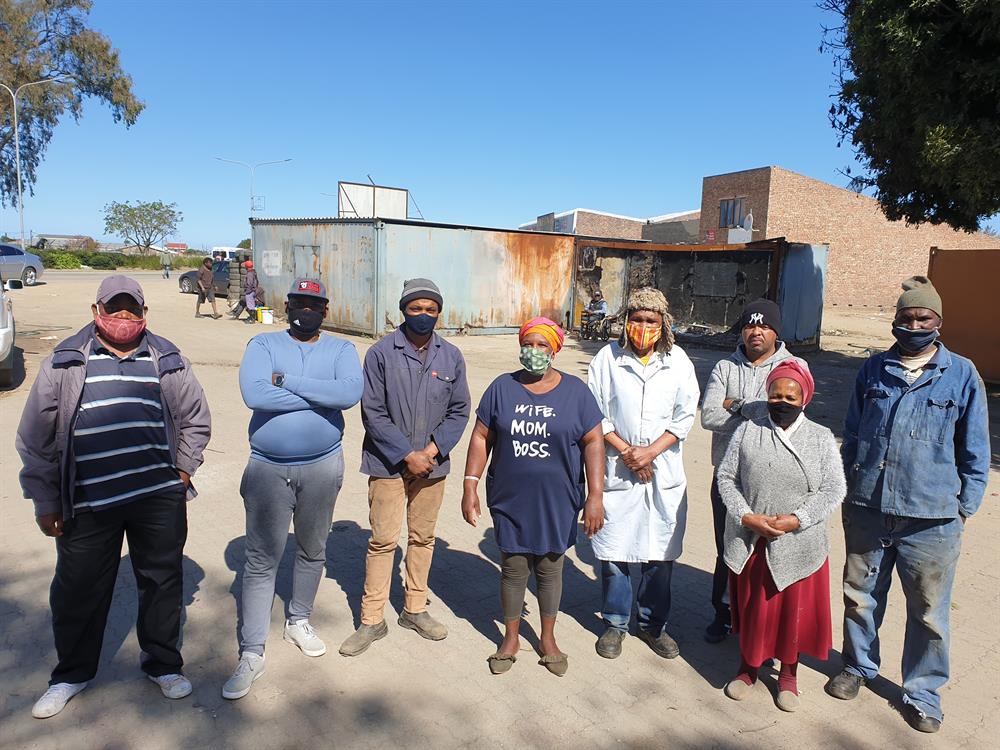 Some of the businessowners of the Masakhane Mall, from left: Joseph Mtlatla, Petro Mtembo, Tshepo Sono, Nomamsi Dplepu, Wellington Gosani, Neal James, Paulina Mfali and Sedrick Meke. Photo: Alida de Beer
'We bring you the latest George, Garden Route news'