GARDEN ROUTE NEWS - The holiday season is at hand, but due to the Covid-19 resurgence, many big events that would have provided a desperately needed injection for the hospitality and entertainment industry in the Garden Route, can no longer be held.
Furthermore, at the time of going to press, there were rumours of the National Coronavirus Command Council (NCCC) wanting to reintroduce a curfew of 22:00 to 04:00 and restricting alcohol sales to between Mondays and Thursdays in Covid-19 hotspots.
Bars and restaurants might again have to close at 21:00.
In the Garden Route, at least two municipalities, George and Kannaland, have closed their function venues and sport facilities. All planned events at these facilities have been cancelled till at least the end of December.
According to Garden Route Disaster Management chief Gerhard Otto, this will be applicable until such time as the infection rate has flattened to a satisfactory level. "We will relook this decision in January."
He said the other municipalities are to follow the same strategy.
Otto said big public events at private venues (where the District Council's approval would have been needed even if there had been no Covid-19) are subject to the existing Level 1 regulations.
The organisers must apply for approval and must submit a medical Covid-19 management plan for their event. Each application will be considered on its own merit.
"This is the strategy for now, Wednesday 2 December, but it might change on Friday when the President makes his announcement regarding the way forward," said Otto.
Western Cape Premier Alan Winde said earlier this week that the number of people permitted to gather indoors, currently at 250, is too high and needs to be reconsidered for specific hotspots where the virus is spreading faster.
Measures in Western Cape announced today
Winde is to announce further measures that are to be implemented in the province in a digital conference today, Thursday 3 December. He has stressed that the economy cannot afford another lockdown, but the pressure on health facilities is mounting.
More visible enforcement in hotspots is needed, but a major challenge in this regard is the limited policing resources in the Western Cape.
Pressure on Garden Route hospitals
In the Garden Route, hospitalisations over the past weekend increased from 96 on Friday 27 November to 146 on Monday 30 November. The Garden Route District Municipality (GRDM) has reduced its staff component (essential and political staff included) at the office to 50% as from Tuesday 1 December.
District Mayor Memory Booysen said their biggest concern at the moment is George, where active cases have increased to 1 828. "This is an increase of 46,85% over the past month. Our health systems are also now facing additional pressure, with oxygen provision capacity reaching its maximum capacity."
In the month of November, 5 315 new cases were reported in the district and 2 295 in George. A total of 103 Covid deaths were recorded in the district.
From Tuesday 24 November to Wednesday 2 December, 2 435 new cases have been recorded and 58 people have died.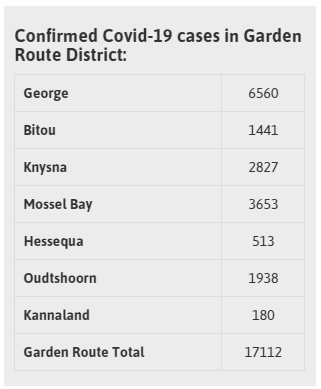 'We bring you the latest Garden Route, Hessequa, Karoo news'