GEORGE NEWS - Western Cape Minister of Transport and Public Works, Bonginkosi Madikizela, deviated from his travel plans on Friday 7 August to visit the scene where a traffic official had been shot that morning.
Madikizela was touring the Garden Route to assess compliance with Covid regulations when he heard the news that Janneké Bergman (29), a provincial traffic officer, had been shot in the line of duty.
He said he had no words to describe how angry he felt about the shooting. "She is part of our family, and we take responsibility for what happened to her," he said.
The purpose of his visit to the area was to do inspections at taxi ranks regarding the 70% loading regulations. He visited Plettenberg Bay and Knysna before coming to George on Sunday. He attended a roadblock between Thembalethu and the Garden Route Mall, where he checked for compliance and made small talk with the drivers.
At George Taxi Rank he told drivers and owners that he was happy to see they are doing their best to comply with the Covid-19 regulations. He spoke to commuters, checked the hand sanitiser stands outside the taxis and even helped santising a taxi himself.
Madikizela and his team made time to visit Bergman's family in Pacaltsdorp on Sunday. "It pains me as the Minister of Transport to see that our traffic officers are subjected to this kind of danger. What she went through, no one should go through, especially not in the line of duty." He told her family that he would track her recovery and will be there when she gets out of hospital.
Mr and Mrs Bergman, Janneké's parents, at their home during the minister's visit on Sunday.Janneké's sister, Chantal Bergman, spoke outside the family home about how grateful they are that Janneké is recovering well. "We are trying to be strong for our parents. It was a big shock to our family and her fiancé."
She said her sister is still young and has the rest of her life in front of her with her young child and fiancé. "I knew when I received a call from my mother, that the news was true," said Chantal. She was at work when a colleague asked her about the shooting. "I tried to call Janneké a few times, she did not answer, and I started to worry." Chantal said her family is very happy that the criminal had been arrested and will be brought to justice.
"I am so far very happy with the level of compliance," he said. He added that wearing a mask and sanitising or washing hands is the new norm, "and we do not know for how long this virus will still be around. So we have to be safe."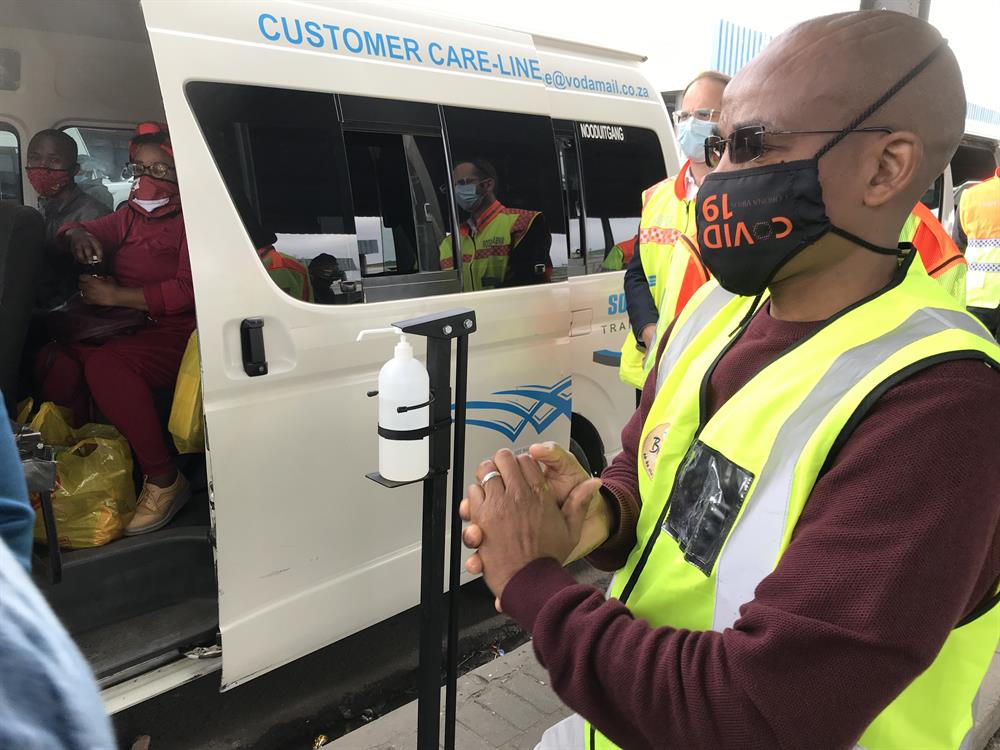 Garden Route District Municipality Mayor Memory Booysen sanitising his hands at a stand at the George taxi rank.