GEORGE NEWS - Strict bail conditions were handed down to a local teacher last Friday (25 August) after he was arrested by the George Family Violence, Child Protection and Sexual Offences Unit (FCS) on a charge of sexual grooming of a child.
This follows after the 16-year-old victim reported the incident to his parents.
The 45-year-old Glenwood House teacher was arrested at his home on Thursday 24 August following the investigation into the allegations made by the boy.
Cellphones and laptops were also seized.
According to the victim, the accused has been making derogatory sexual suggestions to him since 2014. The matter was reported to the George Police in June this year.
At his appearance before Magistrate Phillip Mgwebile at the George Magistrate's Court on Friday, the accused was granted bail of R2 000.
He has been placed under house arrest between 18:00 and 06:00 during the week and from 20:00 on Sundays (so that he can attend church during the day).
He is not allowed to have any contact with the complainant, witnesses or any of the learners at the school. He may also not visit the school for any reason.
The complainant is an active member at a local church on Sundays. The accused, who also attends the same church, is only allowed to attend a later sermon when the complainant is not on the premises.
The final bail condition is that any electronic equipment that can be used for communication in the possession of the accused or any of his family members, must be declared to the investigating officer.
The teacher has since been suspended.
On 25 August the school sent out a joint letter from General Manager Andries van Renssen and Headmaster Dennis Symes to all the parents.
"We are deeply shocked and saddened to have to write about the arrest of one of our teachers on sexual offence allegations. We have been in contact with the pupil and family concerned and have offered our support and assistance. The welfare of this pupil is now our primary concern."
The letter also states that the school was unaware of the allegations until the arrest was made.
The case was postponed until 6 September and the investigation continues.
Read the full statement by General Manager Andries van Renssen below: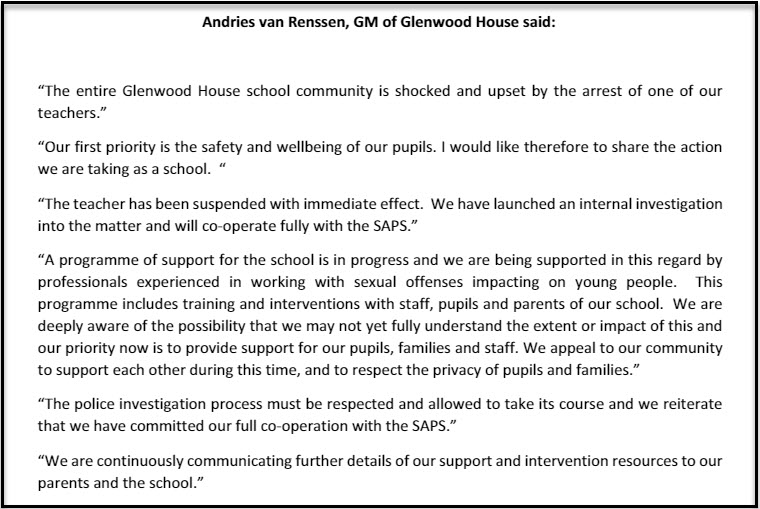 Read related articles:
• Magistrate's death delays sexual assault
• Teacher pleads not guilty to sexual assault
ARTICLE: KRISTY KOLBERG, GEORGE HERALD JOURNALIST
'We bring you the latest George, Garden Route news'