Video
GEORGE NEWS AND VIDEO - Local retailers reacted fast following Health Minister Aaron Motsoaledi's announcement on Sunday that the source of the listeriosis outbreak in South Africa had been traced to two Tiger Brands facilities in Polokwane (Enterprise) and Germiston (Rainbow Chicken).
Although George Herald could not obtain any direct comment from the local branches of national retailers Pick n Pay and Shoprite Checkers, their shelves were cleared of affected products by Monday morning.
David North, group executive of strategy and corporate affairs at Pick n Pay, said that all fridges and food preparation areas in their stores were re-cleaned to prevent any cross-contamination.
"Recalled meat is being isolated and will be safely destroyed."
Returns
Local consumers have made use of the offer to return affected meats.
Pick n Pay Family Store at Pre-Cap Centre in George confirmed that it has been receiving a stream of returns of Enterprise and Rainbow products since Sunday.
Edward Cloete, one of the store managers, said, "It is quite a rigmarole. Personnel who handle the returns have to follow a strict hygiene routine every time.
"We store the returned products separately. They are sealed in plastic bags and everything will be returned to the suppliers."
Cloete said customers can return stock dated from far back.
"There is no real cut-off date. Affected products include Enterprise bacon, viennas and polony, Renown pork bangers and Rainbow chicken viennas."
Local shops
Charl Fourie, general manager of Spar Wellington Square, told Group Editors Digital Coordinator Wessel van Heerden that all affected products were removed and the necessary cleaning procedures followed.
"Processed and cold meats under the Spar label are tested and accredited, and can be enjoyed with peace of mind.
"We have also had private tests done because of the listerioris dilemma."
Van Rensburgs Foods owner, Jan van Rensburg, said their processed meat products are manufactured locally by their fleischmeister and strict hygiene procedures are adhered to.
"The local health authorities test our products regularly at unannounced times."
Eden District Municipality's health department did not comment on the possibility that small retailers might fail to remove affected products from their shelves. Cornelle Carstens, Mossel Bay Advertiser journalist, said concern has been expressed that some spaza shops might mark down prices to get rid of stock.
Information requested from Eden DM regarding methods for safe disposal of affected products was also not forthcoming.
Watch videos below:
Imported 'white slime' might be source
According to Business Insider, a meat scientist alleges that imported mechanically deboned meat (MDM), known as "white slime" and used in polony and viennas, might be behind the listeriosis outbreak in South Africa.
Bomikazi Molapo, spokesperson for the Department of Agriculture, Forestry and Fisheries, told the George Herald that imported MDM is currently being subjected to listeria testing, which is not part of routine testing.
Any non-compliant imported consignments are dealt with on their own merit and decisions taken may include suspending a specific establishment or even imposing a ban of the country in question.
According to Health Minister Aaron Motsoaledi, the source of the outbreak was tracked after nine children were hospitalised in Soweto with gastro-enteritis.
Samples from food they had eaten at a crèche contained an Enterprise product.
Out of the total of 948 laboratory-confirmed listeriosis cases since January 2017, 180 have died.
Two were from the Eden District - a 53-year-old female from George who died in August and an 83-year-old male from Knysna who died in October.
Another Georgian, Piet Smit, survived after spending three weeks in hospital.
Motsoaledi said on Sunday that the outbreak listeria strain, ST6, was confirmed in at least 16 environmental samples collected from the Polokwane facility.
The Citizen reported that Tiger Brands CEO Lawrence MacDougall confirmed on Monday that they have suspended operations at both their Polokwane and Germiston facilities.
He insisted though that no direct link has yet been established between the contamination in their facilities and the deaths.
'We are not aware what white slime is'
Andrea Hattingh, Tiger Brands communications manager told the George Herald, "We are not aware of what white slime is. However, it is important to note that Tiger Brands only uses high quality products and ingredients in its products and we follow rigorous quality control measures. For clarity, MDM is mechanically deboned meat.
It is important to note that Tiger Brands imports MDM from certain overseas countries in the production of processed meats including polony, viennas as well as fresh sausages.
This imported meat is inspected at port of entry via the Department of Agriculture, Forestry and Fisheries (Daff) and then released for use.
"We are exceptionally concerned that listeria has been detected in some of our product batches within the chilled processed meat category. We are taking full responsibility for our products by instituting a national recall.
"All products that are recalled will be safely removed and will be handled in line with National Consumer Commission (NCC) guidelines and required authorities."

Message communicated to small food outlets
At a press conference yesterday afternoon, Wednesday 7 March, during the Garden Route Investment Conference at Oubaai, Eden District Municipality's community services manager Clive Africa confirmed that smaller shops such as general dealers, house shops, mobile and spaza shops that are generally more difficult to reach are the focus areas where interventions are needed.
"Currently, our environmental health practitioners are doing comprehensive inspections and investigations at formal and informal food premises. They are instructing managers in charge of these premises to remove the food products from their shelves.
He urged the public to return the affected products to retailers that have to dispose at an approved municipal waste site not accessible to the public.
Eden's environmental health practitioners are also conducting awareness and education sessions at formal and informal food premises that also include creches, schools and old age homes.
He said proper hygiene and disinfection with normal household bleach, separation of raw and prepared food, and safe storage of foodstuffs are communicated to all identified target groups in communities and business sector.
The public may contact Eden DM on 044 803 1300 if they have any questions regarding the recalled products.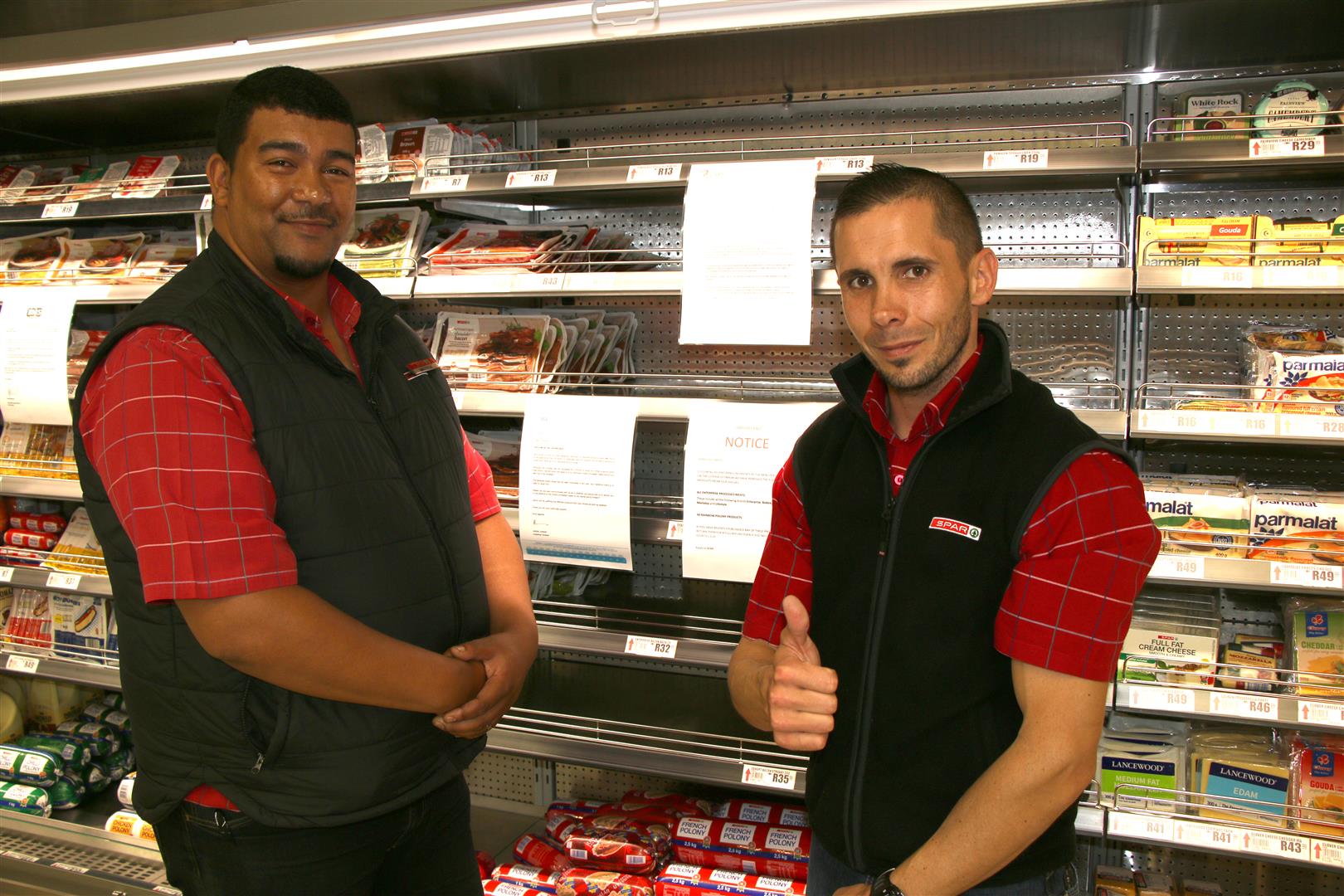 Malcolm September and Charl Fourie, managers at Wellington Square Spar, said that they took all the correct measures to make their shop listeriosis free.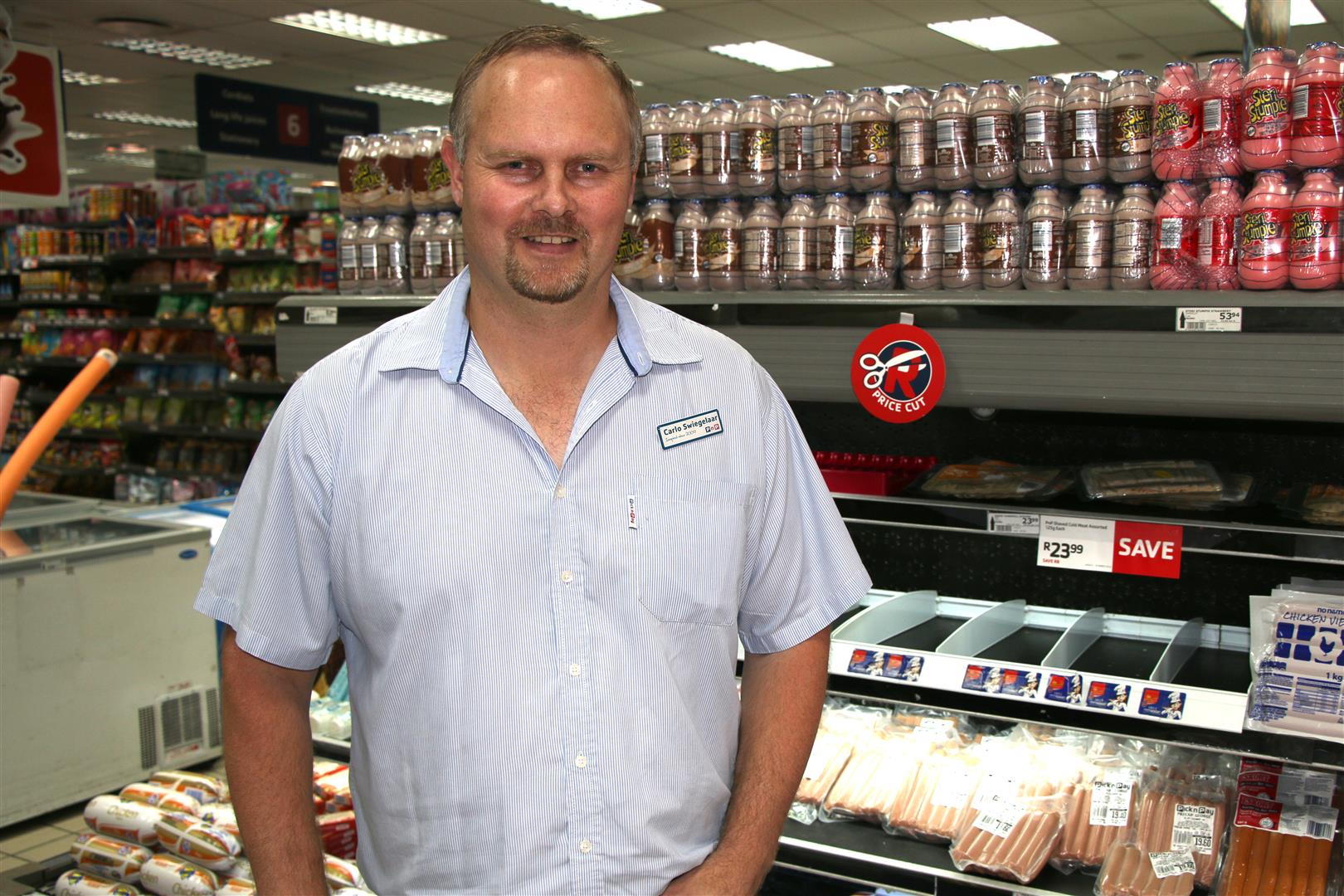 Carlo Swiegelaar, manager of Pick 'n Pay Precap Centre, also assured all clients that all listeriosis contaminated products were removed from their shelves.
VIDEOS: WESSEL VAN HEERDEN, GROUP EDITORS' DIGITAL COORDINATOR
'We bring you the latest George, Garden Route news'