Update
GEORGE NEWS - Residents and the media had to duck rubber bullets and stun grenades as eviction experts, the Red Ants, zoomed in on Tuesday to break down illegal shacks on land earmarked for a school in New Dawn Park.
Disgruntled residents, tired of waiting for promised state-sponsored homes, started building the shacks next to New Dawn Park Primary last weekend.
Some bystanders were hit by rubber bullets and a young pregnant woman was taken to the George hospital by ambulance. Residents were upset that the altercation between the squatters and the police took place right next to the school, where children stood watching the action at the fence.
Emotions have been running high in various areas in and around Pacaltsdorp, where land and housing issues have reached boiling point.
New Dawn Parkers first had their sights set on their ward councillor Cecil Noble, but have now shifted their anger to George Mayor Melvin Naik, the provincial minister of housing Bonginkozi Madikizela, and the MEC of local government Anton Bredell.
The Red Ants lived up to their name on Tuesday and worked at a frantic pace, soon leaving with a truck filled with wood, corrugated iron and other building material. The security officials who have been monitoring the situation since building operations started over the weekend, also left the scene.
Red Ants worked quickly to clear away the confiscated building materials after the shacks were broken down.
Summons
Families who have squatted on the land since the beginning of the month, received a summons requested by the departments of education and transport & public works on 6 February to appear in court on 5 March.
Two days later, on 8 February, they disrupted traffic at the robot just outside Delville Park, when the mayor did not arrive to address them as they had expected.
They were joined by residents from Syferfontein and Rosedale who are taking issue with a housing development next to Rosedale.*
When the group dispersed, it was clear they had plans to erect informal housing on the open land. Building activities continued throughout the weekend and homes sprung up like mushrooms.
Men in black... Private security guards kept a hawks eye on the action surrounding the demolition.
New school
It has meanwhile come to light that the land belongs to the Western Cape department of public works and that it is earmarked for a new school. George Municipality referred all requests for information to Province.
According to Dalene Valentine, one of the squatters, the land occupiers have been invited to a meeting with George Municipality and provincial officials on Monday 18 February.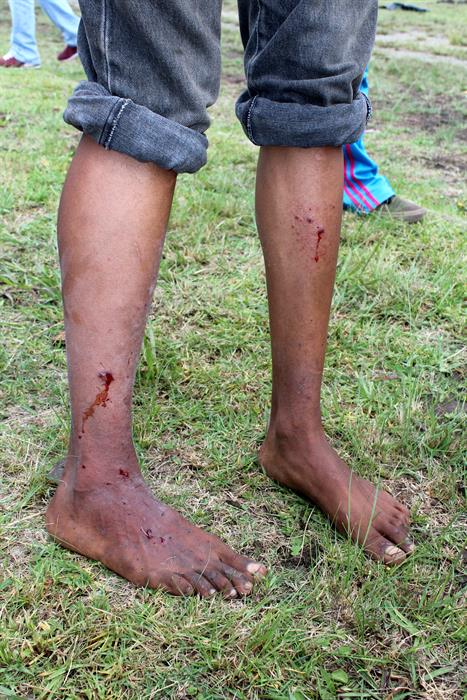 Euwin Heyns was hit by rubber bullets.
March planned
Residents of several neighbourhoods are joining forces for a planned protest march tomorrow at 08:00 in support of all backyard dwellers in George who have been on the waiting list for houses for 20 years or longer.
The intended march also supports the plea for houses and development of residents from New Dawn Park, Rosedale, Syferfontein and the Metro Grounds in Borcherds. Protesters plan to march to the mayor's office at the municipality.
* Residents of Syferfontein and a group from Rosedale are unhappy about the housing project next to Rosedale. They say the properties are cramped and that the public participation process fell short.
Protestors take a breather: From left are Shannen-Lee Botha (16), Euwin Heyns and Michael-John Pettersen. Heyns were hit by rubber bullets.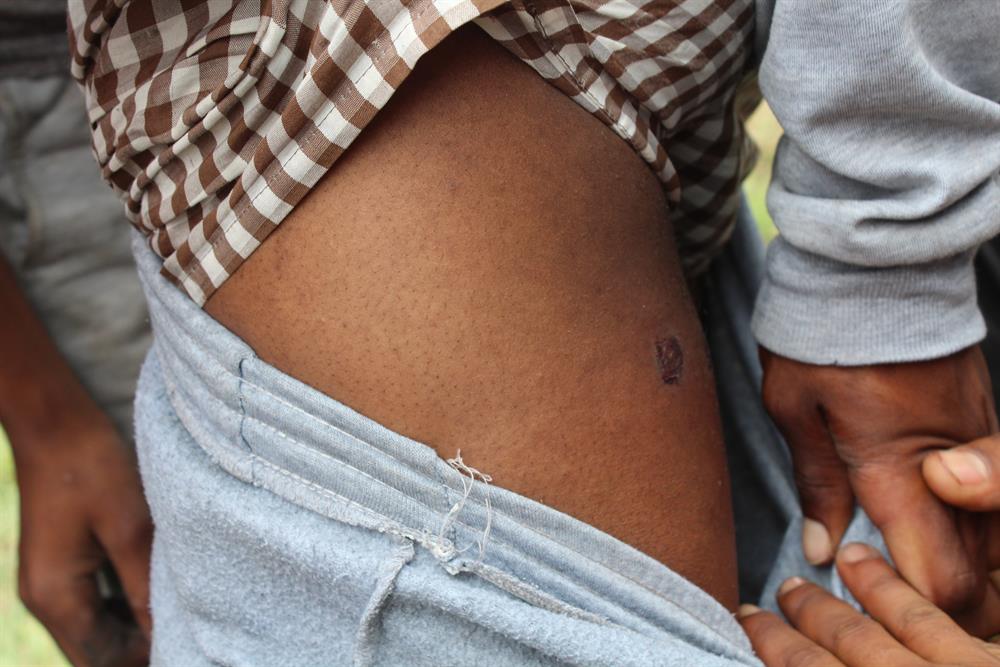 A protester shows off his injury.
Phila Mayisela, a chief director of human settlements, refuted the claim in her response to a query from George Herald.
Read the full detailed response by Phila Mayisela here.
'We bring you the latest George, Garden Route news'