GEORGE NUUS - 'n Oorgroeide area in Madeliefiestraat, Denneoord, gee inwoners van dié gebied 'n kopseer. 'n Inwoner wat reg langs die stuk grond woon is moedeloos oor die toestand van die area, wat volgens hom ontaard het in 'n vullishoop en skuilplek vir haweloses.
"Die area is oorgroei, vol vullis en lok ook plae en slange," het die inwoner gesê, wat kla dat die munisipaliteit net "gif gooi" in 'n poging om die plantegroei te beheer.
Terugvoer van George-munisipaliteit dui daarop dat die gemeenskap liefs moet hande vat en self 'n skoonmaakprojek onderneem.
Volgens Walter Hendricks, munisipale direkteur van gemeenskapsdienste, is die opknapping van rivierbeddings nie 'n plaaslike munisipale funksie nie. "George-munisipaliteit het wel al in die verlede met ander departemente en rolspelers gewerk om veral uitheemse plantegroei in riviere te probeer bestuur – dit is egter 'n duur en voortdurende taak waarvoor daar nie tans fondse en hulpbronne is nie," het Hendricks gesê.
Volgens Hendricks grens Madeliefiestraat aan die natuur en is die grond waarna verwys word 'n natuurlike groen strook en nie 'n park of residensiële erf nie.
"Dit is nie finansieel volhoubaar om stroke waar huise aan die natuur grens soos 'n park of tuin te onderhou nie – daar is sowat 130 km sulke stroke in en rondom George. Die munisipaliteit waardeer egter die hulp van inwoners in sulke gebiede wat stukke gras rondom hulle eiendomme sny en skoonhou," het Hendricks gesê.
"Slange en ander wilde diere is deel van die natuurlike omgewing naby aan residensiële gebiede en die 'skoonmaak' van die erf gaan nie 'n groot verskil maak nie."
Haweloses
Wat haweloses betref, het Hendricks onderneem dat gereelde inspeksies in Madeliefiestraat deur die teen-grondbeset-tingseenheid (Anti-Land Invasion Unit) gedoen sal word. "Haweloses is egter 'n groter maatskaplike aangeleentheid wat slegs gedeeltelik binne die munisipale mandaat aangespreek kan word," het Hendricks gesê.
"Die munisipaliteit se departement gemeenskapsontwikkeling (044 802 2000) werk saam met ander relevante rolspelers, insluitende die nasionale departement maatskaplike dienste, die polisie en liefdadigheidsorganisasies, om dit so ver moontlik te probeer aanspreek."
Hy doen 'n beroep op die publiek om onwettige vullisstorting in natuurlike stroke, waaronder die aflaai van swart sakke, te rapporteer.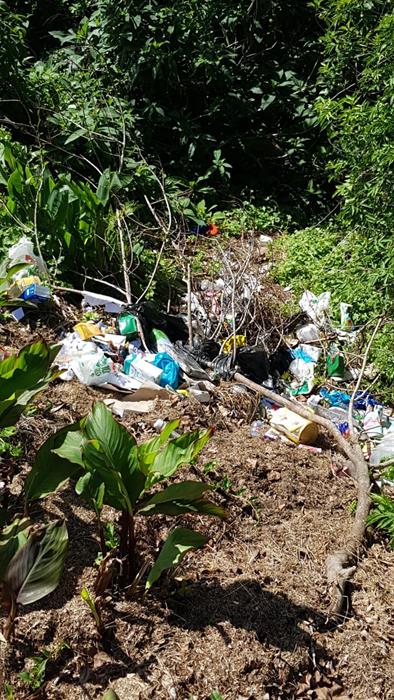 Gemors tussen die plantegroei.
Maak kontak
Om betrokke te raak by rivierskoonmaak-projekte, kontak omgewingsdienste by 044 802 2900 of stuur 'n e-pos na pburgoyne@george.gov.za. Vir klagtes oor grondbesetting kontak 044 801 6310 (kantoorure) of 044 801 6300 (na-ure).
Rapporteer onwettige vullisstorting in natuurlike stroke by 044 801 6350 of stuur 'n epos na sprins@george.gov.za. Ander onwettige stortings kan aangemeld word by 044 802 2900.
'Ons bring jou die nuutste George, Tuinroete nuus'