Gallery
GEORGE NUUS - Sedert kort voor die nasionale inperking ingestel is, gaan Akkertjie Preprimêr in Pacaltsdorp gebuk onder 'n vlaag van inbrake.
"Die eerste voorval het op Sondag 22 Maart plaasgevind. Daarna was daar weer inbrake op 27 Maart, 12, 17 en 28 April, en die laaste twee gevalle was op 7 en 14 Mei," vertel onderwyseres, Arista Breeches.
"Die alarm het elke keer afgegaan wanneer daar ingebreek is, maar wanneer die sekerheidsmaatskappy op die perseel aangekom het was daar niemand nie. Ons het reeds vier sake by die polisie aangemeld waarvan hulle een keer vingerafdrukke kom neem het en met die laaste voorval kon hulle 'n bloedmonster neem," sê sy.
Tydens die voorvalle is verskeie items gesteel en die gebou is gevandaliseer. Volgens Breeches het een van die swerkaters ook in die gebou ontlas.
Fotogalery: Inbraak by Akkertjie Preprimêr
"Op 12 April is al die skooltjie se skoonmaakmiddels gesteel insluitende sneesdoekies, toiletpapier en wet wipes. Hulle het by die vensters ingekom na hulle die diefwering uitgebreek het," sê Breeches. Die skooltjie se plastiektafeltjies en -stoele is by 'n ander geleentheid gesteel.
In hul soektog na iets waardevol het die oortreders niks in hul pad laat staan nie.
Suid-Kaapse polisiewoordvoerder, kapt. Malcolm Pojie, het die voorvalle bevestig en gesê hoewel niemand nog in verband met enige van die voorvalle in hegtenis geneem is nie, word enigiemand met inligting versoek om die ondersoekbeamptes, adjudant-offisier Josh Rondganger en sersant Cindy Horn by die Pacaltsdorp-polisie by 044 803 9130 te kontak. Stop Misdaad kan ook by 08600 10111 geskakel word.
The Akkertjie pre-primary school in Pacaltsdorp has been the victim of a spate of burglaries that started shortly before lockdown. Since 22 March the school has been broken into seven times and various items including cleaning products and plastic children's furniture have been stolen.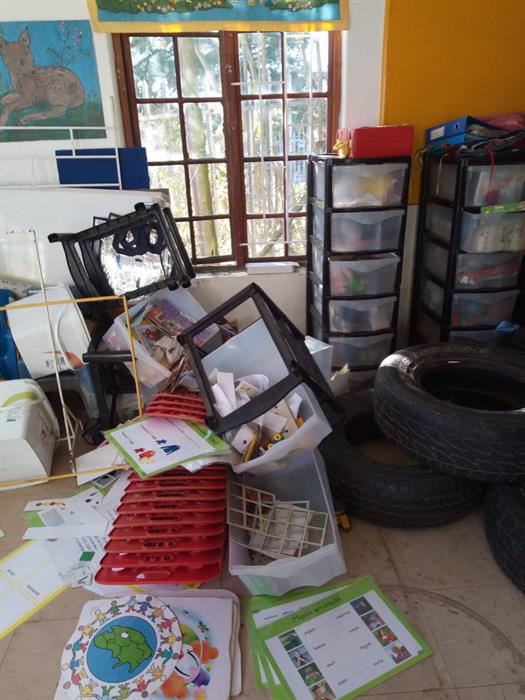 Die skooltjie is gevandaliseer tydens die inbrake.
'Ons bring jou die nuutste George, Tuinroete nuus'