GEORGE NUUS - Die betowerende klank van 'n kerkklok in Bergsig elke weeksdag om 12:00, het mense aan die praat. Dit word wyd gehoor en talle staan stil om te luister en te bid.
Ds. Rudolph Grobler, leraar van die NGK Bergsig- gemeente, verduidelik dit is deel van 'n oproep aan mense om vir daardie paar minute saam te bid.
Volgens hom het die predikante in die gemeente gesels oor die buitengewone tye as gevolg van Covid-19. Mense kan nie meer fisies saamkom om kerk toe te gaan nie. Mense het die behoefte uitgespreek om saam te bid.
"Kerkklokke het deesdae in onbruik geraak. Ons het die klok en kan dit positief aanwend," het hy gesê.
Daar is besluit dat die kerk se klok sal lui op 'n bepaalde tyd om mense op te roep om te bid.
Die klok kan 'n hele entjie van die kerk gehoor word. "Mense beleef dit as positief. Ons het baie mense wat stil raak en bid."
Hy nooi ander kerke wat klokke het, om dieselfde te doen.
Met die lui van klok is daar vier spesifieke gebedsversoeke:
Bid vir gesondheidswerkers;
Bid vir families wat geliefdes aan die dood afgestaan het;
Bid vir mense wat siek is en
Bid vir mense wat finansieel swaarkry as gevolg van die pandemie.
Christa de Meyer, die koster, is verantwoordelik vir die lui van die klok. Dit het in die middel van Januarie begin. Die klok word elke weeksdag om 12:00 vir drie minute gelui.
The ringing of a church bell in a George suburb every weekday at 12:00, has people talking. Sometimes people stand still for a few minutes to listen and to pray. Rev. Rudolph Grobler of the Dutch Reformend congregation Bergsig, said it is part of a call for people to pray at the same time.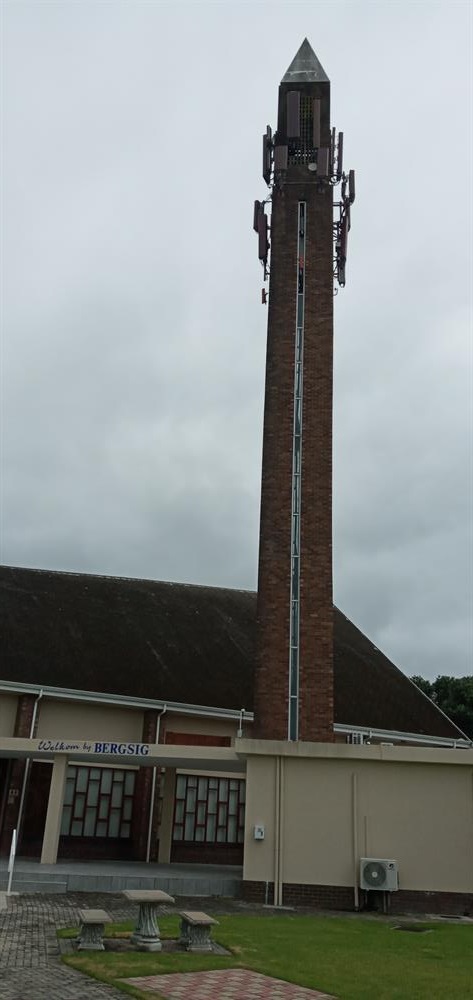 Die kerktoring van die NGK Bergsig wat die kerkklok huisves.
'Ons bring jou die nuutste George, Tuinroete nuus'