Gallery Video
GEORGE NUUS EN VIDEO - 'n Spesiale wens van 'n jong kankerlyer om in 'n Chevrolet Camaro te ry, is gisteroggend, op sy verjaarsdag, bewaarheid.
Henrian Müller (23), 'n man met 'n voorliefde vir ekstreme sport en sy ma, Elaine van der Merwe, het in Maart 2016 van Pretoria na George verhuis om 'n nuwe begin te maak. Müller is egter vroeër vanjaar met testikulêre kanker gediagnoseer.
"Tydens sy eerste jaar in George het Henrian by 101 Meade Street-restaurant gewerk waar hy opleiding as sjef ontvang het. Hy het oor erge rugpyn begin kla, maar ons het gedink dit was van die lang ure op sy voete," vertel sy ma. 'n Jaar later het die rugpyn egter die oorhand gekry en hy het bedank.
Aan die einde van 2017 het Müller bewus geword van 'n groeiende knop en teen April vanjaar het 'n uroloog dit as testikulêre kanker gediagnoseer.
Die groeisel is in Julie verwyder, maar weens finansiële stremming kon Müller nog nie terugkeer vir 'n opvolgondersoek nie.
"Ons het geld vir sy operasie deur die aanlyn-platform, Back-a-buddy, ingesamel, maar dit was te min en ons kon slegs 'n gedeelte van sy mediese onkostes betaal. Die res is nog uitstaande. Ons weet ook nie of hy heeltemal skoon is of nie, want ons kan in hierdie stadium nie die opvolgbehandeling of toetse bekostig nie," sê Van der Merwe.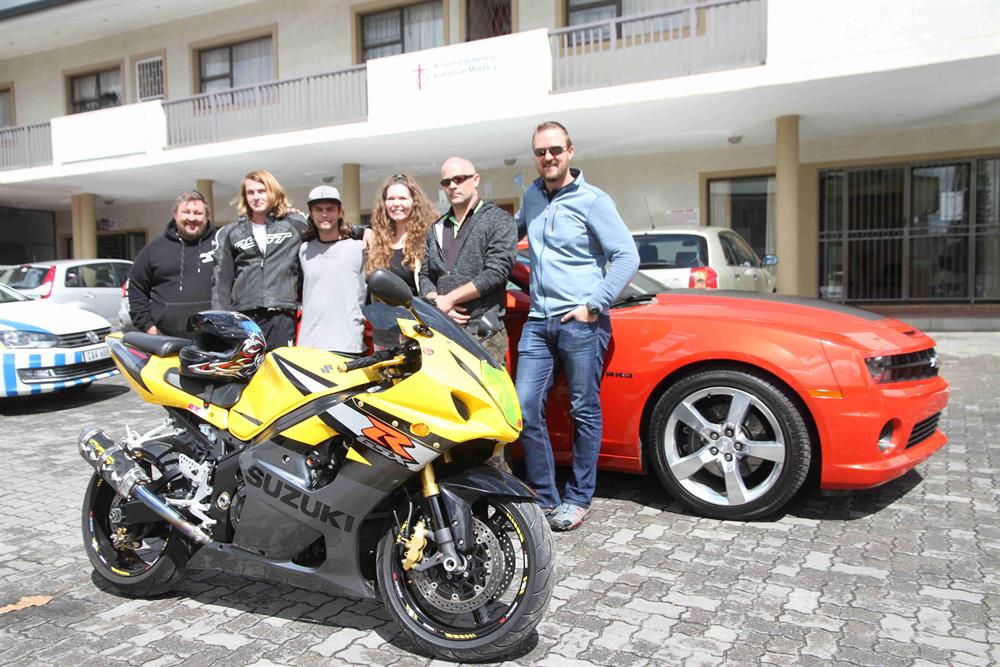 Henrian Müller by Bennie Steenkamp (Motorcycle Madness), sy beste vriend, Carel Cronjé, sy ma, Elaine van der Merwe, Craig Anderson (Landy World) en Rudolph Koekemoer (1st Auto) wat die rit in die Camaro moontlik gemaak het.
Maar dié wolk wat oor hulle hang demp egter nie hul moed nie en Van der Merwe het besluit om alles in haar vermoë te doen om haar seun se wenslysie te verwesenlik.
Van der Merwe het vir Craig Anderson, die eienaar van Landy World, vir hulp genader en hy het dadelik ingestem om haar seun op sy verjaarsdag, met 'n rit in sy Camaro, te verras.
"Met die rit in die Camaro, en met die hulp van 'n groep motorfietsryers in George, gaan ons probeer om geld in te samel vir die uitstaande mediese rekeninge of dalk ook om ander items op sy wenslysie te kan bewaarheid.
Ek bedank graag vir Rudolph Koekemoer van 1st Auto wat vir Henrian 'n vryvalsprong by Skydive Mossel Bay gereël het en vir Bennie Steenkamp van Motorcycle Madness wat, saam met Craig, vir Henrian met 'n motorfietsrit gaan bederf.
Kyk 'n video hieronder:
Items wat nog op Henrian se wenslysie oor is:
Om op resiesbaan saam met vinnige motors te jaag.
Om 'n Yamaha R6 te besit
Om 'n week in die Maldives saam met die vrou vir wie hy lief is, te spandeer.
'Ons bring jou die nuutste George, Tuinroete nuus'