GEORGE NUUS - As ek terugkom na Suid-Afrika, voel dit of ek 'n ander wêreld binnegaan. Dis 'n absolute teenstelling met waar ek in Afganistan woon, waar dit 'n oorlogsone is."
Só vertel Kathy Whitehead van Wilderness, 'n Suid-Afrikaans-gebore joernalis, wat vir 'n televisiestasie in Afganistan werk. Sy het onlangs weer in Suid-Afrika aangekom vir tuisverlof nadat sy drie maande in Afganistan gewerk het. Later vandeesmaand keur sy weer terug.
Vir 'n groot deel van die jaar verruil sy die rustige Wilderness vir Kaboel, hoofstad van Afganistan. Die land word op die oomblik beskou as een van die topdrie gevaarlikste plekke in die wêreld vir joernaliste om in te werk.
Dit is 'n lang pad wat sy geloop het. Sy is 'n baie ervare joernalis en is al meer as 30 jaar by die joernalistiek betrokke. In die tyd was sy onder meer redakteur, persfotograaf, joernalis en subredakteur. Sy het gesien hoe geskiedenis gemaak word en was onder meer by die Victor Verster-gevangenis in die Paarl toe wyle pres. Nelson Mandela op 11 Februarie 1990 vrygelaat is.
Later het sy vryskutwerk gedoen. Kort nadat sy 50 jaar oud geword het, het sy die pos by die televisiestasie in Afganistan aanvaar. Sy is nou terug met tuisverlof in Suid-Afrika en net 'n paar dae na haar aankoms het sy die hartseer nuus ontvang dat een van haar kollegas, Yar Mohamed Tokhi, 'n kameraman, in 'n selfmoordbomaanval gesterf het. Hulle het drie jaar saamgewerk en sy het nog kort voor haar vertrek met hom gepraat.
'n Fotograaf van 'n nuusagenstkap, Shah Marai, het ook saam met verskeie ander joernaliste in dieselfde voorval gesterf.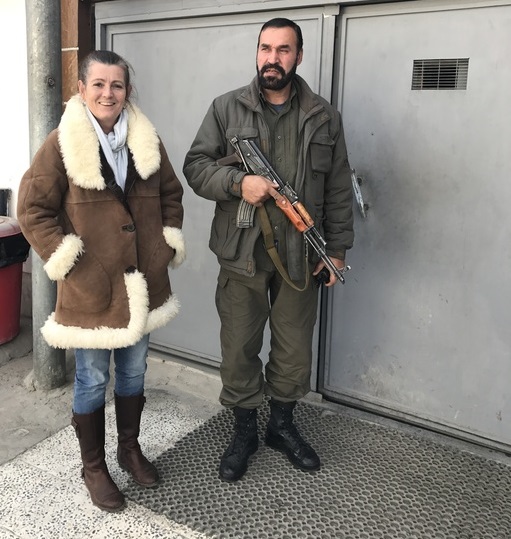 Kathy Whitehead (links) by die ingang van die televisiestasie in Kaboel, Afganistan waar sy werk. By haar is 'n veiligheidsdwag.
Kathy werk nou al drie jaar in die land en het in die tyd baie gevaarlike dinge beleef. Sy kan nie baie reis nie, want dit is gevaarlik en sy woon in die sogenaamde groen-sone waar al die ambassades is.
"Ek kan nêrens op my eie gaan nie. Daar is altyd 'n gewapende wag en ek dra 'n opsporingstoestel ingeval ek ontvoer sou word."
In die groen-sone is sekuriteit baie streng. By die ingang van haar huis is twee gewapende wagte. In die straat waar sy woon is sowat 40 wagte en soldate. "Ek kan nie eers op my eie winkel toe gaan nie. Ek moet toestemming vra. My kantoor is sowat 150 meter van my huis. As ek daarheen loop, moet 'n gewapende wag saamgaan. Die supermark is sowat 400 meter van my huis. As ek daarheen gaan, word ek met 'n gepantserde voertuig geneem."
Sy geniet haar besoeke aan Suid-Afrika. "Hier kan ek in my kar klim en ry. Ek kan op my stoep sit en kyk hoe die son opkom oor die meer. As ek in die nag buite sit, hoor ek die krieke, die paddas en die see in die agtergrond. Daar is dit die teenoorgestelde. Jy hoor helikopters en ontploffings. Soms is daar ook aardbewings."
Volgens Kathy is die bedreiging voortdurend, maar mens raak gewoond daaraan.
Wanneer sy Suid-Afrika besoek verg dit wel aanpassings. "As ek hier is en ek hoor 'n harde slag, dan skrik ek 'n bietjie. Dit neem my dan weer 'n paar sekondes om rustig te raak."
Daar ver anderkant mis sy haar huis en diere. In Kaboel het sy wel 'n kat, Charlie, wat by haar in die huis woon. Charlie het sy eie bomskuiling in die huis. "Hy is baie bang vir helikopters."
Haar ma, Mavis, woon in 'n tehuis vir bejaardes in George. "Sy is altyd besorg oor my veiligheid. Dis moeilik vir haar."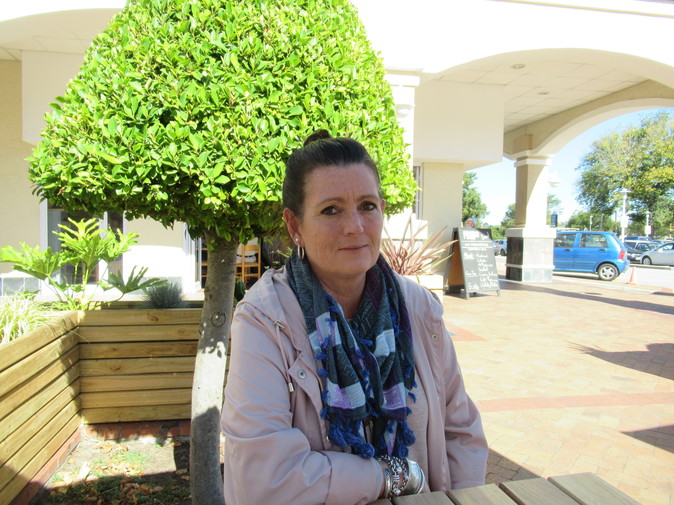 Kathy Whitehead tydens haar onderhoud met Eugene Gunning.
Kathy weet nie hoe lank sy dit nog gaan doen nie en is van voorneme om later 'n boek te skryf.
Sy is glad nie spyt oor wat sy gedoen het nie en sal dit weer doen.
Volgens haar het die Afghane 'n goeie humorsin en net soos vir hulle, is dit iets wat haar deur moeilike tye help.
Sy benadruk die probleme in Afganistan is baie kompleks. Daar is sowat 20 terroriste-groepe in die land en sy twyfel sterk of vrede binne die volgende dekade sal volg. "Daar is te veel terroriste-groepe."
'Ons bring jou die nuutste George, Tuinroete nuus'