Gallery
GEORGE NEWS - Illegal dumping has reared its ugly head in Buitekant Street in the George industrial area.
When the George Herald arrived at the site on Friday afternoon, the area was not only littered with plastic, paper, various metals and building material, but the storm water drain pipe adjacent to the road was completely blocked with rubbish.
This blockage causes the rainwater to push up onto the road and into nearby business premises, resulting in thousands of rands' damage when flooding occurs.
According to business owners in the area it is also a honey pot for copper hunters and the homeless, who regularly make fires among the rubbish.
The owner of Sarge Mechanical, Anthony Divaris, says that during the last couple of months he has phoned the municipality numerous times to do something about the dump which is not only an eyesore, but has become a health and safety risk as well. "I just don't seem to get through to the right people."
"Every time it rains, Buitekant Street becomes a river floating with trash and when the wind blows the litter is strewn across the area like it's waiting to be harvested.
"Besides flooding, the mess in the storm water pipe causes an unbearable smell," said Divaris.
"The scary thing is a lot of the litter and filthy water that manages to seep through the rubbish in the storm water pipe probably end up in the river down below." He pointed to the part of the Schaapkop river that runs underneath PW Botha Boulevard towards Borcherds.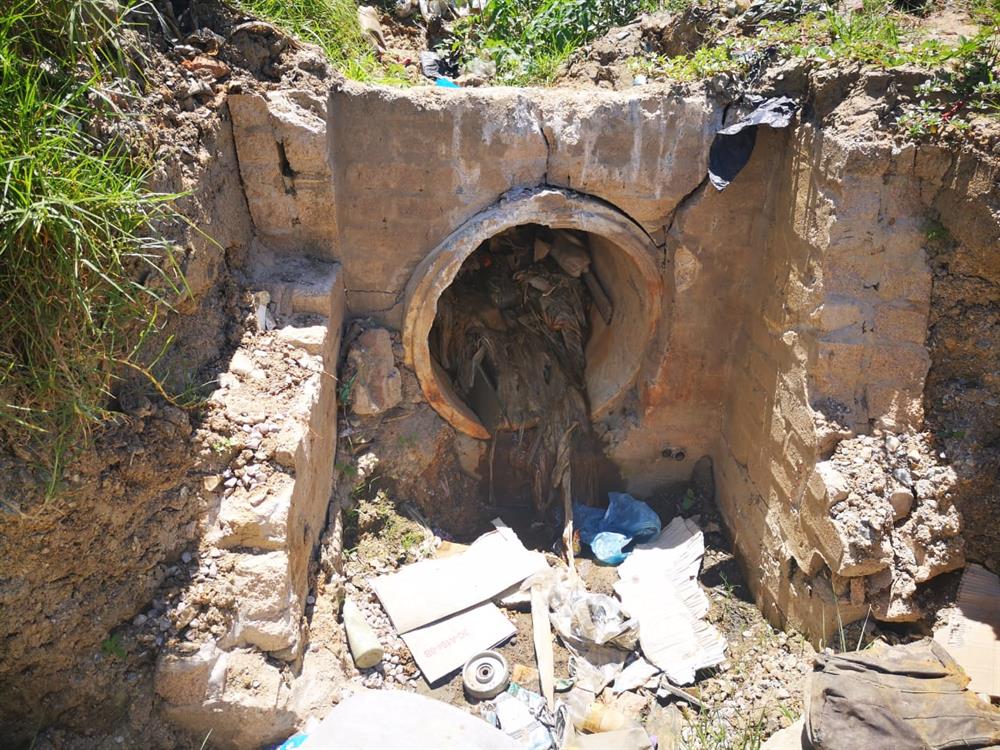 Filth pouring from the storm water drain pipe. Photos: Kristy Kolberg
Clean-up after query
The George Herald sent an enquiry to the municipality addressing Divaris's complaints, the removal of the rubbish, and prevention of dumping. On Monday afternoon some of the rubbish was piled into heaps and on Tuesday morning cleaning-up operations started. Law enforcement officials also patrolled the area.
"The complainant was contacted and municipal officials did an on-site investigation," said municipal communications officer Debra Sauer. "Several divisions have started cleaning up at the premises. There is currently no evidence as to who is responsible for the illegal dumping in the area. The municipality wants to encourage all citizens to keep their communities clean and to report any illegal dumping to the law enforcement office on 044 801 6350. Fines will be issued."
The location of the illegal dumping site, above PW Boulevard and Buitekant Street.
When reporting illegal dumping, please provide as much information as possible:
Name and surname (complainant)
Their physical address / contact details (complainant)
Vehicle registration number / colour (perpetrator)
Type of waste dumped
'We bring you the latest George, Garden Route news'