GEORGE NEWS - Supplying food to the needy in George during the Covid-19 lockdown period is turning into a crisis. The three welfare organisations currently running their services are inundated with demands for food from the communities, placing them in a position where they are trying to serve many more families than those on their databases.
George Child & Family Welfare and Life Community Services cover vast areas in George, while Seven Passes Initiative services the community in Touwsranten, near Hoekwil on the outskirts of Wilderness.
Sue du Toit of George Child & Family Welfare said things have changed since last week, and the need of the hungry picked up a few notches. "This is the first week we can feel the aggression of hungry people during lockdown. Last week they still had their social grants and money given by employers, but now it's a different story," she said.
George Municipality opened a drive-through drop-off centre at the Civic Centre in York Street on Sunday, from where food, hygiene and sanitary products, clothes and supplies will be distributed to more than 80 municipal soup kitchens and the temporary shelter for the homeless at Rosemoor stadium, that houses roughly 80 individuals.
However, the drop-off centre is not a distribution point where individuals can pick up food parcels.
George firefighter Simphiwe Sibosana and Fire Department administrator Edith Booysen receive goods from a donor at the George Municipality Covid-19 donation drive-through centre on Monday.
Soup kitchens
According to media liaison officer Athane Scholtz, George Municipality is not currently involved in the distribution of food parcels. "In terms of the Covid-19 response, the George Municipality section Community and Social Development is only involved with the municipal kitchens in communities and the temporary homeless shelter at Rosemoor stadium," she said.
"People must take a container to a soup kitchen for a meal in the morning and a meal in the afternoon. They should not come to the Civic Centre, as they cannot be assisted from here and pose a potential health threat to the centre, which is being managed strictly to keep Covid-19 protocol."
She referred inquiries regarding food parcels to the Western Cape Department of Social Development (DSD).
DSD announced on Monday that 50 000 extra food parcels, which will support an average household for one month, will be distributed to households in the province who meet certain qualifying criteria.
George Herald is awaiting feedback on how (through which NGOs) and when this will be made locally available. After receiving a high number of requests for food relief from the community, DA Secretary of the East Region Tertuis Simmers on Tuesday also urged the public to contact the DSD (see contact details below).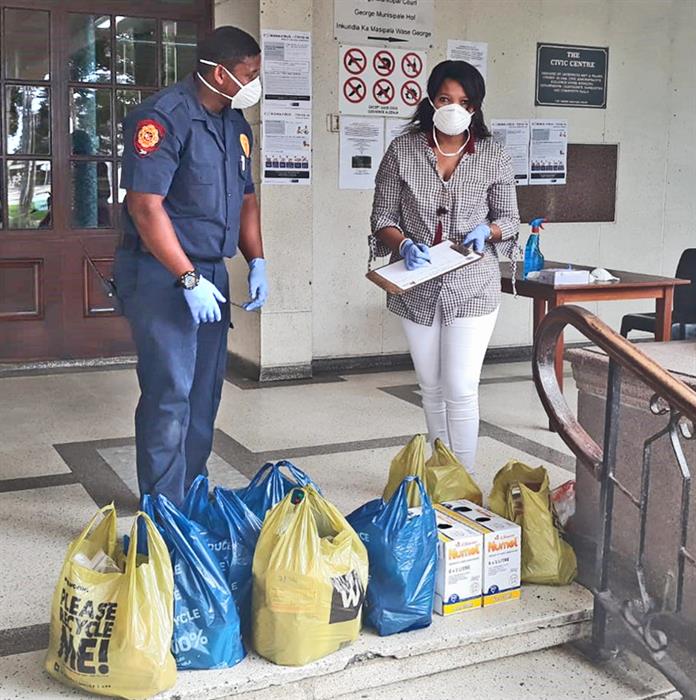 George firefighter Ricardo Michaels and Fire Department administrator Edith Booysen register donations on the steps of the Civic Centre where the municipality has established a drop-of-and-go centre for donations during the Covid-19 crisis period.
On the move
Maryna De Vries of Life Community Services in George said their organisation makes and distributes 500 sandwiches daily to the communities in 11 areas where their centres operate.
"Within 30 to 45 minutes all the food is out. It's been pretty crazy," said De Vries on Tuesday morning.
"We work in teams, making and dropping sandwiches at the homes of staff members, where children come and fetch a sandwich. We've also distributed up to 300 food parcels for families, for over the long weekend. We can hardly keep up. Good Samaritans have pledged their help in making sandwiches, but Life simply doesn't have the infrastructure to handle larger numbers of food and distribution. I feel bad turning people down," she said.
They follow strict Covid-19 regulations.
Sue du Toit of Child & Family Welfare said their five Early Childhood Development Centres are currently open for feeding the kids. In addition they've been distributing food to Wilderness Heights with the help of public donations.
"Apart from the children who would normally attend our crèches, we also provide food for others that now come to the crèches as well. We know the ones on the streets are left to their own devices. We distribute up to 600 sandwiches in the areas we serve, food parcels for the families we are working with, as well as an additional 300 food hampers for the long weekend," said Du Toit.
The process of receiving donations at their centre, circulating, making sandwiches and distributing to the communities is keeping them busy. "We literally don't stop," said Du Toit. She said together with Life Community Services and Seven Passes, they are trying to coordinate and share donations.
A little girl in Borcherds and her friends receive sandwiches from George Child & Family Welfare earlier this week.
Where to call or donate
Members of the public can phone the Department of Social Development on 0800 220 250 (general queries) and 0860 142 142 (donation requests and offers) between 07:00 and 16:00 (Monday to Friday). Alternatively, send a Please Call Me to 079 769 1207, or send an e-mail to covid19donate@westerncape.gov.za.
These queries will be routed to the relevant programme offices within the department.
Donations for Child & Family Welfare can be dropped at their centre (c/o Nelson Mandela Boulevard and Merriman Street) from 08:00 to 16:00, and donations for Life Community Services can be dropped of at the Spar in Wellington Street.
'We bring you the latest George, Garden Route news'