Video
GEORGE NUUS EN VIDEO - 'n Ramshoringblaser van Denneoord is so byna bokveld toe nadat hy - met sy koedoehoring en al - deur die bestuurder van 'n bromponie getref is.
'n Wielspoor in die gras, 'n bloedkol op die teer en stukke van die bromponie wat op die toneel agtergebly het, is die enigste leidrade van die voorval verlede Dinsdagaand, 2 Junie, op die hoek van Wallis- en Scharlettstraat (skuins oorkant NG kerk Denneoord).
Die bestuurder het na die ongeluk soos 'n groot speld verdwyn.
Martin Lombard blaas glo sedert die begin van grendeltyd elke aand om 20:30 vir sowat twee minute op 'n koedoehoring. Dit is 'n tyd wanneer hy vir die dorp bid en vra vir beskerming.
"Al wat ek van die ongeluk kan onthou is dat ek twee scooter-ligte gesien het. Toe ek wakker word, het ek probeer huis toe strompel," het Martin gesê.
Sy vrou, Carol, het haar horing in hulle huis geblaas, sowat 100 m van die toneel af. "Ek het hom twee keer hoor blaas, en toe nie weer nie. Net toe ek wou gaan kyk wat gebeur het, kom hy die huis binne. Hy was vol bloed, hy kon nie praat nie. Ons is dadelik na Mediclinic George waar hy behandeling ontvang het," het sy gesê.
Martin herstel nog van sy wonde, waaronder 'n kopbesering en inwendige kneusplekke. Hy verkeer steeds in baie pyn.
Kyk 'n video hieronder:
Ondersoek
Volgens die Lombards is die saak dieselfde aand van die ongeluk by die polisie aan gemeld, maar het dit aanvanklik nie die nodige aandag ontvang nie. Martin het intussen laat weet dat hulle verklarings Dinsdagaand 9 Junie ('n week later) geneem is en dat die saak nou ondersoek word.
Die straathoek by Wallisstraat, waar Lombard se bloedkol steeds sigbaar is. Dit wil voorkom of hy die teer op 'n ander plek getref het as daar waar hy gestaan en blaas het.
Suid-Kaapse polisiewoordvoerder, Malcolm Pojie, het die volgende terugvoer gegee: "Na aanleiding van die [media] navraag het brig. Nolan Michaels, die stasiebevelvoerder van George, opdrag gegee dat die aangeleentheid indringend ondersoek word, krimineel sowel as departementeel.
"Daarom is 'n senior offisier aangestel om die bewerings te ondersoek en die nodige verklarings te bekom om die ondersoek te rugsteun." Pojie het gesê die bewering word in 'n baie ernstige lig gesien. "Dit is ons mandaat om nie alleenlik misdaad te bekamp nie, maar dit ook te ondersoek. Elke burger van die dorp is geregtig op waardige en professionele diens," het hy gesê.
Sou mense inligting oor die saak beskik word hulle versoek om die polisie te kontak by 044 803 4400 /4715.
A shofar blower from Denneoord is the victim of a hit-and-run accident. The incident happened last week Tuesday 2 June. He was allegedly hit by a scooter while blowing his horn on the corner of Wallis and Sharlett Streets.
Dele van die bromponie het op die toneel agtergebly.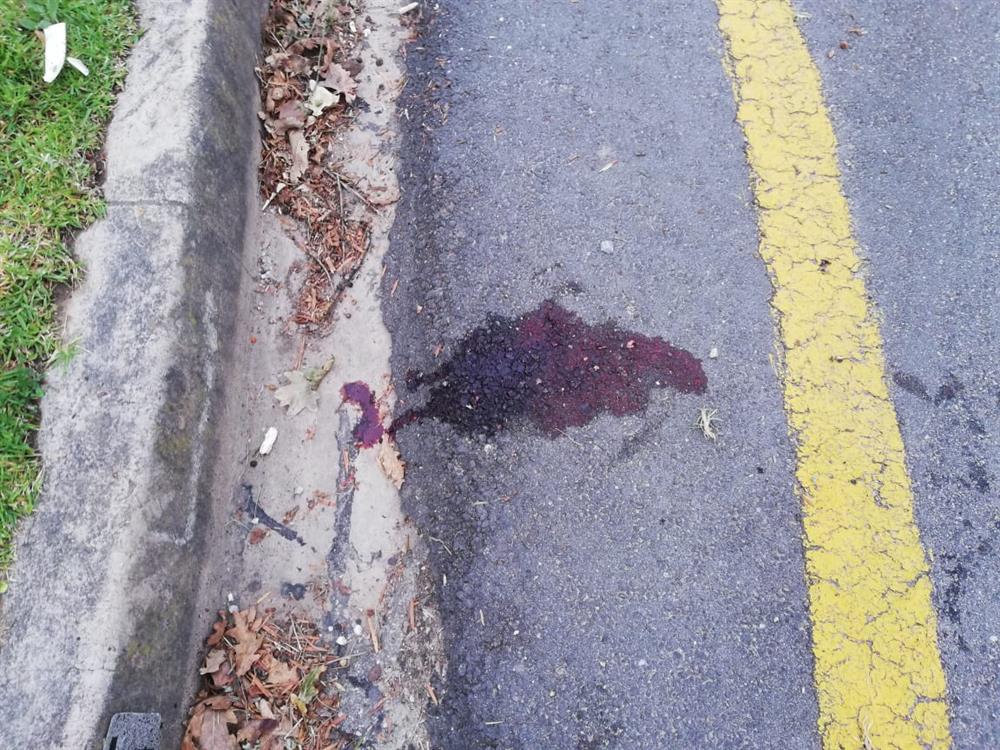 Hierdie foto is blykbaar 'n dag na die ongeluk geneem, verlede Woensdag, op die hoek van Wallisstraat. Tekens van Lombard se hoofbesering is duidelik te siene. Foto: Verskaf
Wielspoor in die gras op die hoek van Wallisstraat waar die bromponie langs gery het. Foto: Verskaf
'Ons bring jou die nuutste George, Tuinroete nuus'