GEORGE NEWS - The Wilderness Art Festival took place last weekend, and Hoekwil Primary School was invited to exhibit its students' top artworks.
The pieces from children as young as six were showcased alongside the works of Wilderness's most established artists. Notably, the works of Mika Muller (then Grade 1) and Sasha Adams (then Grade 6) were on display. These children won the 2018 Junior Art Award and 2018 Senior Art Award respectively at the 2018 George Eisteddfod.
It is rare that both the junior and senior awards are won by the same school in the same year.
SABC TV news filmed the opening of the art festival on Thursday night and interviewed Sasha Adams about his piece, Game Time, which received an A+++ at the eisteddfod. Sasha, who is now the head boy of Hoekwil Primary School, told the reporter a book he was reading at the time provided the inspiration for his award-winning piece.
Hoekwil Primary School was delighted with its eisteddfod wins last year, as well as the opportunity to appear on national TV on Sunday night. The school is known for its strong focus on arts and culture, often raking in more A+++ and A++ results than any other local school at the eisteddfod.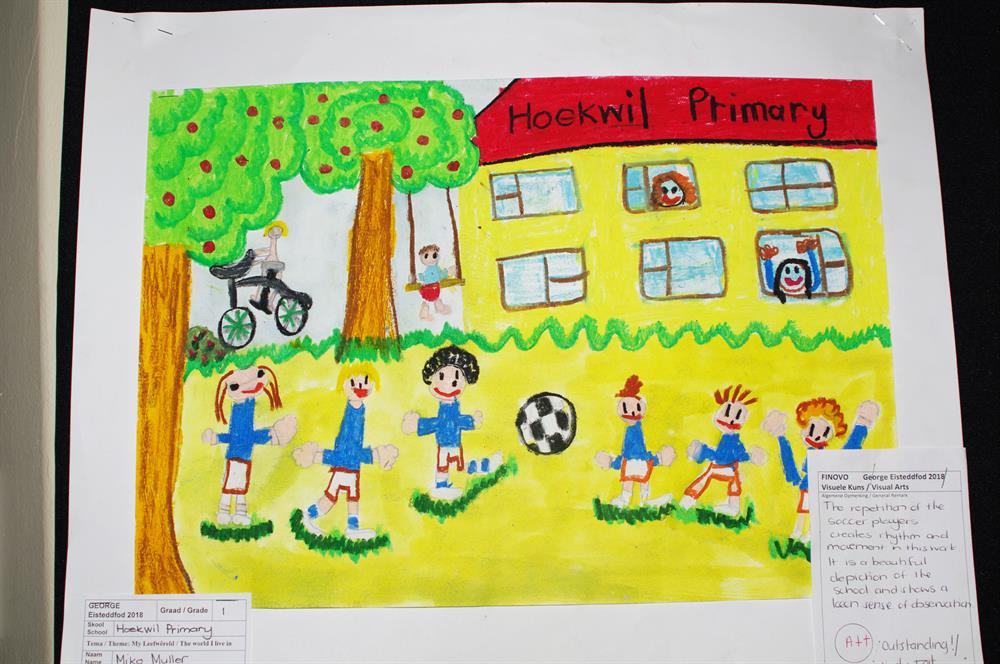 Mika Muller won the Junior Art Award at the 2018 George Eisteddfod with this piece titled My School. The colourful art work earned the then-Grade 1 learner an A++ from the judges.
'We bring you the latest George, Garden Route news'