GEORGE NUUS - Die organiseerders was aangenaam verras oor die groot belangstelling in 'n demensie-seminaar wat verlede Donderdag by die NG Moederkerksaal gehou is.
Meer as 250 mense het dit bygewoon en aandagtig geluister na kundiges oor die sensitiewe onderwerp. Demensie is 'n saambreelterm vir meer as 100 verskillende siektetoestande waarvan Alzheimers een is.
Die voorkoms van demensie is 'n groeiende tendens en die seminaar is gehou om mense te bemagtig oor hoe om dit te benader. Dit is ook gehou om saam te val met Internasionale Alzheimers-bewusmakingsdag wat elke jaar op 21 September plaasvind.
Die seminaar was 'n gesamentlike inisiatief van Tuiniqua-versorgingsentrum, die Alzheimer-ondersteuningsgroep van George, asook Excellentis Kliniese-navorsingskonsultante en die plan is om dit weer in die toekoms te hou.
Spreker dr. Nelia Drenth, senior lektor by NWU en 'n maatskaplike werker in privaat praktyk, het gesê die groot opkoms wys daar is behoefte by mense om meer oor die onderwerp te hore te kom. Die vraag is wat gedoen kan word om voorbereid te wees en hoe om dit te hanteer.
Daar is steeds 'n stigma aan verbonde. Daar moet gekyk word hoe dit hanteer kan word. Dis nie vir die pasiënte, die versorgers, die betrokkene se familie en die gemeenskap maklik nie.
Van die mense wat betrokke was by die reëlings van die seminaar. Jean Barnard (links) 'n stigterslid van die Alzheimer-ondersteuningsgroep van George, Janine Nel, 'n maatskaplike werker by Tuiniqua, Janet Hart, voorsitter van die Alzheimer-ondersteuningsgroep van George, Annelie Bennett van Tuiniqua en Alani Voigt, sentrumhoof van Tuiniqua.
Gert Meiring, nog 'n spreker en bestuurder van die ACCV Huis Elsjé se versorgingsentrum vir mense met demensie, het die hoop uitgespreek dat meer jong mense betrokke sal raak. Volgens hom moet die fokus van bewusmaking skuif van ouer mense na jonger mense. Hulle moet bewus wees wat dit behels sodat betyds opgetree kan word.
Meiring het gesê elke drie sekondes word iemand in die wêreld met demensie gediagnoseer. Na raming het 50 miljoen mense demensie. Daar is geen enkele toets wat uitgevoer kan word om te bepaal of iemand demensie het nie.
'n Kombinasie van toetse moet deur professionele mense uitgevoer word en daar is veelvuldige oorsake. Marlene van Niekerk, besturende direkteur van die Jura Care Village vir mense met demensie, het gewys op die belangrikheid van nie-verbale kommunikasie.
"Ons moet met hulle (demensie-lyers) kommunikeer sonder dat hulle kan kommunikeer."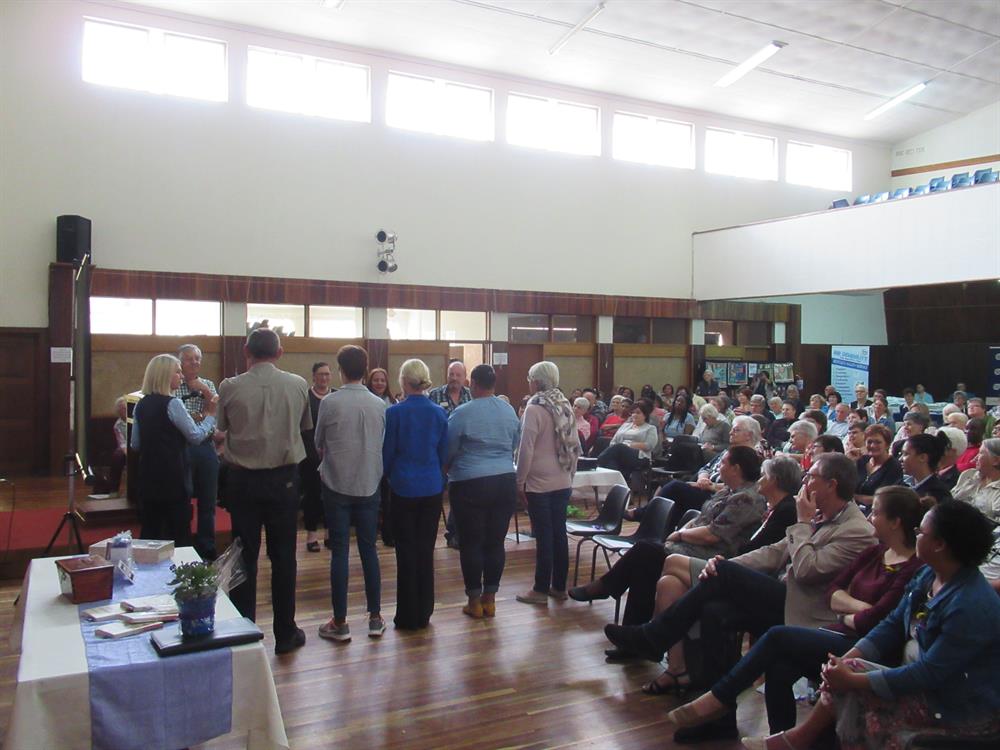 Die gehoor is betrek om te wys hoe belangrik nie-verbale kommunikasie is.
Dit is belangrik dat reg gekommunikeer word. Mense met Alzheimers registreer slegs elke vierde woord. Dis belangrik hoe iemand benader word, byvoorbeeld as hulle opstaan, hul tande borsel en ook medisyne vir hulle gegee word.
Gert Meiring, een van die sprekers en bestuurder van die ACCV Huis Elsjé se versorginsentrum vir mense met demensie.
Die stemtoon van iemand wat help, kan ook 'n verskil maak. Sy het voorgestel dat mense geduldig is. Gebruik minder woorde en praat stadig. Jennifer Tiley, 'n spesialis-versorger vir demensiepasiënte, het gewys op die belangrikheid van aktiwiteite. Volgens haar wil sy nie voorgee dat aktiwiteite demensie sal genees nie.
Dis wel belangrik om te help om die persoon se selfbeeld en sy of haar lewenskwaliteit te verbeter. Aktiwiteite kan insluit om musiek te speel en diere-terapie.
Jennifer Tiley, 'n spesialis-versorger, wys hoe 'n pop gebruik kan word as deel van aktiwiteiite vir demensie-lyers, Foto's: Eugene Gunning
'Ons bring jou die nuutste George, Tuinroete nuus'