Video
GEORGE NEWS & VIDEO - Well-known George academic Prof Raymond Auerbach has been appointed to the Agricultural Research Council (ARC) from 1 July.
The ARC recently brought out a new five-year strategic plan, to be managed under nine programmes emphasising sustainable use of resources, and also a vision for agriculture in 2050.
Under the leadership of the new ARC chair, Joyene Isaacs (former head of Western Cape Agriculture Department), the new council will work to help South Africa produce healthy food while conserving soil and protecting natural resources.
Auerbach (66) recently retired as professor of soil science and plant production at the Nelson Mandela University George Campus, but his knowledge of agro-ecology will still be available to the broader community of South Africa. His appointment comes at a time when the world and agriculture faces huge challenges.
He told George Herald that Covid-19 changes everything. Six months from now there will be many hungry people around the world and focus will shift to food security, as well as agro-ecology because of climate change and health crises, as he has warned for 52 years.
Prof Raymond Auerbach with his dog MacLaren at his home in George.
He has written five books, farmed organically for 20 years and trained organic farmers for 20 years. He is on the boards of the SA Organic Sector Organisation (SAOSO), and on several scientific reference groups in Africa and Europe.
He believes that people do not always understand the importance of soil in sustaining biodiversity.
While farming is becoming more productive in tons of food per hectare, the quality of food (nutrient density) has gone down, as conventional agriculture uses many chemicals. About 15% of various minerals and proteins in vegetables and grains have been lost over the past 70 years. That is one of the reasons for the obesity pandemic and increases in diseases such as diabetes.
Watch a video below:
His message is that people should start taking soil health more seriously and focus more on sustainable food systems. "We have to get life back into the soil again to sustain ecosystems and human health; industrial agriculture is killing the soil. We have to get the soil biology right."
"Oupa and ouma's" traditional holistic organic agriculture ideas are embodied in the philosophy of African pioneers such as Jan Smuts and Robert Mazibuko; these should be combined with cutting edge research and technology to bring about sustainable food systems; biotechnology and integrated pest management have an important role to play.
Prof Raymond Auerbach has been appointed to the Agricultural Research Council (ARC).
People can feed themselves by starting their own small vegetable gardens at their homes; smallholders can add value to crops to increase incomes.
South African agriculture should become a leader in sustainable production, but research is needed on soil biology to improve soil, crop and animal health. This will have a positive impact on human health.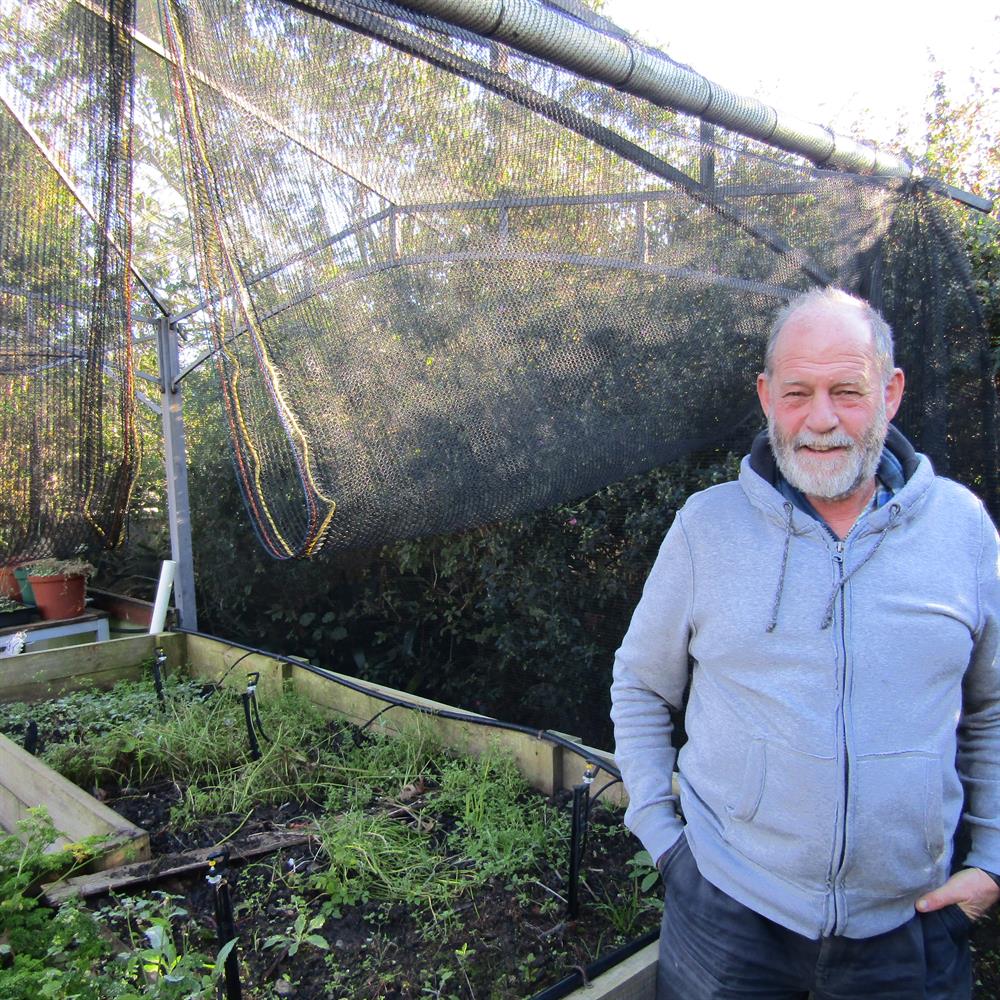 Prof Raymond Auerbach who has been appointed to the Agricultural Research Council (ARC), in his vegetable garden. Photos: Eugene Gunning
'We bring you the latest George, Garden Route news'