GEORGE NEWS - Two colourfully branded temporary info kiosks for the GO GEORGE bus service are currently being fitted out at the interchange in Cradock Street in the CBD.
As there is so much emphasis in the system planning on accessibility for people with special needs, the GO GEORGE team saw fit to request the very able craftsmen of the Emmaüs Protected Workshop to make furniture for the kiosks from recycled pallets and tyres.
City councillors joined GO GEORGE Manager James Robb in a visit to the workshop on Monday to check on the progress of the very unique office furniture.
People needing information about the bus service or help with route planning, are most welcome to pop in at the kiosks where informed and friendly GO GEORGE staff will assist them.
No bus tickets are being sold at the kiosks for now, but one of the ticket vendors, Captain's Cabin, is situated opposite the street from the kiosks for passengers' convenience.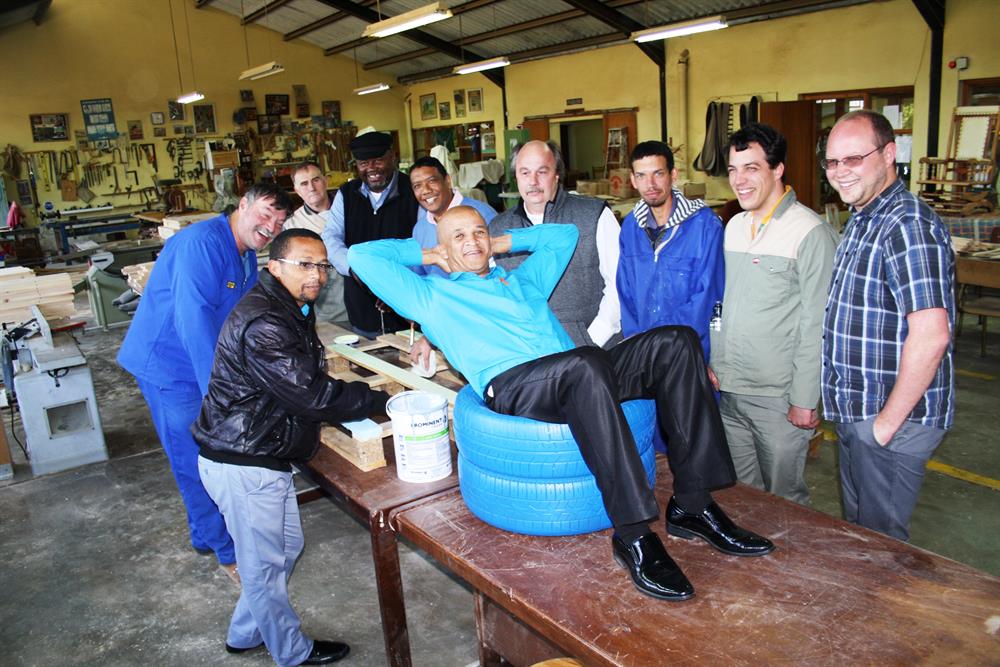 Testing the comfort level of the blue tyre stool that still needs to be fitted with a bright green seat and soft cushion is George Deputy Mayor Daniel Maritz. Clockwise from left are: Councillor Marchell Kleynhans (portfolio councillor for rural areas, social and library services), Hugo Lambrechts (Emmaus craftsman), Johan Dippenaar (workshop manager), Councillor Isaya Stimela (portfolio councillor for corporate services and Emmaus board member), Councillor Melvin Naik
.
'We bring you the latest George, Garden Route news'