Update
GEORGE NUUS - Bykans R10 000 is reeds ingesamel om vir wyle Johan du Preez, 'n bekende hawelose van George, 'n gepaste afskeid te gee.
Dit volg ná André Pieterse, 'n administratiewe klerk by die Life Bay View-hospitaal in Mosselbaai, 'n fonds vir Du Preez se verassing deur die BackaBuddy-befondsingsplatform gestig het.
Die mikpunt was om R9 000 in te samel om Du Preez plaaslik te veras met 'n gepaste gedenkdiens. Teen Dinsdagmiddag, 24 November, was reeds sowat R9 400 vir hierdie fonds deur weldoeners geskenk.
Du Preez is op 13 November in George-hospitaal oorlede nadat hy drie dae tevore, op 10 November, glo voor 'n Go George-bus ingeloop het.
"Alle donasies word direk deur BackaBuddy aan die diensverskaffer uitbetaal. Ons het 'n baie goeie kwotasie vir 'n verassingsdiens ontvang en hoop om Johan binne die volgende paar weke op 'n eerbare wyse te groet," het Pieterse gesê.
Daar is nog geen bevestigde begrafnisreëlings in plek nie. Du Preez se liggaam word tans by die eenheid vir forensiese patologie bewaar en kan eers na 'n sekere tydperk deur iemand wat nie familie is nie opgeëis word. Intussen word geld vir sy verassingsdiens ingesamel.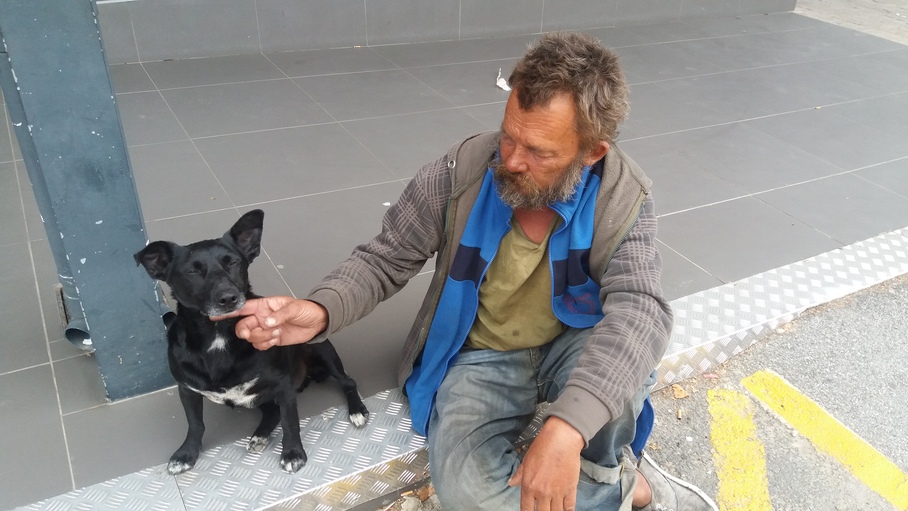 Fix en Du Preez vroeër vanjaar in die middedorp. Foto: Eugene Gunning
Op 'n vraag oor hoekom hy graag wil help, het Pieterse die volgende geantwoord: "Ek het Johan 'n paar keer in George op straat met sy hond raakgeloop. Hy was altyd baie vriendelik met 'n innemende persoonlikheid. Ek het geroepe gevoel om hier betrokke te raak. Die Here het met my gepraat.
"As dit iemand van my was wat so iets moes oorkom sou ek graag wou hê dat iemand ordentlik van die persoon afskeid neem. Ek is ongelukkig nie in 'n finansiële posisie om dit self te doen nie, anders sou ek. Daarom vra ek hulp.
"Du Preez se begrafnisreëlings sal eersdaags bevestig word. Diegene wat graag die BackaBuddy-fonds wil ondersteun kan die volgende skakel volg: www.backabuddy.co.za/champion/project/johan-du-preez
Vir meer inligting kontak Pieterse via WhatsApp by 082 267 7099.
Met Fix gaan dit goed
Du Preez se getroue hond, Fix, het intussen met die hulp van die Tuinroete-dierebeskermingsvereniging (DBV) 'n nuwe tuiste gevind en volgens sy nuwe mensma, Teresa Jardim, gaan dit goed.
Fix en Jardim ken mekaar al 'n paar jaar sedert sy en Du Preez in die middedorp kennis gemaak het. "Ek het altyd vir hom en Fix iets geneem om te eet. Fix wou nooit kos van enigiemand behalwe Johan vat nie tensy Johan hom toestemming gegee het. Mettertyd het Fix uit my hand uit geëet," vertel Jardim.
Volgens haar was Fix nog effens onseker vir die eerste twee dae by sy nuwe tuiste, maar hy begin nou sy voete vind. Hy en sy nuwe 'broer' Rocky het ook kennis gemaak en dit lyk asof hulle sommer groot vriende gaan wees.
"Albei is swart en min-of-meer dieselfde grootte. Fix het ook 'n lekker bad gehad en slaap in die aand op sy eie bed langs myne," sê Jardim.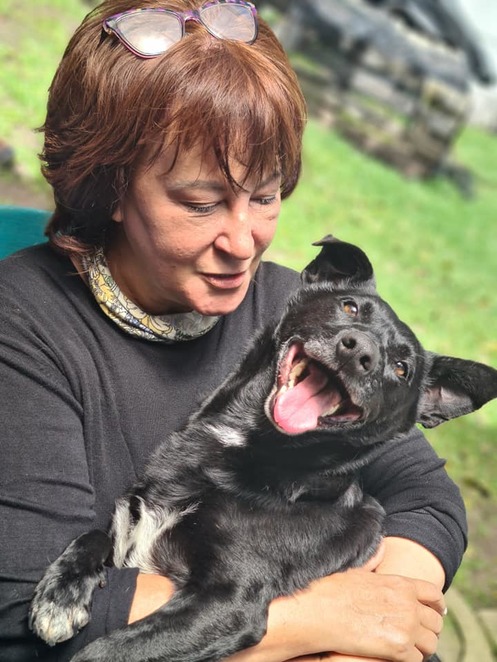 Fix en sy nuwe mens-mamma, Teresa Jardim. Foto: Tuinroete-DBV
Nearly R10 000 has been raised to give the well-known homeless man from George, Johan du Preez, an appropriate memorial service. Du Preez died on 13 November after he allegedly walked in front of a Go George bus in the CBD three days earlier. His faithful dog, Fix, never left his side. When Du Preez passed away Fix was adopted by Teresa Jardim, a business owner in George. She has known Du Preez and Fix for many years. To give Du Preez a proper memorial service and cremation, André Pieterse from Mossel Bay, started a BackaBuddy campaign which, by Tuesday afternoon, had raised R9 379.95. Funeral arrangements for Du Preez will be confirmed soon.
Vorige artikel: Hulp benodig vir du Preez se finale afskeid
'Ons bring jou die nuutste George, Tuinroete nuus'