GEORGE NEWS - The Deputy Minister of International Relations and Cooperation, Alvin Botes, visited a number of schools in George over the past two days to establish their readiness for the reopening of schools next week.
Overall, he was impressed and said the schools implemented everything that was asked of them. "We do not want parents of Grade 12 and 7 learners to worry. The entire staff of the school is there to assist with teaching."
He requested principals to have a debriefing with staff and school governing body members to get everyone on the same page.
Botes also had a briefing with Acting Director of Education Jewel Jonkers about the overall update on the readiness of all schools in George and challenges experienced.
Among the schools that were identified for Botes to visit were Holy Cross Primary, Conville Primary, Tyholorha Primary, George High and York High.
Morton van Rooyen, principal at George High, said Botes was impressed with their preparations. "We deep-cleaned toilets, sanitised classrooms and acquired tables and chairs that are easier to sanitise." The school has 241 matrics that have been divided into classes of 20.
Francois Moll of York High said they have been working with staff to get everything ready and have implemented all the Covid-19 regulations.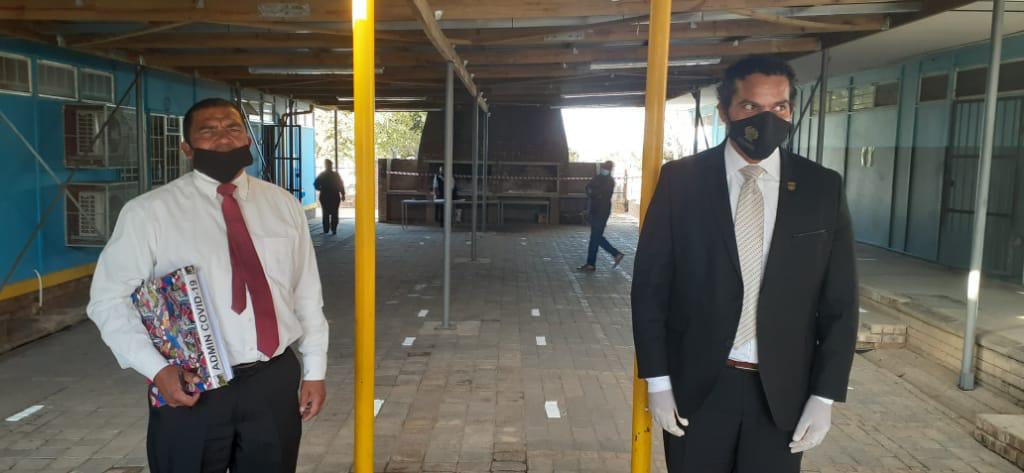 Conville Primary School principal Sam Crowley (left) and Deputy Minister Alvin Botes maintain social distancing during Botes' visit to the school.
'We bring you the latest George, Garden Route news'