GEORGE NEWS - George is the city with the best quality of life in South Africa, beating Knysna (second), Port Elizabeth (third), Cape Town (fourth) and Durban (fifth).
This is according to Numbeo, an international online database of user-submitted information. The quality of life score is obtained by ratings of a city's purchasing power, safety, health care, climate, cost of living, traffic and pollution. George's overall score is 189 compared with Knysna (171,54), Port Elizabeth (151,83), Cape Town (149,59) and Durban (144,36 ).
The overall rating of quality of life in cities in the north like Benoni, Pretoria, Johannesburg, Pietermaritzburg and Vanderbijlpark is 138 or lower. Their safety rating is poor. George is tops with the highest safety rating (48) compared with Knysna's 33,93 (second highest) and the other cities with scores of 30 or less.
All the cities score high climate wise. George has a rating of 98 in this regard. Although George's cost of living is seen as relatively affordable, purchasing power is rated low (58,7) compared with cities like Cape Town (77), Durban (88), Johannesburg (87) and Alberton (96).
Levels of pollution and traffic are rated as low in George and its health care is viewed favourably (64,81).
Knysna scores the highest (87,5) in health care and Vanderbijlpark the poorest (31). These figures are based on data as on 4 March.
No surprise
Joh Groenewald, member of the George Heritage Trust and author of a recent series of articles in the George Herald about the wonderful qualities that make George a favoured city, says he is not at all surprised.
"Georgians have been realising for a long time that we live in the best place there is. One just has to visit another province and you know what it means to be in George."
The comparative study quantifies eight factors and awards points according to a uniform measurement, but according to Groenewald three attributes that add to George's unique character have not been calculated.
"The spatial environment, the human interaction, and the convenience - everything is here and in relatively close proximity. These positive points, above the other factors, make George an outstanding, unrivalled champion mini city - truly the friendliest place in the country."
Extremely happy to live here... Joh Groenewald of the George Heritage Trust is not at all surprised that George took top honours as the city with the best quality of life.
Restaurateur Jens Zeeberger of Rendezvous Pub, Grill and Pizzeria in Heather Park also does not find the outcome surprising.
"George is tops. We have the friendliest patrons and suppliers. The Kwêla town of the year is based on the number of people who vote via SMS and that comes down to money and a massive effort by the town to get their residents to vote again and again. The Numbeo data is for real!"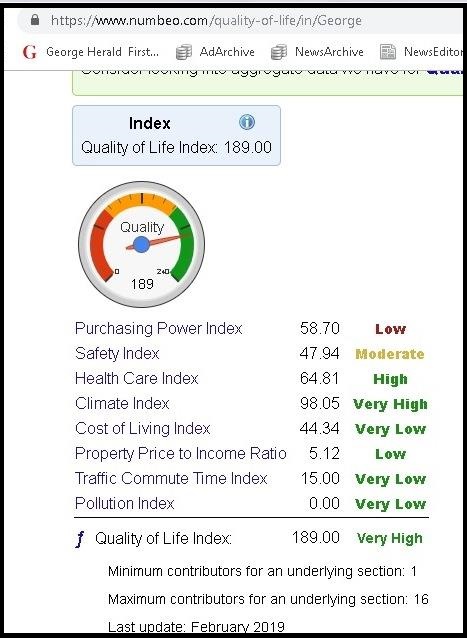 Photo: Werner Ekron
'We bring you the latest George, Garden Route news'