GEORGE NEWS - A pilot Primary School Recycling Programme has been launched at St. Paul's Primary School in George yesterday, 10 June, by the Executive Mayor of Garden Route District Municipality (GRDM), Councillor Memory Booysen, in collaboration with the Waste Management Unit of GRDM and their recycling mascot known as 'Rocky the Recycling Rooster'.
During the welcoming and opening of the programme, Principal Baron Calvert said:
"Part of my teaching background is in the field of Environmental Science and I therefore understand the importance of the programme and welcome the Municipality's project at our school. We are privileged to be the first primary school in the Garden Route to be identified to pilot this project."
Mr Calvert was appointed on 1 April as Principal of St. Paul's Primary School and brings with him a wealth of experience and a passion for behaviour change.
'Rocky the Recycling Rooster' was introduced by Mr Johan Gie, Waste Management Officer at GRDM.
Through this programme, learners will be more likely to carry recycling habits into their adult years, while sharing it with family and friends. They will also be able to become more aware of how their personal actions can affect the future of the environment.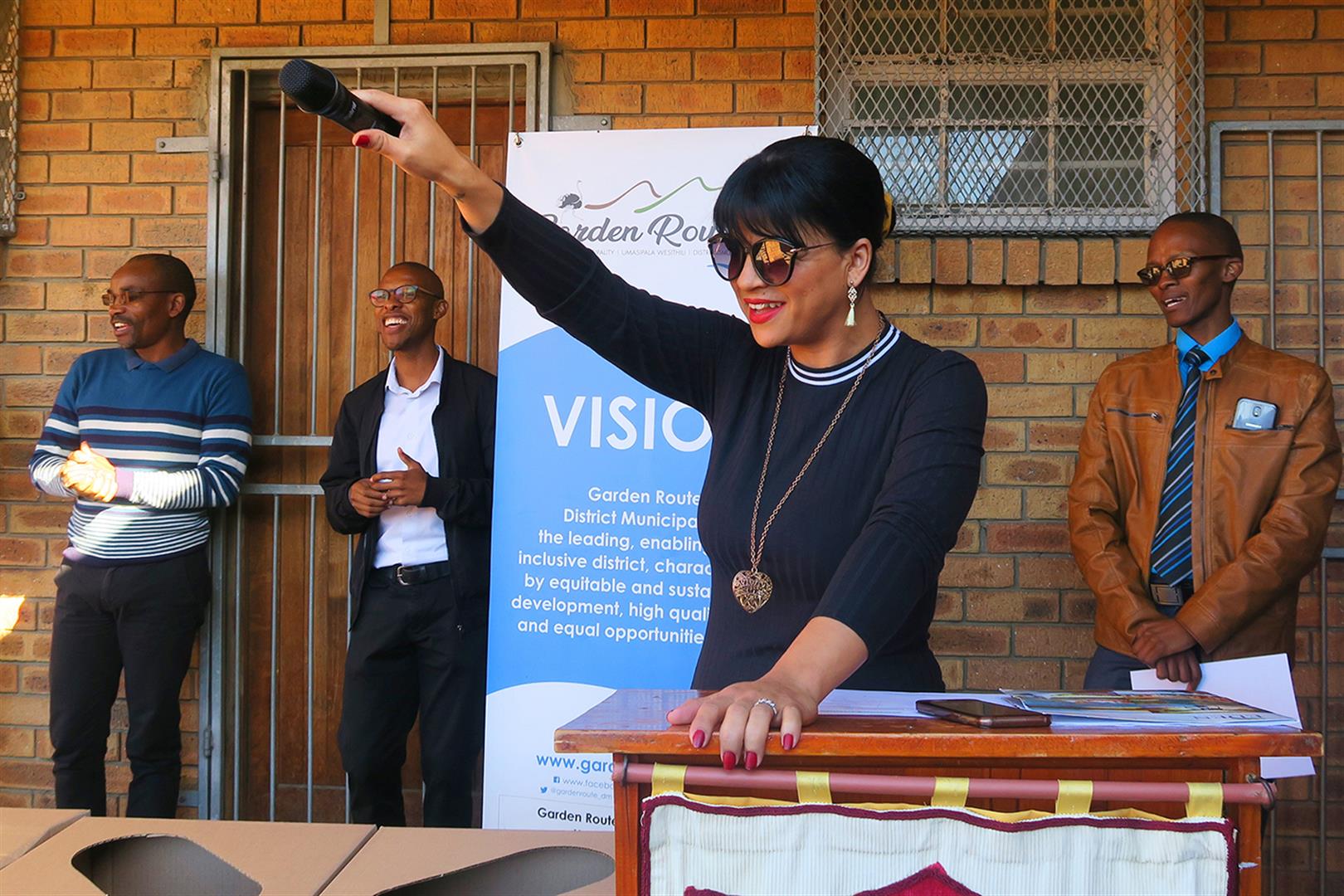 Ms Desiree Liberty from the Expanded Public Works Programme (EPWP) Unit entertained learners with a well-known song to many, called: "This Little Light of Mine" by gospel singer and writer, Harry Dixon Loes. Behind her (fltr), are: Cllr Memory Booysen (GRDM Executive Mayor), Mr Richard Dyantyi (GRDM Manager: EPWP) and Principal Baron Calvert (St Paul's Primary School)
Executive Mayor, Cllr Memory Booysen, urged learners to stop littering. He said the school would be able to make an income from recycling, if done effectively. "Recycling companies pay for recyclables and this should also be seen as an opportunity for the school to create an additional income stream."
"From today, this school will have to set an example to other schools by being the cleanest. When we come back here to see how well you have implemented the project, we will award a prize to the learner who has demonstrated and committed to change his/her behaviour," said Cllr Booysen.
St. Paul's Primary School were provided with 25 cardboard recycling boxes to use in various classrooms, offices and copy rooms. The boxes are easily identifiable with clear signage indicating that they are meant for recycling.
"If the project goes well, the district will also offer recycling bins made for outside use," explained Cllr Booysen.
A similar pilot Programme was launched at Knysna's Percy Mdala High School in May 2019 in which teachers and learners were introduced to the programme and the important impact recycling has on the environment.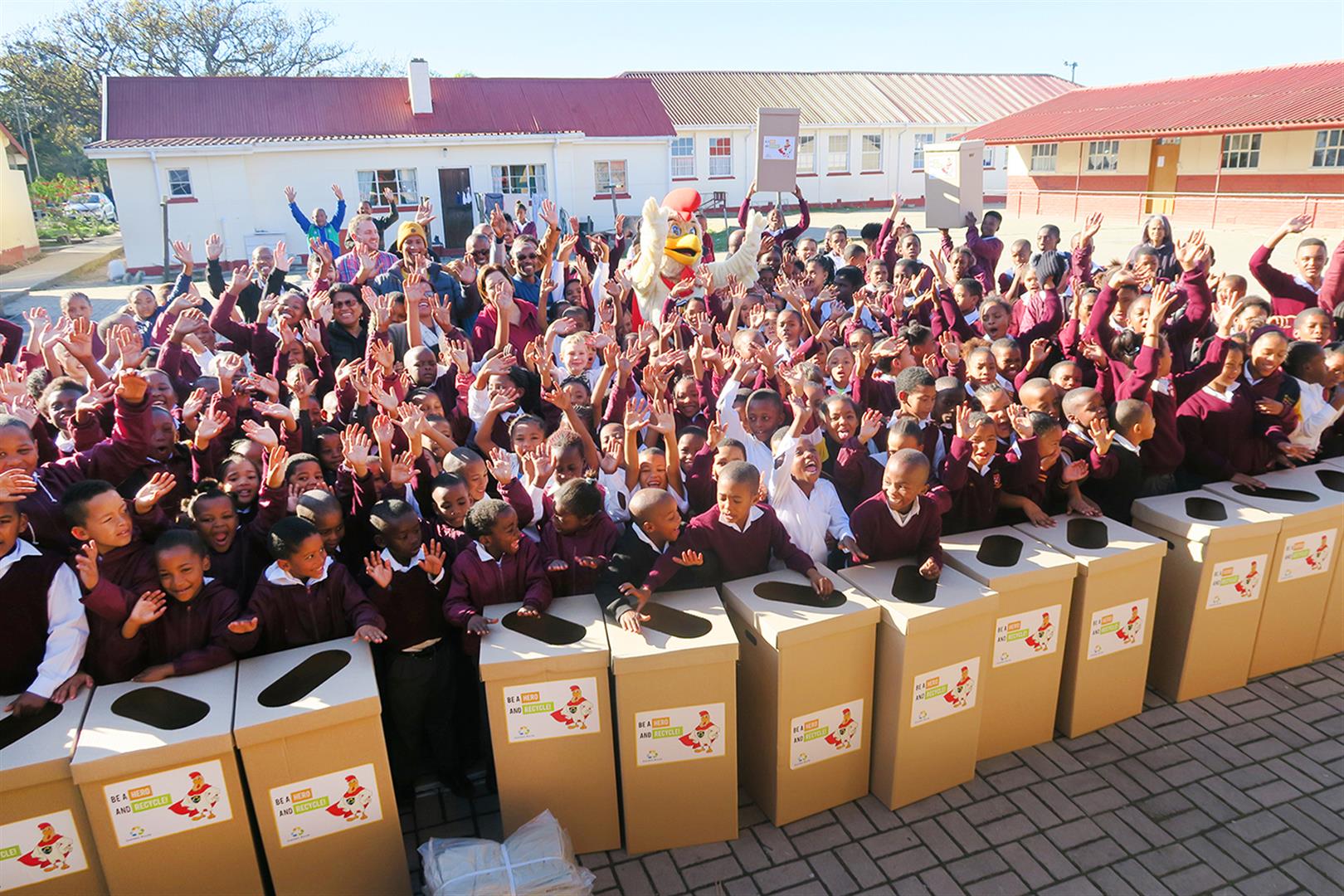 Carton boxes which will be used by learners for recycling purposes.
Training Staff
It is essential to reach out to learners and teachers to inform them of recycling initiatives. An on-going education programme will inform all participants about their collaborative efforts to reduce the amount of waste produced, especially on what can and cannot be recycled.
Collection
Schools often produce tremendous amount of waste with instructional materials, used electronics, and food. Collecting and separation of recyclables after a school has managed to play their role in the recycling cycle, is just as important.
Local Municipalities will continue collecting all non-recyclable refuse from schools and the general public.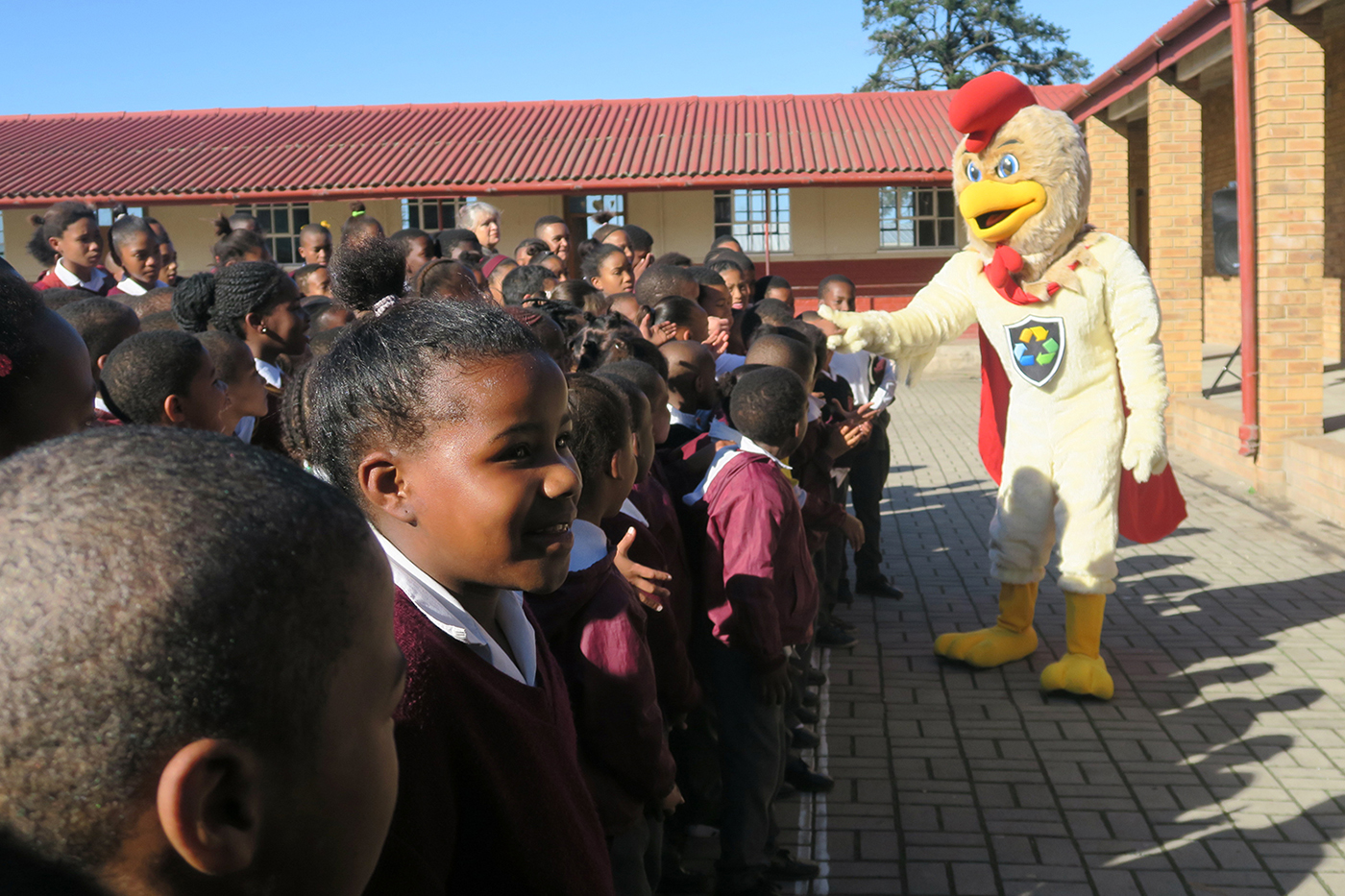 'Rocky the Recycling Rooster' was one of the highlights at the launch of the pilot Recycling Project which was rolled out by GRDM at St. Paul's Primary School in George.
Waste types at school
The following types of recyclables are generally produced at schools, which include:
Paper;
Metal;
Plastic; and
Organic Waste.
Ways to recycle and reduce waste at school
Keep a cardboard recycling box in every classroom
Route memos electronically;
Reuse office and classroom supplies;
Hold recycling contests between classrooms or grades;
Use the front and back of copy paper for class assignments;
Encourage students to use recycled materials in their art projects;
Establish a recycling club that encourages recycling throughout the school.
Use old magazines for art projects;
Minimize the number of handouts used in classes;
Encourage the cafeteria to buy food in bulk which reduces paper and plastic waste;
Encourage students to bring their lunch from home in reusable containers; and
Encourage students to bring junk mail from home and place in recycle bins.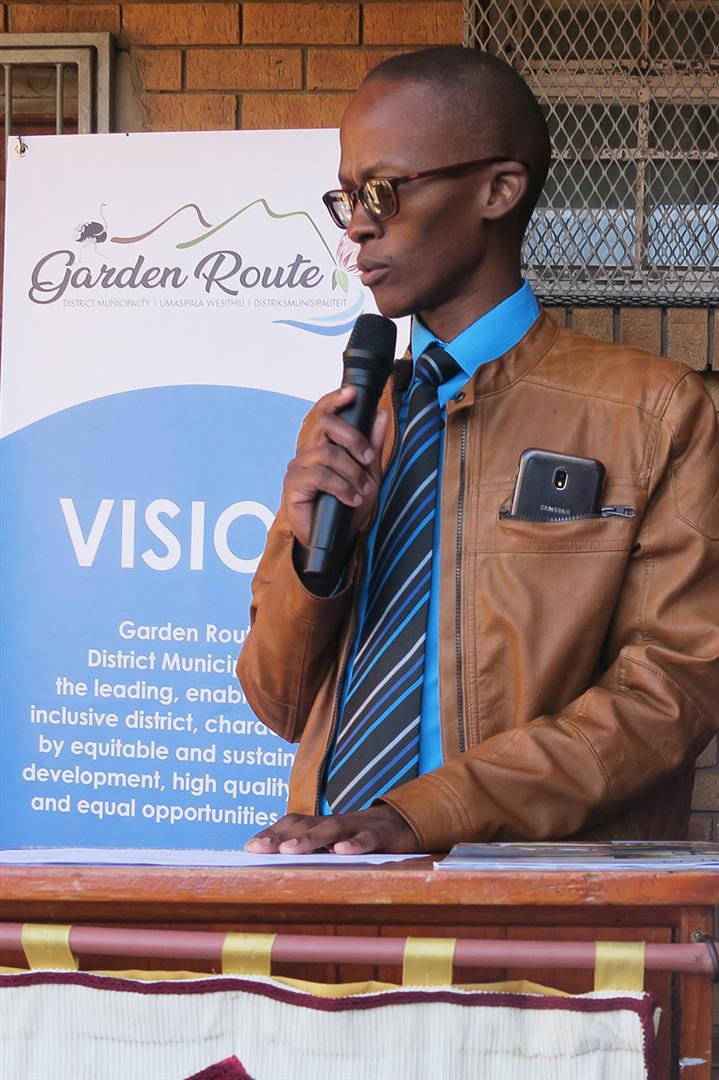 Principal Baron Calvert of St. Paul's Primary School in George thanks GRDM for selecting his primary school as pilot for the Recycling Programme.
'We bring you the latest George, Garden Route news'