GEORGE NEWS - George Library joined the rest of the world by being part of World Read Aloud Day last Wednesday, 3 February, to develop and foster a love for reading and books.
George Library Service took part in this event by means of a virtual national reading campaign, Nal'ibali ("here's the story"), with radio slots on EDENfm and Heartbeat FM and reading sessions to small groups of children in outside spaces.
Children were entertained with a reading of the story Fly, everyone, fly!, written by Sihle Nontshokweni and illustrated by Magriet Brink and Leo Daly. "We escaped into a world of fun and laughter," said manager of George Libraries Rachel Williams.
Librarian Janine Pierre Carolus is this year's story-reader at George Library. Librarians Garelene Muller of George Library, Angelina Figeland of Waboomskraal Library and Jeanetta Rhode of Conville Library also read stories aloud to indicate the importance of literature and reading.
Nal'ibali is a reading-for-enjoyment campaign and aims to spark children's potential through storytelling and reading. It advocates for access to literacy and diverse stories and is celebrated on the first Wednesday of February each year.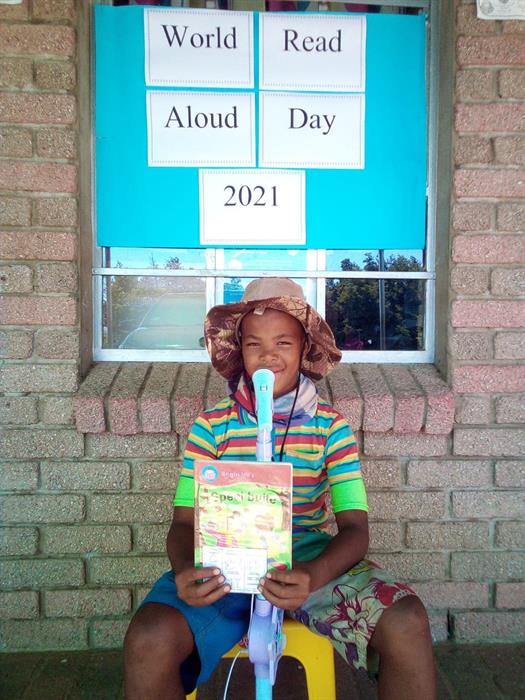 Jayden Erasmus from Waboomskraal Primary School reads aloud on World Read Aloud Day.
Williams said World Read Aloud Day unlocks the potential of young ones through literacy: "We must encourage one another to become passionate about reading, writing and storytelling and root these habits into our daily lives.
"The value of reading aloud is that it is a fun activity that allows children to escape into another world, it stimulates and enhances good listening and communication skills and it exposes children to new words and thoughts, which develops cognitive and language skills."
Audrenay Meiring from Pacaltsdorp Primary School reads aloud on World Read Aloud Day.
'We bring you the latest George, Garden Route news'