Video
GARDEN ROUTE NEWS & VIDEOS - The Economic Freedom Fighters (EFF) held a national protest in solidarity with #BlackLivesMatter in front of police stations on Monday morning. In the Southern Cape, the protests were held at police stations in George, Knysna, Oudtshoorn and Bitou.
The movement started in solidarity with George Floyd, a black man from Minneapolis in the US, who died after a policeman knelt on his neck for almost nine minutes.
EFF regional secretary Mbulelo Magwala told George Herald that they wanted to have their voices heard against police brutality, adding that all lives matter, but it seems that mostly black people get killed by the police.
"We are not saying police should not do their jobs, but also that they should think what they do. George Floyd kept saying he cannot breathe, and if the police officers just stopped and thought about it, he would still be alive."
Magwala said it was clear in the video of Floyd that he did not struggle against the arrest, and he thinks that if the police held him down for a minute and then arrested him, his death could have been prevented.
He explained that the songs they were singing during the protest were for all the black people that have been killed by police action. One of the songs, he said, was about how black people are made to feel like visitors in the country of their forefathers.
Watch a video below:
While taking a knee during the protest, names of people who were killed by police were read aloud - Collins Khosa, Peterus Miggels, Sibusiso Amos, Adane Emmanuel, Andries Tatane, Jan de Bruin and all the Marikane miners that were killed by police.
EFF Member of Parliament Leticia Arries also attended the protest in George. She said, "We seek to end police brutality and racism locally and globally. South African communities have to get rid of all social evils like racism and police brutality. That is why the EFF supports and stands in solidarity with the international #BlackLivesMatter movement."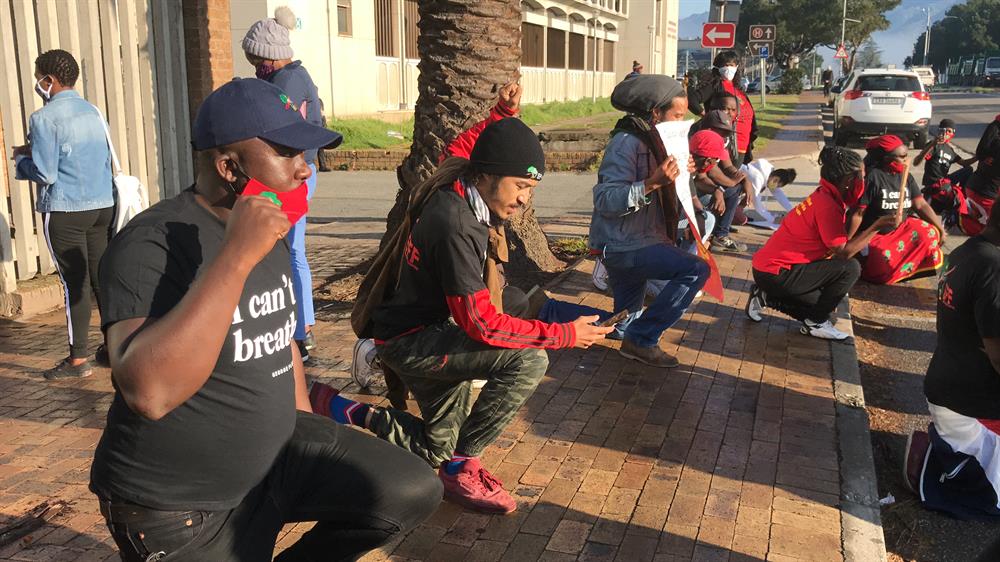 EFF members in front of George police station protest for Black Lives Matter, in solidarity with the death George Floyd suffered.
The protest started at 09:00 and was joined by about 30 people. The police was on the scene to ensure that Covid-19 safety regulations were practised. Captain Malcolm Pojie, Southern Cape police spokesperson, was also there.
Pojie said it was a peaceful protest, but that they had to deploy the public order police unit (Pops) as a precaution.
* Black Lives Matter is an international human rights movement, originating from within the African-American community, which campaigns against violence and systemic racism towards black people.
'We bring you the latest Garden Route news'