GEORGE NEWS - Anyone who has a dog already knows how often dogs serve as a reminder of all that's good in the world, and the latest uplifting story from the Garden Route SPCA (GRSPCA) is an incredible reminder of what people can do when they come together behind a worthy cause.
On 9 April Salome Bruyns, head inspector of the GRSPCA shared a post on Facebook describing a heart-breaking situation where she was approached by an elderly lady that needed to surrender her dog due to financial difficulties.
The post and accompanying photos, which show the dog clinging to his owner, quickly went viral with hundreds of South Africans stepping in to donate food and money.
READ: Picture perfect ending for a dog named Whiskey
As an insurance company that prides themselves on putting their money where their mouth is, Garden Route-based insurer dotsure.co.za, stepped up to pay for the dog's much-needed medical treatments, including sterilization, vaccines, and treatment for worms.
dotsure.co.za also called on their extensive network for support and partnered up with Hill's Pet Nutrition to donate six bags of Hill's Prescription Diet Derm Defense food to the Garden Route SPCA so that they can assist the struggling pet parent with feeding her dog.
"Almost all South Africans have been economically affected by the pandemic," says David Roache, Chief Operating Officer of dotsure.co.za. "The virality of this story is a testament to how deeply this subject matter resonates with people. We share the same passion for animals' well-being as our customers, and we know that finding yourself in a situation where you have to give up your dog is any pet parents' worst nightmare."
"In these turbulent times, we're always looking for ways we can uplift animals, people, and our communities," continues Roache. "We think this is an incredible initiative by the Garden Route SPCA and we're proud to play a part in keeping this family healthy and together."
As a pet insurance company, keeping people and their pets together is more than dotsure.co.za's business – it's their entire reason for being.
Along with providing South Africans with affordable pet insurance options from as little as R3 per day, whenever a client buys a dotsure.co.za pet insurance policy online, dotsure.co.za donates a portion of their first premium to feeding a shelter dog for a month, at no extra cost to their clients.
If you'd like to make a donation, please contact the GRSPCA on 044 878 1990.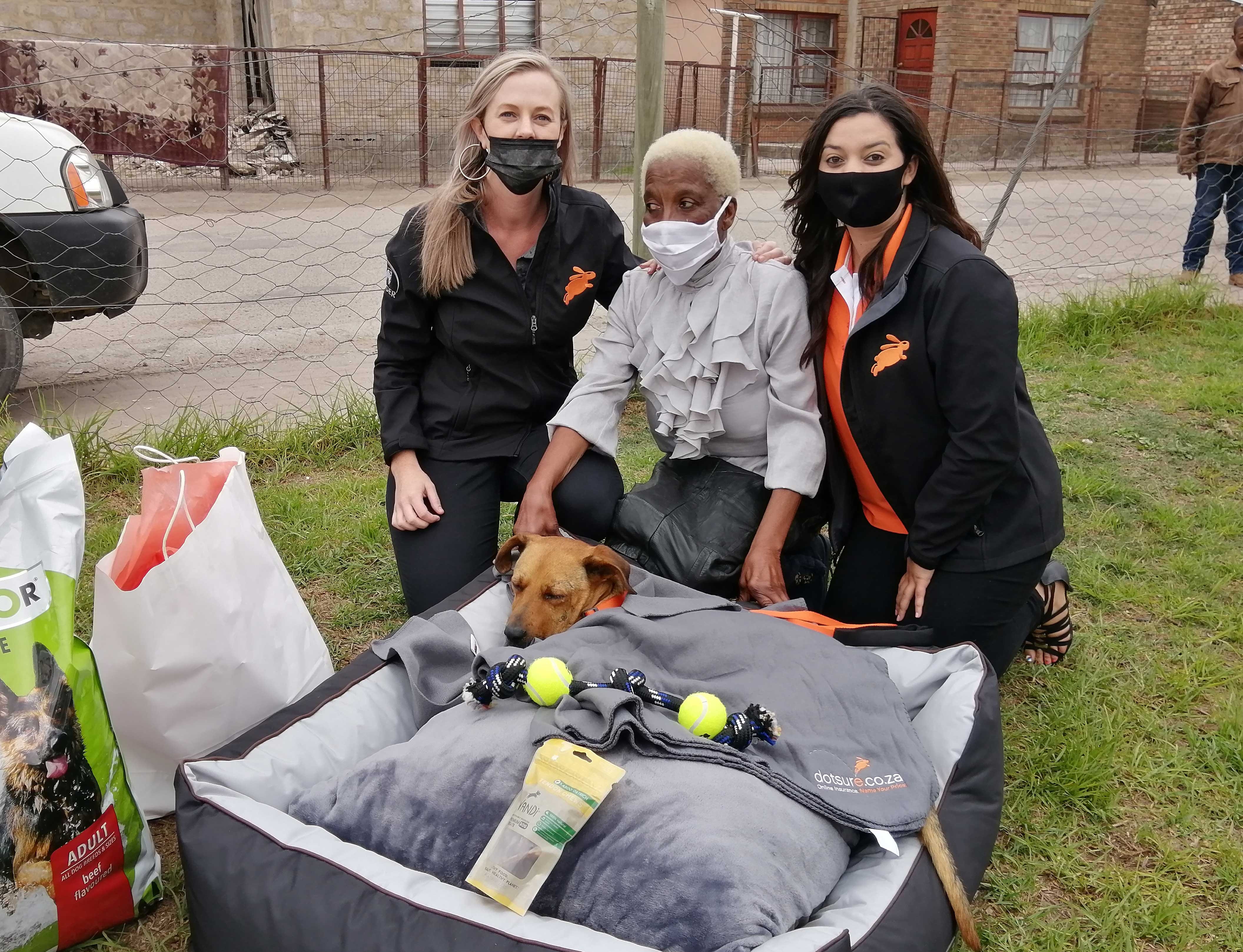 Whiskey, his mom and members of the dotsure.co.za team who visited him recently.
'We bring you the latest George, Garden Route news'