GEORGE NEWS - President Cyril Ramaphosa's address on Sunday had a turbulent effect and saw citizens rushing to supermarkets in droves in a panic buying mode, also in George. Supermarket shelves started emptying from Monday.
At an upmarket guest house in Caledon Street, it was the opposite. The general manager said by the end of Monday, 10 bookings were cancelled.
"We remain open for business, but we have had a 50% drop in occupation compared with 2019. If no business comes in, it will affect our staff and their families' income as we might be forced to put them on shortened hours."
He said they have a lot of German guests. One had to leave a month early to be sure that he could still enter his home country. Stringent hygiene measures are in place and all international guests need to submit proof that they have been tested and are negative.
"We booked in two French tourists on Monday 16 March and they had their proof ready without us having to ask for it. Our staff use masks when they enter rooms, we have hand sanitiser everywhere, use disinfectant room spray and disinfect everything that comes into the guest house. We started preparing for the coronavirus in January when it started to spread."
Garden Route Mall measures
At the Garden Route Mall, each tenant is responsible for their own internal processes and business continuity plans, according to Michael Clampett from Attacq, owners of the mall.
"Creating safe spaces is critical at this time. Some of the immediate and direct steps that we have taken include postponing all marketing initiatives that will attract more than 100 people until further notice. Service providers at the mall have been instructed to provide copies of their respective Covid-19 business continuity plans to us so that we have line of sight of the measures they will implement to protect their employees and our customers."
He said internal protocols for the mall's own employees have been implemented that deal with, among other things, employees who have come into contact with another person who has become infected or is suspected to be infected with Covid-19. The situation will be monitored.
Cancellations of flight bookings chaotic
Jareen Schoeman, manager of Sure Outeniqua Travel, said many of their bookings were cancelled. "It was chaotic on Monday but by Tuesday, the hype subsided somewhat. Fortunately the airlines have been accommodating by allowing one free change for a flight booking or issuing vouchers, with certain conditions," she said.
During January and February they were busy, but bookings started slowing over the past two weeks. "It will have a big economic impact. We also cannot charge clients' fees for the service we are now giving. This is just a wave we have to ride out." A function the agency would have held has been cancelled.
She said people still travel to countries where there are no travel bans. Two couples have booked to fly to Mauritius for their honeymoon, this and next weekend respectively.
Decline in visitors expected
According to George tourism manager Joan Shaw, it is too early to pick up conclusive statistics. "But the expectation is that visitor figures will decline in line with the declaration of a national disaster, as had happened throughout the world. George Tourism remains in touch with the local tourism industry to monitor the situation."
Preventative medicines sales increase
In the past week, Geneva Pharmacy saw a huge increase in sales of preventative medicines, gloves, masks and sanitiser, according to the owner, Johan Klue. He said a pharmacy cannot prevent someone with flu symptoms from entering the premises, so staff are doing everything they can to protect themselves and clients through strict hygiene.
The staff's immunity is also being boosted. "It is up to each person's integrity to decide to stay at home and follow the prescribed procedures when they have symptoms, so we depend on that."
Dischem store manager Natalie Adams said on Tuesday they had no supplies of hand sanitiser, toilet paper or masks left. "As we receive stock, so it goes out."
Panic shopping... Empty meat shelves greeted some shoppers at a local supermarket on Monday. Photo: Emsie Martin
'Shop responsibly' – Pick n Pay
Responding to fears of food and other supplies at supermarkets flying off the shelves, Pick n Pay spokesperson Janine Caradonna gave the assurance that the company has a good relationship with its suppliers and they will have stock available in their stores so that customers can get what they want and need.
"Customers have been buying responsibly for the most part, stocking up on what they usually buy."
Demand for household cleaning and personal hygiene products increased over the past week. "We would like to encourage our customers to continue shopping responsibly. Where stocks are temporarily low due to heavy customer demand, we will be limiting the number of certain products per customer."
She said the company has been preparing for the coronavirus for some weeks, working closely with their suppliers to make sure they will have stock.
On Wednesdays all its stores will open an hour earlier exclusively for elderly customers (over 65 years) to shop between 07:00 and 08:00. Customers should have a valid ID to enter the store during this time.
She assured that their hygiene measures are in line with the guidelines of the Department of Health and the National Institute for Communicable Diseases (NICD).
'Patrons space themselves out'
Geronimo Spur co-owner Johan Burger said the response to their Monday evening burger special was about 15% down this week, but on Tuesday they were busy, although clients seemed to space themselves out through the restaurant. Strict hygiene measures are in place and the temperatures of all their staff members are taken upon arrival, once during their shift and after their shift.
The restaurant has to submit a regular report and checklist to the franchiser head-office.
Medical aesthetics
Dr Adri Hofmeister of Eden Medispa, that specialises in medical aesthetics, said they will remain open, but with extremely stringent hygiene measures. "We remain a medical practice and we have an obligation to clients."
Among their hygiene measures are the removal of loose items like magazines, sugar envelopes and pens. All door handles, card machines and other surfaces are sterilised around the hour.
Masks are used where staff work closely with clients. "We are operating within the framework of government."
Bernice Nel, manager of the King George Hotel which falls under the Marriott International Group, said they have excellent hygiene measures in place for staff and guests. "We take it day by day. Our sanitising, hygiene and self-care are 120%."
In an online statement, Marriott said they have adapted their cancellation policy to be more flexible.
Blitsdruk
Blitsdruk said the front-office staff are keeping everything disinfected with alcohol. "We request clients to rather use of the online shop or otherwise use e-mail so as to reduce feet in the shop. We also offer deliveries in George. I think we will be seein the biggest vimpact in two weeks' time. The designers have been granted permission to work from home because we all have children," said a spokesperson.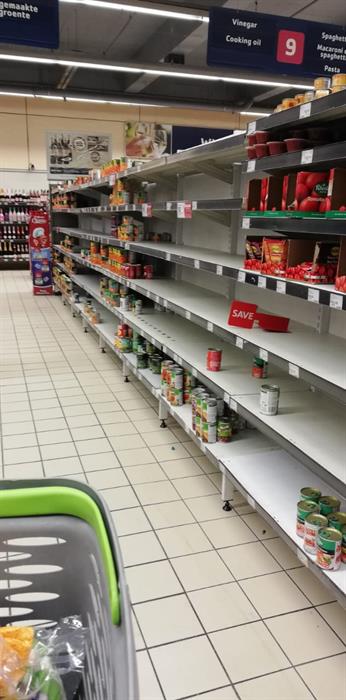 Panicked shoppers rushed through the shelves of local supermarkets on Monday. Photo: Emsie Martin
'We bring you the latest George, Garden Route news'