GEORGE NUUS - As mense wat omgee bymekaarkom, kan groot dinge gebeur. Dis wat nou gebeur nadat Pacaltsdorpers, wat vir hul medemens omgee, 'n sopkombuis begin het.
Die sopkombuis se naam is PCBA, en dis Blanché Benjamin van die Khoiraad, Enrico Apollis van Oom Bul se koffiewinkel, die Trantraal-paartjie Jacobus en Luwayda van Pacaltsdorp Kleinsake-vereniging asook Joanie Visagie wat 'n gemeenskapsaktivis is.
Die mense werk al van voor Paasnaweek om kos te maak en aan gemeenskappe, wat dit nie breed het nie, af te lewer.
Visagie sê haar hart gaan uit aan veral die mense van die hoenderplaas op Hansmoeskraal. Met die inperking word mense tot 'n mate verhoed om die plaas te verlaat om te gaan werk vir 'n dagloon. "So dit beteken baie van hulle kan nie of het nie geld om kos te koop nie. Dis hartseer om te sien hoe die arme mense moet leef."
Visagie sê hulle is dankbaar vir die department sosiale ontwikkeling wat hulle help met donasies. Maar, sê sy, hulle het ook gas en of krag nodig asook petrol om die kos af te lewer. Dus wil sy graag vra dat mense ook hul harte oop maak vir donasies daarvoor.
Benjamin sê die impak van die inperkingstyd raak almal, die hele gemeenskap. Sy sê dis goed dat mense in plakkerskampe gehelp word, maar die wat in huise woon moenie oorgesien word nie. "Dit beteken nie omdat daardie familie in 'n huis woon, hulle is op die oomblik beter af nie. Hulle trek net so swaar."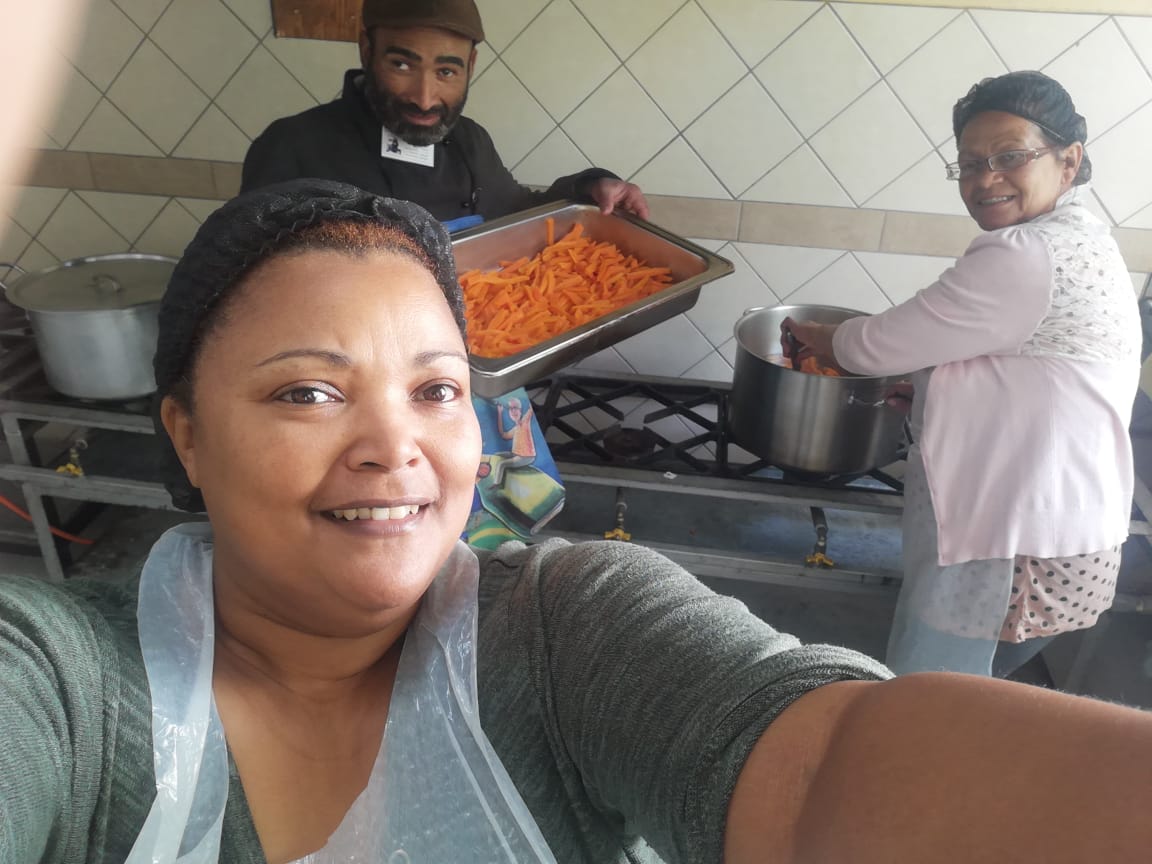 Luwayda Trantraal voor met Apollis en Blanche Benjamin.
Sy vra dat leiers en of gemeenskapsaktiviste moet uitgaan na daardie mense waar die nood is, en regtig gaan kyk wat nodig is.
"Dis sodat daardie mense ook op 'n lys kan kom vir 'n kospakkie." Trantraal sê almal verkeer in nood, maar sommige is beter af as ander, juis omdat hulle nog 'n toelaag kry. Sy meen die toelaag kan iemand nog deur die maand dra, maar die een wat twee tot drie dae 'n week gewerk het – wat van hulle?
Trantraal sê hulle daag kleinsake-eienaars uit om bydraes te maak, al is dit net tyd en nie kosvoorraad nie. Sy sê ook mense moet nie skaam wees om te sê as hulle nie 'n stukkie brood het nie, want in die tyd van krisis moet almal mekaar help.
As jy 'n donasie wil maak, kan dit deur die dag by Oom Bul se koffiewinkel gedoen word.
'Ons bring jou die nuutste George, Tuinroete nuus'