Gallery
GEORGE NUUS - Danksy die passie vir diere en toewyding van 'n mediese ortotis en prototis van George kry diere nou 'n tweede kans op 'n behoorlike lewe.
Danièlla de Jager van Barkley Oates Inc in George help om stutte en kunsledemate vir diere te maak, net soos vir mense.
Sy het juis onlangs 'n stut vir 'n Jack Russell gemaak en dit is verlede week gepas.
De Jager het gesê die bedryf is nog nie baie groot in Suid-Afrika nie en net vier of vyf maatskappye doen dit regoor die land. In die buiteland in lande soos Amerika is dit reeds groot.
Toe sy met die beroep begin het, het sy dit baie interessant gevind en gehoor dat selfs diere gehelp kan word. Sy is baie lief vir diere en gou het sy besef sy wil diere deur haar werk help.
Sy het agtergekom mense besef nie altyd dat daar ander moontlikhede is as hul diere beseer is nie. Hulle dink soms die dier moet uitgesit word of die dier se ledemaat soos 'n poot moet geamputeer word.
By die maatskappy waar sy werk, het die eienaar, Mike Barkley, reeds jare gelede 'n prostese vir 'n ooievaar-voël gemaak. Die voël se naam was Piet. Nadat hy die prostese ontvang het, het hy ongelukkig, of dalk gelukkig, weggevlieg.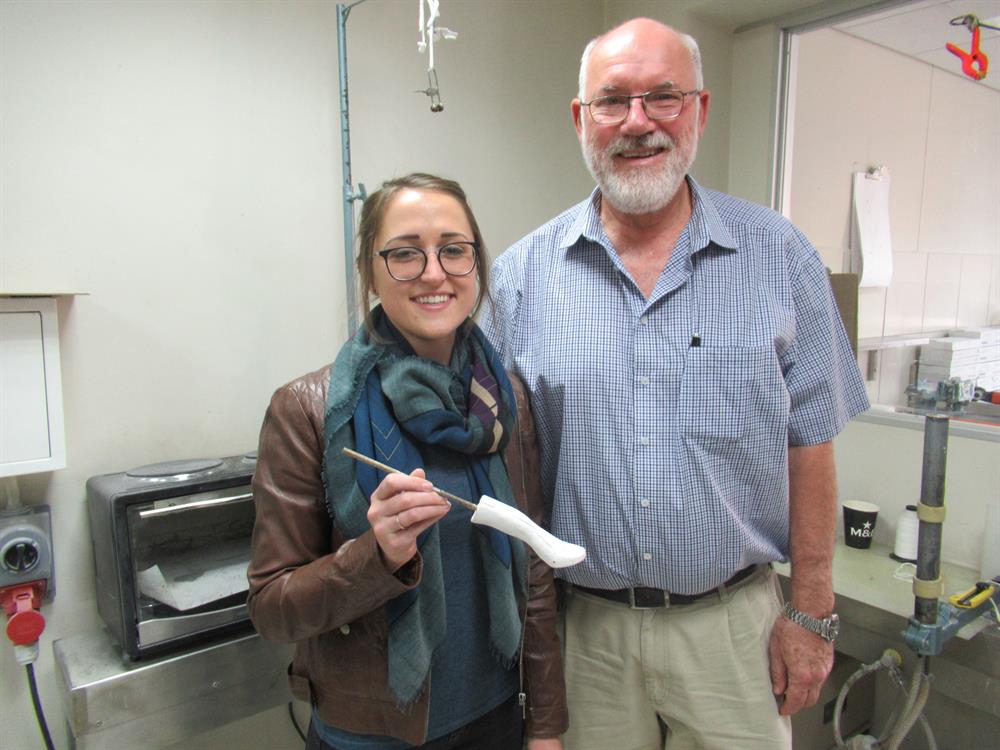 Danièlla de Jager van Barkley Oates Inc in George met 'n gipsmodel van 'n stut wat sy help maak het. By haar is die eienaar van die maatskappy, Mike Barkley. Foto: Eugene Gunning
Vir haar het alles begin toe 'n kollega se hond, Dupa 'n Rottweiler, sy groeiplaatjie in sy voorpoot seergemaak het. Die besering wou na weke in gips steeds nie herstel nie. Die hond se poot sou of geamputeer moes word, of hy sou selfs uitgesit moes word.
De Jager het dadelik aan die werk gespring en 'n stut vir die hond se poot gemaak. Eers is 'n gipsmodel gemaak en later 'n stut van plastiek.
Die plastiese stut is om Dupa se poot geplaas om dit te steun as hy loop. Dit het die groei-plaatjie byme-kaar gehou. Na twee weke het X-strale gewys dat die pootjie begin aangroei en die veearts was baie beïndruk. Die hond het intussen heeltemal herstel en loop nou normaal. Sy het ook 'n skildpad op Oudtshoorn gehelp. Sy pootjie is geampu-teer en hy kon nie behoorlik loop nie. Sy dop het begin deurskuur as hy beweeg het. Sy het by 'n ingenieursvriend gaan aanklop vir raad en 'n plaat met wieletjies is ontwerp om onderaan die skilpad te plaas sodat hy vryelik kan beweeg. Die skilpad het ongelukkig die hasepad gevat voor hulle dit kon monteer.
Die Jack Russell, wat laasweek sy stut ontvang het, se skouergewrig is gebreek en daar is skade aan die senuwees in sy regter voorbeen.
As gevolg daarvan, en na sewe weke se gips en operasies, het sy spiere saamgetrek en hy kon nie die been reguit maak en gewig op die voet dra nie. Die stut steun hom nou as hy beweeg en strek die spiere uit. Hy behoort ten volle te herstel.
De Jager het benadruk sy doen dit ter wille van liefde vir diere. Sy hoop mense besef dat die uitsit van 'n dier die laaste opsie is en daar moet eers gekyk word of die dier nie dalk op 'n ander manier gehelp kan word nie.
Dis nie net honde wat gehelp kan word nie, maar ook katte, voëls, groot vee, wild en selfs skilpaaie.
Die stut wat vir Dupa, 'n Rottweiler gemaak is.
'Ons bring jou die nuutste George, Tuinroete nuus'