Update Video
GEORGE NEWS AND VIDEO - The Garden Route Dam is overflowing. George Municipal Manager Trevor Botha said good rains last week finally raised the dam to overflowing on Friday morning.
A total of 55mm fell during the past week. "We feel so blessed to have our main water supply 100% full when most of the Western Cape is in dire need.
"The municipality will, however, continue to promote a permanent lifestyle of water conservation and will continue to enforce basic water restrictions.
"These include watering gardens using a hose on alternate days (no sprayers), washing of cars and outside surfaces with buckets only (rainwater encouraged) and no filling up of swimming pools with municipal water.
"Applications for exemption of some restrictions may be considered on merit."
Normal water tariffs currently apply, which has always been charged on a rising scale according to consumption per household or business. There are no emergency tariffs in place during basic (2B) restrictions.
"The municipality continues to pursue ways to store and preserve more water, and is especially looking forward to the raising of the spillway and dam wall, which is currently in the final stage of the construction procurement process. We are hopeful that we will have a contractor on site soon," said Botha.
Watch a video below:
The completed raised dam wall and spillway will increase the storage capacity of the Garden Route Dam by about 25% to 12,5-million cubic metres, providing an overall increase of almost 11% to George's total available raw water resources.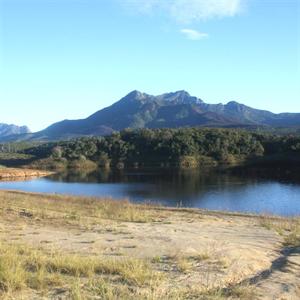 The Garden Route Dam on 19 May 2010. The water level was a shocking 21,4%.
Read a previous article: Garden Route Dam overflows
'We bring you the latest George, Garden Route news'