GEORGE NEWS - Kholeka Mbaxa (47), a passionate early childhood development (ECD) educator, pleads with the community of Thembalethu to help her fulfil her dream of establishing a proper crèche for the poor in Phelanda.
Mbaxa already has a crèche registered under the name Sinethamba Baby Care, which she operates from a one-room shack that a relative allows her to use while she is looking for a permanent place.
However, she says the shack is too small and its position also poses health and safety concerns. She is looking after about 26 children and finds that the shack is not big enough.
"There's no electricity, water, or sanitary facilities, which worries me a lot. We need a bigger place that can be safe for children," she says. Another big concern is that the shack is next to a dumpsite and children are likely to play there.
"The dumpsite is worrying me because I once caught children playing there and one of them was playing with a condom. I don't know if it was used or not. I really want to help the community and create employment opportunities for other ECD teachers.
Even now I am already helping as I keep some of the children free of charge for those parents who can't afford to pay," she says.
Mbaxa has acquired a plot nearby where she can develop her own crèche, but she needs fencing for the plot, as well as building materials and toilets.
She plans to transform the dumpsite into a garden that can benefit the community and pleads with residents to stop dumping rubbish there.
"I need help and would appreciate any kind of help," said Mbaxa.
Phone Mbaxa on 079 082 3231.
The one-room shack which Mbaxa currently uses as a crèche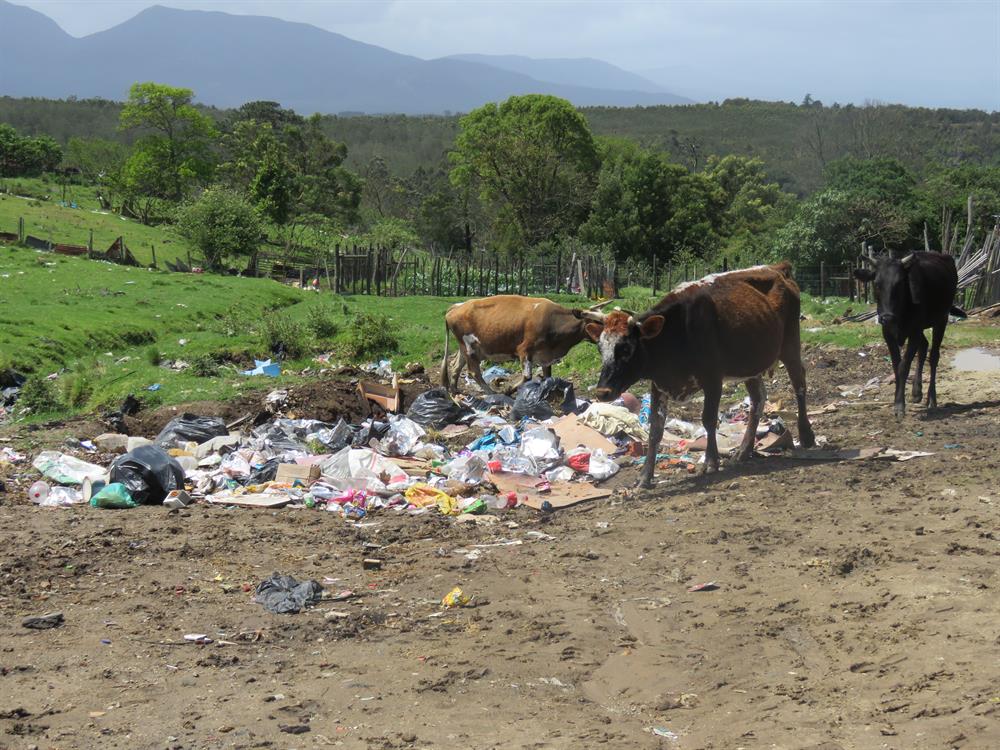 Cows grazing at the nearby dumpsite that Mbaxa hopes to turn into a garden.
'We bring you the latest George, Garden Route news'