GARDEN ROUTE NEWS - The number of active Covid-19 cases in the Garden Route District has increased to 75% of what it was at the peak of the first wave in July. As a result, hospitals are experiencing an increase in admissions and deaths.
As of Tuesday 17 November, active cases in George reached a whopping 97,58% of what it was during the first wave peak and Bitou has actually exceeded its first wave peak, according to Garden Route Disaster Management chief Gerhard Otto.
In a media statement on Tuesday, the Western Cape Health Department warned about the sharp increases in Covid-19 cases in the district and said George has the highest number of active cases in the province (690).
The weekly increase in infections in the district has more than doubled during the past week with 1 058 new cases recorded from Tuesday 10 November to Tuesday 17 November, compared with just more than 400 new cases the week before.
Deaths and hospitalisations are rising. A total of 25 deaths were recorded in the district during the past week, while it was only three to six deaths per week not long ago.
District spokesperson for Western Cape Health, Nadia Ferreira, confirmed that most of the new cases are being recorded in Thembalethu, Pacaltsdorp, Conville, Parkdene and Rosemoor.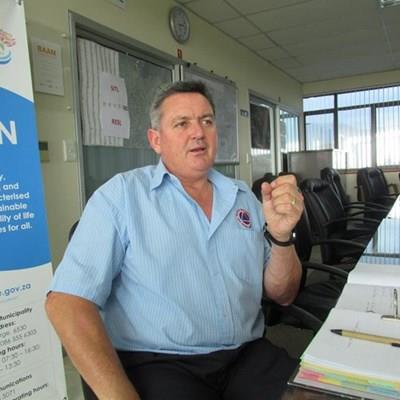 Gerhard Otto
Hospitals gearing up again
District health director Zee Brickles said they are reviewing non-essential hospital services such as elective surgeries, which have just been started again. Temporary additional contract posts are also being extended to ensure sufficient staff is available.
In both private and public hospitals in the district, 136 people are currently being treated for Covid-19, of whom 24 are in ICU / high care.
The George Hospital is treating 27 patients and 14 patients have been admitted to Harry Comay TB Hospital's Covid-19 ward.
Mediclinic George manager Kassie Karstens said they have 25 Covid-19 patients and have once again opened an allocated ward to be able to take in more patients.
Not long ago, they had only two Covid-19 cases and had been relieved to get back to more normal conditions. Since the renewed increase in Covid admissions, it has not been necessary to postpone any scheduled surgeries, but they are closely monitoring the situation.
Kassie Karstens
Law enforcement coming for super spreaders
Otto said they see a direct link in infections from super spreader areas such as taverns and in Bitou they could draw a direct link between the 10-day holiday period and the rapid increase in Covid-19 infections there.
Over the next two weeks vigorous law enforcement and compliance visits will be rolled out in the super spreader areas.
Other strategies to stop the spread include re-allocating staff to Covid-positive tracking, contact tracing and interrogating hot spots for selected community screening and testing. A communication strategy in communities is furthermore kept up.
Social gatherings source of infections
Brickles warned that flare-ups originate at social gatherings, which can be a party, religious gathering or even a workplace - any place where large numbers of people congregate, that is crowded, has poor ventilation and where social distancing cannot be maintained.
"When going out, always wear your mask and avoid crowded places, close-contact settings, and confined enclosed spaces with poor ventilation.
Even when you feel safe among friends and family, you should continue to wear your mask and maintain a distance of at least 1,5m from other people," he said.
Zee Brickles
Vaccine
Western Cape Premier Alan Winde last week said the international news of a potential vaccine represents a breakthrough in the fight against Covid-19, but people must be careful in their expectations.
"This particular vaccine which has been shown to be 90% effective so far, also requires stringent cold chain management and storage, the likes of which are not widely available around the world.
"Any new vaccine must pass all the relevant international safety standards before being made available for public use.
"With global demand for a vaccine being high, it would also take some time to produce sufficient dosages and [they] would need to be fairly allocated and distributed."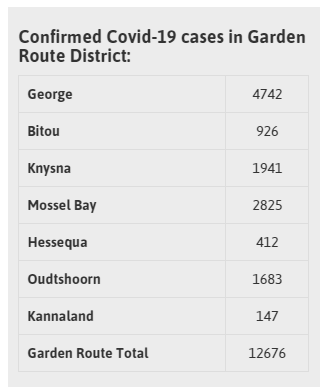 'We bring you the latest Garden Route, Hessequa, Karoo news'