WESTERN CAPE NEWS - In a statement today, Western Cape premier, Alan Winde, said that over 6 000 recoveries were recorded in the province.
The Western Cape has 6136 active cases of Covid-19, with a total of 12 519 confirmed cases and 6126 recoveries.
Total confirmed Covid-19 cases - 12 519
Total recoveries - 6 126
Total deaths - 257
Total active cases (currently infected patients) - 6 136
Total number of tests - 107 567
Garden Route District:
Bitou - 11 cases, 6 recoveries
Knysna - 28 cases, 17 recoveries
George - 37 cases, 18 recoveries
Hessequa - 8 cases, 7 recoveries
Kannaland - 1 case
Mossel Bay - 30 cases, 19 recoveries
Oudtshoorn - 6 cases, 3 recoveries
According to the statement:
The province has recorded a number of new recoveries and over 6000 people have recovered. It is also positive to see that only about half of the total number of cases reported in the province, are currently active.
It is important to remember that most people who contract COVID-19 will recover and 90% of cases will not require hospitalisation.
I want to stress though that some people, especially the elderly and those with underlying conditions can get seriously ill, and a person who may not get that sick could pass it to these vulnerable groups. We have to change our behaviour to protect ourselves and the people we love.
It is also very heartening to see that 65% of the healthcare workers in the province who have contracted COVID-19, have recovered. In total, the province has recorded 421 infections in healthcare workers in the province (both public and private sector) and 274 of these have recovered.
We thank all of our healthcare workers for the sterling work they are doing in healthcare facilities in the province, helping to fight this virus on the frontlines. The province has unfortunately recorded six healthcare worker deaths including one doctor, three nurses, and three other healthcare workers. We thank them for their incredible service to the province and send our condolences to their families.
Covid-19 spending and procurement:
Today, Finance Minister David Maynier and the Provincial Treasury team briefed the Western Cape Provincial Parliament's ad hoc committee on COVID-19 on our COVID-19 spending thus far.
To date, we have committed R1.14 billion to COVID-19 expenditure to be used in order to procure necessary supplies such as PPE, medical equipment and beds as part of our healthcare response, and in our humanitarian response in order to mitigate the impact of the virus and the lockdown on residents.
The R1.14 billion includes spending on:
R628 million to the Department of Health for personal protective equipment, laboratory tests, hospital beds and ventilators;
R273 million to the Department of Education for personal protective equipment, 7019 digital infrared non-touch thermometers for schools and, sanitisers and cleaning materials;
R168 million to the Department of Transport and Public Works for the set-up of quarantine and isolation facilities, including the set-up of the field hospital at the Cape Town International Convention Centre;
R35 million to the Department of Social Development and R18 million to the Department of Education for an initial humanitarian response which has included to provision on 50 000 food parcels; the re-initiation of school feeding schemes; and the delivery of 10 000 cooked meals per day for one month; and
R16.2 million to the Department of Local Government in the form of a Local Government Support Grant to strengthen and support the current humanitarian initiatives within municipalities.
The Director-General, Harry Malila and I also had the opportunity to brief the committee on our COVID-19 response plan, including our hotspot plan, which aims to slow the spread in the nine infection hotspots in the province through a targeted, whole of government approach.
The Western Cape Government has been working around the clock to ensure that the health systems are prepared ahead of the peak of the virus in the province. This is a very challenging time for our province and country, and we need to work together to slow the spread the virus and save lives.
We need everyone to take responsibility and make changes that will help us to flatten the curve of infection including:
Stay home as much as possible
Always wear a clean cloth mask in public
Always follow the golden rules of good hygiene (a mask alone is not enough)
Keep your distance from people at all times
Avoid gatherings of people
If you are sick, stay home and call the hotline. If you are having difficulty breathing, seek urgent healthcare.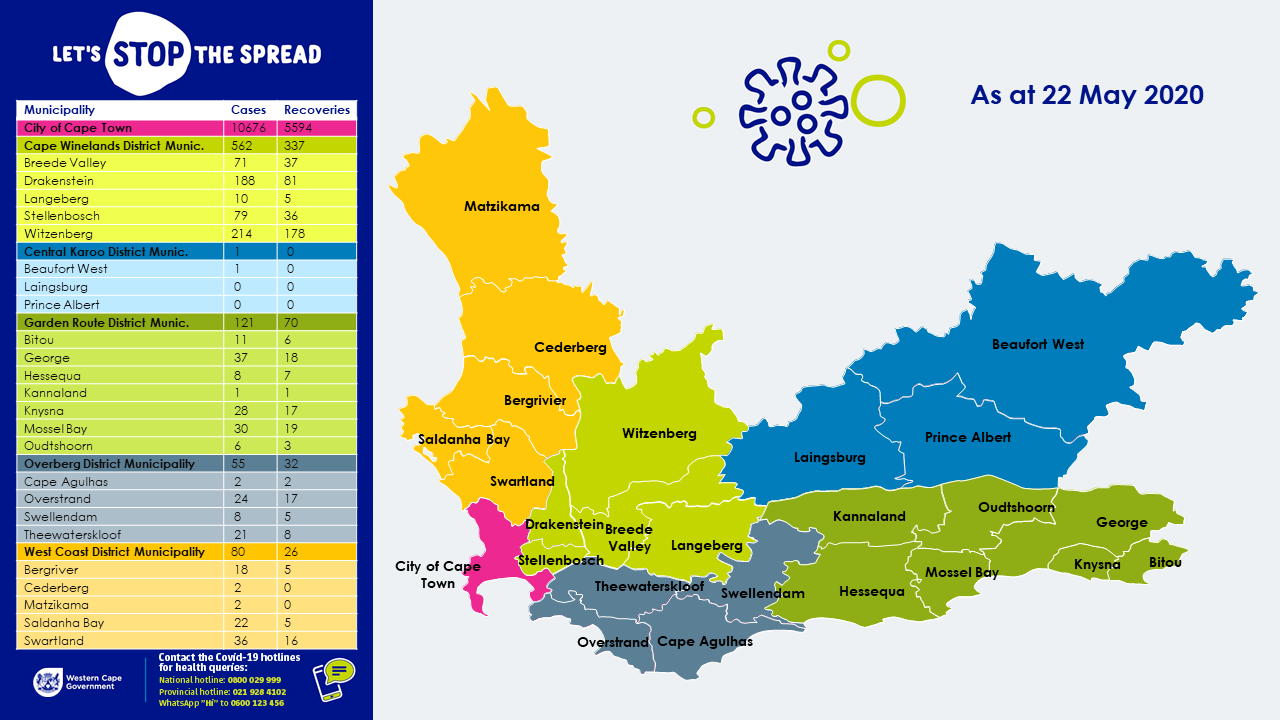 Dear reader, As your local news provider, we have the duty of keeping you factually informed on Covid-19 developments. As you may have noticed, mis- and disinformation (also known as "fake news") is circulating online. Group Editors (publications and online platforms) is determined to filter through the masses of information doing the rounds and to separate truth from untruth in order to keep you adequately informed. Local newsrooms follow a strict pre-publication fact-checking protocol. A national task team has been established to assist in bringing you credible news reports on Covid-19.
'We bring you the latest Garden Route, Hessequa, Karoo news'