GEORGE NUUS - Die Covid-19-pandemie het 'n impak op die lewering van behuisingsprojekte van die Wes-Kaapse regering wat in samewerking met munisipaliteite in die Suid-Kaap gedoen word.
So het Tertuis Simmers, Wes-Kaapse minister van menslike nedersettings, Donderdag gesê tydens 'n terreinbesoek by die Metrogronde in George.
Simmers is die week in die gebied om homself eerstehands te vergewis van vordering van die behuisingsprojekte.
Hy was Woensdag in Bitou/Knysna en is vandag (Donderdag) in George. Môre is hy op Oudtshoorn.
Simmers het aan George Herald gesê Covid-19 het beslis 'n impak op lewering. So byvoorbeeld moes die projek by Metrogronde einde Julie voltooi gewees het. Dit sal nou eers drie maande later voltooi wees. In die algemeen is hy tevrede met die vordering. Wanneer dit voltooi is sal dit meer as 600 behuisingsgeleenthede bied.
Oor Bitou het hy gesê dat daar aanvanklik bietjie krapperigheid tussen die burgemeester en sy departement was. "Ons kon klarigheid gee. Die burgemeester was aangenaam verras oor wat gedoen word."
Oor Knysna het hy gesê gegewe die politieke onstabiliteit het hy aanvanklik vrese gehad dat dinge verkeerd kon loop. Dit het toe nie gebeur nie en dit is trouens versnel. Altesame 76 huise sal in Hornlee oorhandig word.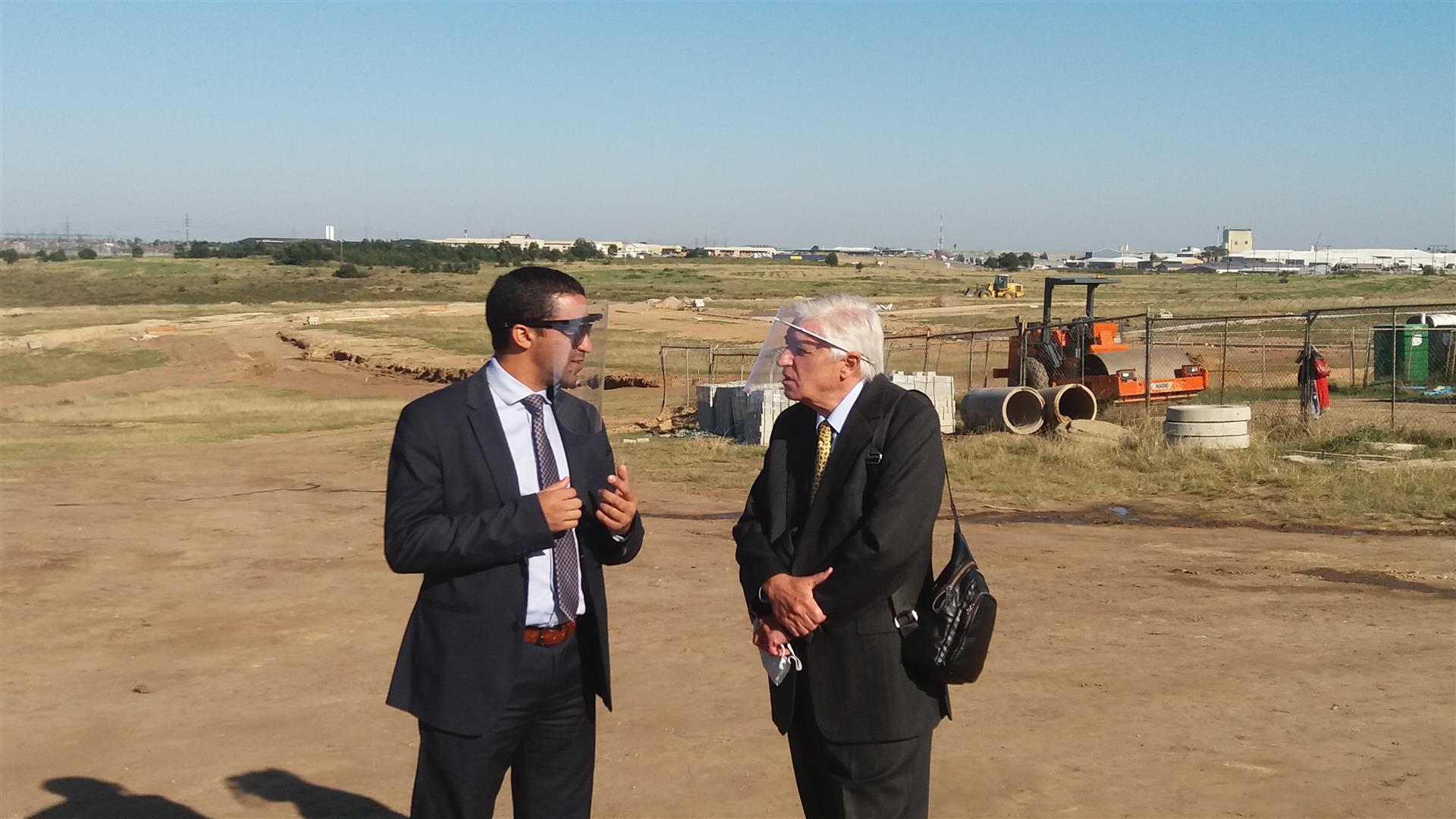 Tertuis Simmers, Wes-Kaapse minister van menslike nedersettings, en Leon van Wyk, George se burgemeester in gesprek tydens 'n besoek aan die Metrogronde.
Leon van Wyk, George se burgemeester, het gesê die siviele werke by die Metrogronde is byna afgehandel. Daar is nog werk wat gedoen moet word. Die munisipaliteit werk baie nou saam met die Wes-Kaapse provinsiale administrasie. Oor kommer dat daar nie genoeg gebruik gemaak word van plaaslike arbeid nie, het hy 'n onderneming gegee dat die aangeleentheid aandag sal kry.
Memory Booysen, burgemeester van die Garden Route-distriksmunisipaliteit, het ook gesê dat Covid-19 'n impak het op lewering van behuisingsprojekte.
"Nou dat die ekonomie meer oopgestel is, sal die beste moontlik gedoen word om dinge op dreef te kry."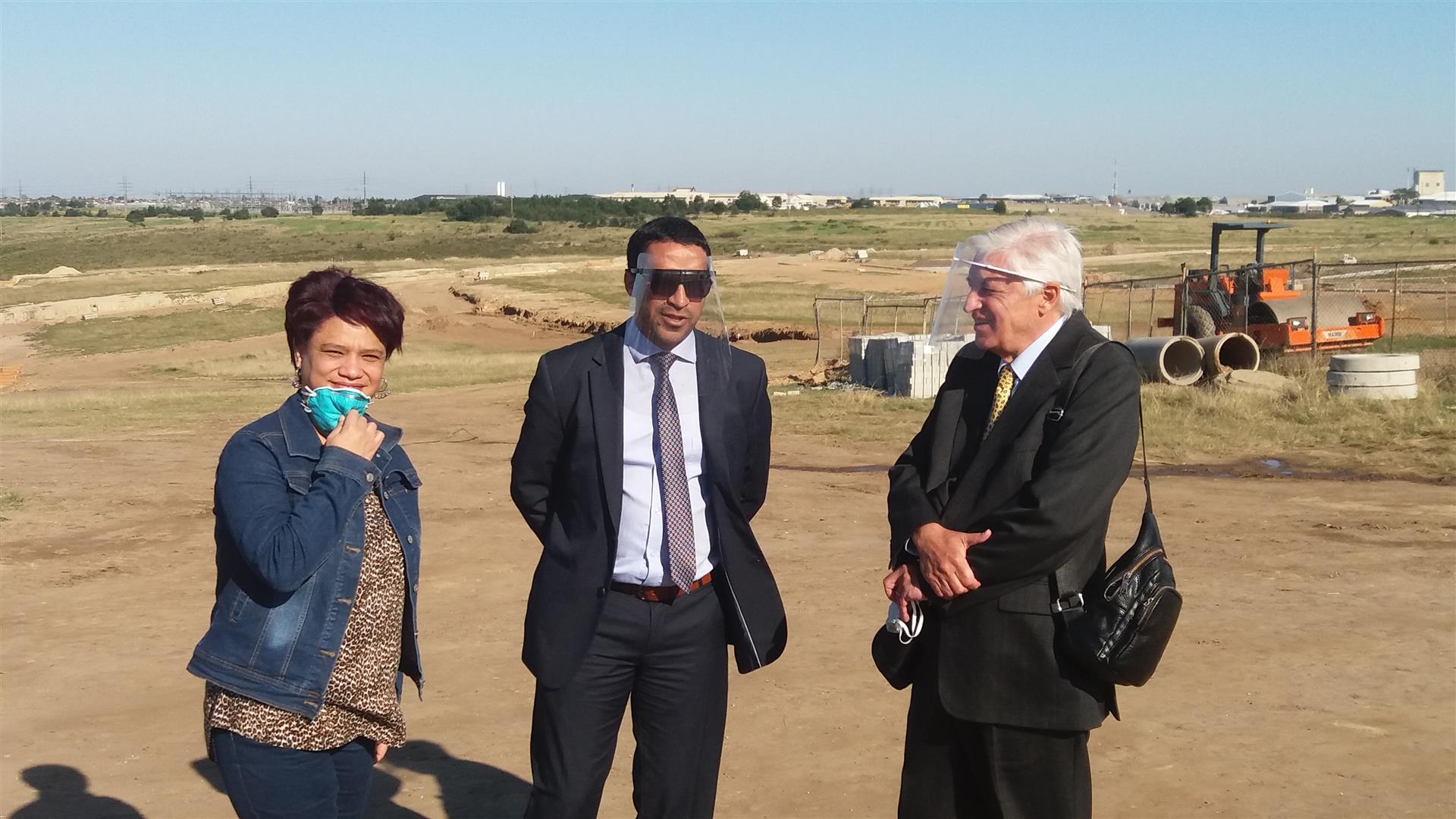 Monique Simmers (links) eggenoot van Tertuis Simmers, (middel) Wes-Kaapse minister van menslike nedersettings, Donderdag in gesprek met Leon van Wyk, George se burgemeester. Foto's: Eugene Gunning
Dear reader, As your local news provider, we have the duty of keeping you factually informed on Covid-19 developments. As you may have noticed, mis- and disinformation (also known as "fake news") is circulating online. Group Editors (publications and online platforms) is determined to filter through the masses of information doing the rounds and to separate truth from untruth in order to keep you adequately informed. Local newsrooms follow a strict pre-publication fact-checking protocol. A national task team has been established to assist in bringing you credible news reports on Covid-19.
'Ons bring jou die nuutste George, Tuinroete nuus'