GEORGE NEWS - Yesterday Georgians started the day without their usual cup of coffee as Stage 4 load shedding was once again implemented to prevent a total collapse of the national grid. At a press briefing on Tuesday in Johannesburg, Public Enterprises Minister Pravin Gordhan and Eskom chairman Jabu Mabuza, attempted to allay fears that South Africa is facing a total blackout or that Stages 5 and 6 will soon be implemented, but Gordhan freely admitted that the power situation is dire.
He said although teams are working around the clock, "it will be a huge struggle to overcome this crisis". He said the previous Eskom management has a lot to answer for, asking what happened to the money meant for maintenance. Gordhan could not provide a future timeline for load shedding, saying that he will have an answer in about two weeks' time.
The crisis is caused by collapsing infrastructure due to a lack of maintenance over the years and insufficient coal, but adding to the massive problems is a shortage of diesel to generate emergency power. A tanker with much-needed diesel is expected to dock today.
Municipality managing impact
George Municipal Manager Trevor Botha assured George Herald he and his team are trying their best to minimise and manage the impact of load shedding in George and surrounds.
"We are in constant contact with the senior Eskom officials in Port Elizabeth to ensure they keep to the load shedding schedule they give through and, where possible, to negotiate amendments to the schedule that would be the least disruptive."
On Wednesday morning load shedding was scheduled from 06:00 to 08:30, but the power was back on at 08:00, enabling businesses to open their doors on time. Botha said the municipality is investigating alternative sources of energy in line with government and the National Energy Regulator's (Nersa) policies on energy generation at local government level. "We are also working with the Council for Scientific and Industrial Research (CSIR) to establish a suitable energy mix. It entails the installation of photovoltaic* plants."
Blackout equals chaos
Although load shedding is causing major upheaval, a total blackout must be avoided at all cost, as it could take up to three weeks to get the grid going again.
This will lead to disrupted service delivery, a breakdown in telecommunications, sewerage blockages and security problems, while cable theft and other crime could increase.
People who reside in the George municipal area can visit www.georgeherald.com for the latest on the power situation and load shedding updates as announced by Eskom and communicated by the George Municipality.
* A photovoltaic system, or solar plant system, converts sunlight into electricity.
DA wants more independent power providers - announces national day of action
In light of the national power crisis, DA Federal Leader, Mmusi Maimane, yesterday announced a national Day of Action to take place next week Friday, 29 March. From now until then, the DA will attempt to mobilise South Africans in their thousands to participate in activities across the country to protest "the damage and destruction that the ANC government has caused".
In a statement issued by the MEC of Community Safety Alan Winde in his capacity as DA Western Cape Premier Candidate, Winde said the government has lost control of the situation at the power utility.
He said the complete collapse of Eskom is a long time coming and that the DA-run governments have taken concrete action at both provincial and city levels to manage the impact in the province.
He said over the past decade, while the economy struggled, the Western Cape delivered half a million new jobs and the lowest unemployment rate in the country. Winde said residents and businesses of the Western Cape are being sabotaged by the collapse of Eskom. "When we had stage 4 load shedding for the first time in February, that day cost the Western Cape economy more than R3 billion. We are now on our fifth consecutive day of stage 4 - the cost is going to be enormous. Businesses fail when the lights go out. Investors shy away from the uncertainty over the power supply. This costs jobs and growth."
Winde said the Western Cape government embarked on an Energy Security Game Changer in 2016, to stabilise electricity supply and invest in green energy production.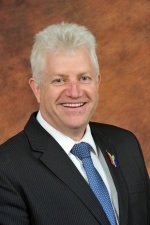 Alan Winde.
Independent Power Production
He said 27 Independent Power Producers (IPP) contracts that were ready to go and bring about R56 billion in investment, were delayed until 2018 because of attempts to force "a catastrophic nuclear deal on our country". He said the new bid window that was supposed to open at the end of last year still hasn't opened. He said the DA will fight for energy independence from Eskom.
"The Western Cape has legalised generating your own electricity with solar panels in 22 municipalities, and in 18 of those, you can sell excess electricity back to the grid. And six studies have been conducted exploring the potential of natural gas to supply power and create jobs in the province.
The DA will continue the fight to source electricity from IPPs. Already, IPP projects in the Western Cape have generated over 3 200 jobs per year, despite national government's restrictions." He said many more jobs could be created through IPPs.
Dan Plato, Mayor of Cape Town says the future lies in energy decentralisation technologies like gas and renewables. "This is why we created a dedicated Energy and Climate Change Directorate at the end of 2018," said Plato.
"As one part of our immediate action plan, we've asked the courts to compel the Minister of Energy to allow us to buy cleaner renewable energy from independent power producers."
Plato said to deal with Eskom's load shedding demands, the City has invested extensively in technologies to assist with the switching process as shedding proceeds. In addition, the Steenbras Dam generation capacity has been used to lower the load shedding stage in Cape Town. It is currently undergoing maintenance to ensure that it continues to function optimally - something Eskom fails to invest in.
At a national level, the DA has introduced a national bill - the Independent System and Market Operator (ISMO) Bill - which proposes that Eskom be split into a power-generating entity and a separate power-distribution entity. The power-generating division would compete fairly with other power producers to provide cheaper electricity.
'We bring you the latest George, Garden Route news'