GARDEN ROUTE DISTRICT NEWS - The Eden branch of the Wildlife and Environment Society of South Africa (Wessa) calls on all nature lovers to shake out their lockdown feathers, emerge from hibernation and reset their minds for the City Nature Challenge 2021.
With only 75 individuals contributing to the first ever Great Southern Bioblitz earlier this year, the Garden Route achieved a third place for its number of observations, and was runner-up for the number of species documented through the iNaturalist app. This is a solid improvement on the ranking for the Garden Route in the City Nature Challenge 2020 earlier this year during Stage 4 lockdown.
The worldwide challenge is about engaging residents and visitors in documenting nature to better understand urban biodiversity.
The district was listed 10th for observations and was placed 6th for the number of species documented, with 323 contributing individuals.
Honorary secretary of Wessa Eden Christine Ridge-Schnaufer said they need to get as many organisations lined up for a second go at this exciting challenge next year. "We need to show people how to use this application on their phones and we want to get kids involved," she said. "The idea is to reach out to all social sectors of the Garden Route region. It is all about raising awareness of biodiversity. We want kids to look at their environment in a different way. Those who volunteer their help all do what they like to do, whether it is raising awareness at the schools, running social media awareness or doing fieldwork. It is so much fun!"
Getting started
The first meeting in preparation for the City Nature Challenge 2021 took place last Friday at the Garden Route Botanical Garden in George. Those on board to help run the project include Wessa Eden, the Botanical Society Garden Route branch, Crew (Custodians of Rare and Endangered Wild flowers), the Landmark foundation, CapeNature, SANParks, NMU and the Knysna Basin Project.
The challenge will take place from 30 April to 3 May next year. "In this four-day time frame all the observations must be made," said Ridge-Schnaufer. "A grace period of a week will be allowed to upload and identify the species. Experts will then check the entries. This is the labour of love."
For information, send an e-mail to wessageorge@isat.co.za or visit the website, www.inaturalist.org.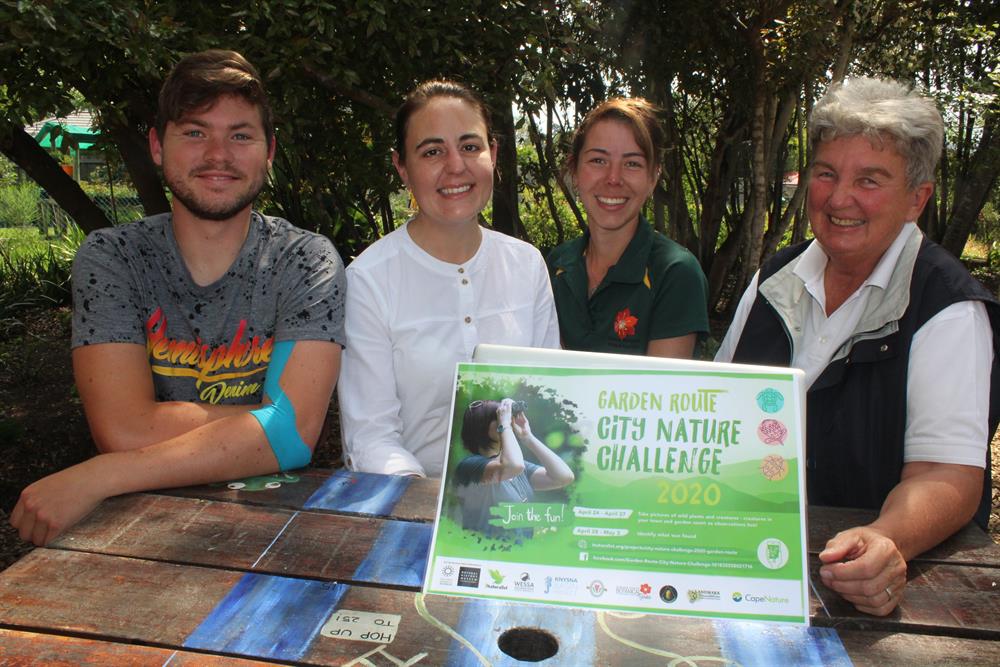 Getting ready for the City Nature Challenge 2021. From left are Frederick Munro (NMU 3rd year student: Nature conservation), Pauline Cloete (Kai Tikquoa Conservancy), Corné Brink (manager of the Garden Route Botanical Garden) and Christine Ridge-Schnaufer (Wessa Eden). Photo: Michelle Pienaar
'We bring you the latest Garden Route, Hessequa, Karoo news'