GEORGE NUUS - Die wewenaar van Heroldsbaai, Ettienne Scheepers, familielede en die nuwe liefde in sy lewe, Nazisca Moolman, het Donderdag 22 Oktober, 'n kranslegging ter herdenking van Heidi (35), Cozette (6) en Hugo (2) gehou.
Scheepers het 'n blommekrans neergesit by die plek waar hulle silwerkleurige Volkswagen Caravelle verlede jaar afgestort het.
Die kinders se versorger, Susan Fungai, het ook by die gesin aangesluit om blomme neer te sit. Sy was baie na aan die kinders en het elke dag na hulle omgesien.
Scheepers het ook drie kerse op die krans waar die Caravelle afgestort het, aangesteek.
Heidi en die kinders het op Dinsdag 22 Oktober 2019 in Heroldsbaai vermis geraak. Die volgende dag is die Caravelle waarin hulle gery het aan die voet van 'n krans naby die Voëlklip-uitkykpunt op Heroldsbaai gevind.
Hugo se liggaam is op Donderdag 24 Oktober naby die wrak gevind waar hy in die water gedryf het. Hy was nog in sy karstoeltjie vasgemaak. Heidi se liggaam is die volgende Saterdag in die see naby Heroldsbaai-strand gevind. Cozette is nooit gevind nie. Die presiese omstandighede rondom die voorval is nog onbekend en die ondersoek duur voort.
Nuwe liefde
Scheepers en Moolman het in September vanjaar hul liefde bekend gemaak. Hy het vroeër aan George Herald gesê dat na hy sy gesin verloor het, sy lewe weer begin sin maak het toe daar 'n sterk emosionele band tussen hom en Heidi se niggie, die blou-oog Moolman, begin vorm het.
Moolman, 'n ma van twee van Bloemfontein, is tans besig om van haar man te skei.
"Sedert Heidi en die kinders se dood was en is Nazisca steeds my grootste ondersteuner. Sy het my bygestaan van die begin af en ons het 'n baie sterk emosionele band begin vorm. Sy was regtig daar vir my. Ek sal altyd lief wees vir Heidi en ek sal altyd na my gesin verlang, maar ek kan nie vir die res van my lewe in sak en as sit nie. Ek weet nie wat mense verwag nie, maar tot hulle nie in my skoene was nie moet hul liefs nie oordeel nie," het hy gesê.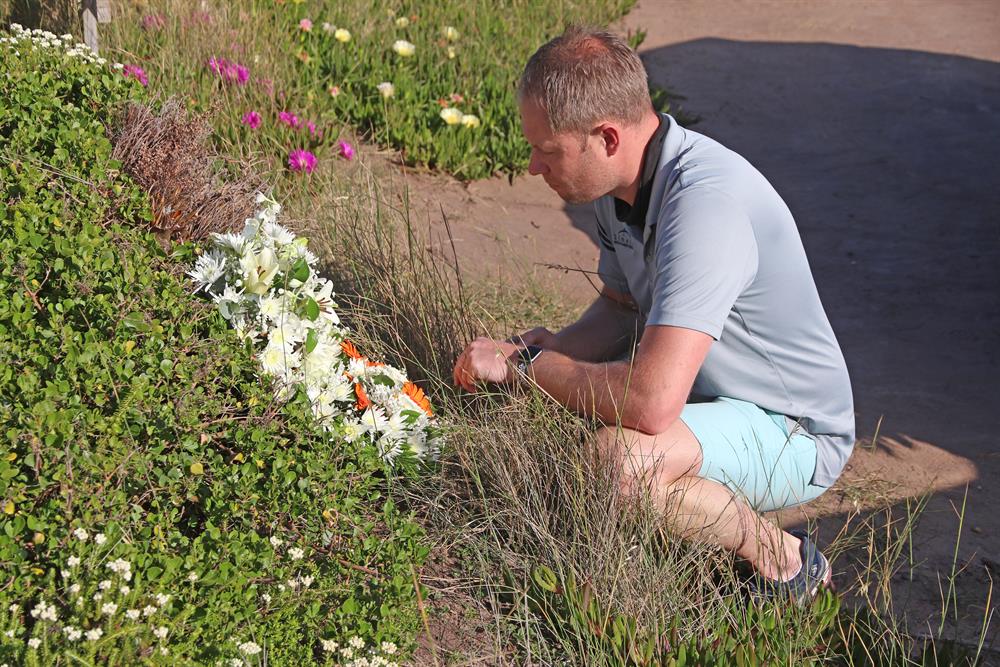 INLAS - Scheepers by die blommekrans wat hy vir Heidi en die kinders neergelê het.
The widower from Herold's Bay, Ettienne Scheepers, immediate family members and the new love in his life, Nazisca Moolman, went up to Voëlklip on Thursday 22 October, to lay a wreath in memory of his wife and children who died tragically a year ago. The children's carer, Susan Fungai, also joined the family to lay down flowers for Heidi (35), Cozette (6) and little Hugo (2).
Previous article: Voëlklip investigation not over
'We bring you the latest George, Garden Route news'