WESTERN CAPE NEWS - The Western Cape is currently experiencing a resurgence in cases of Covid-19.
"We are seeing a very concerning increase in the number of people being hospitalised," said Premier Alan Winde in his latest statement.
"I will be holding a strategy meeting this afternoon where we will be exploring practical ways in which we can slow and manage the spread of infections. The Western Cape Government is working hard to ensure that our economy is not further impacted and in order to do that, we need all residents to take responsibility for their actions and play their part.
"You can do this through simple infection prevention protocols such as wearing your mask, social distancing and hand hygiene and by avoiding crowded places, confined spaces and close contact."
Infection update:
As of 13:00 on 27 November, the Western Cape has 8438 active Covid-19 infections.

* Total confirmed COVID-19 cases - 128509
* Total recoveries - 115 470
* Total deaths - 4601
* Total active cases (currently infected patients) - 8438
* Tests conducted - 768 848
* Hospitalisations - 1067 of which 195 are in ICU or high care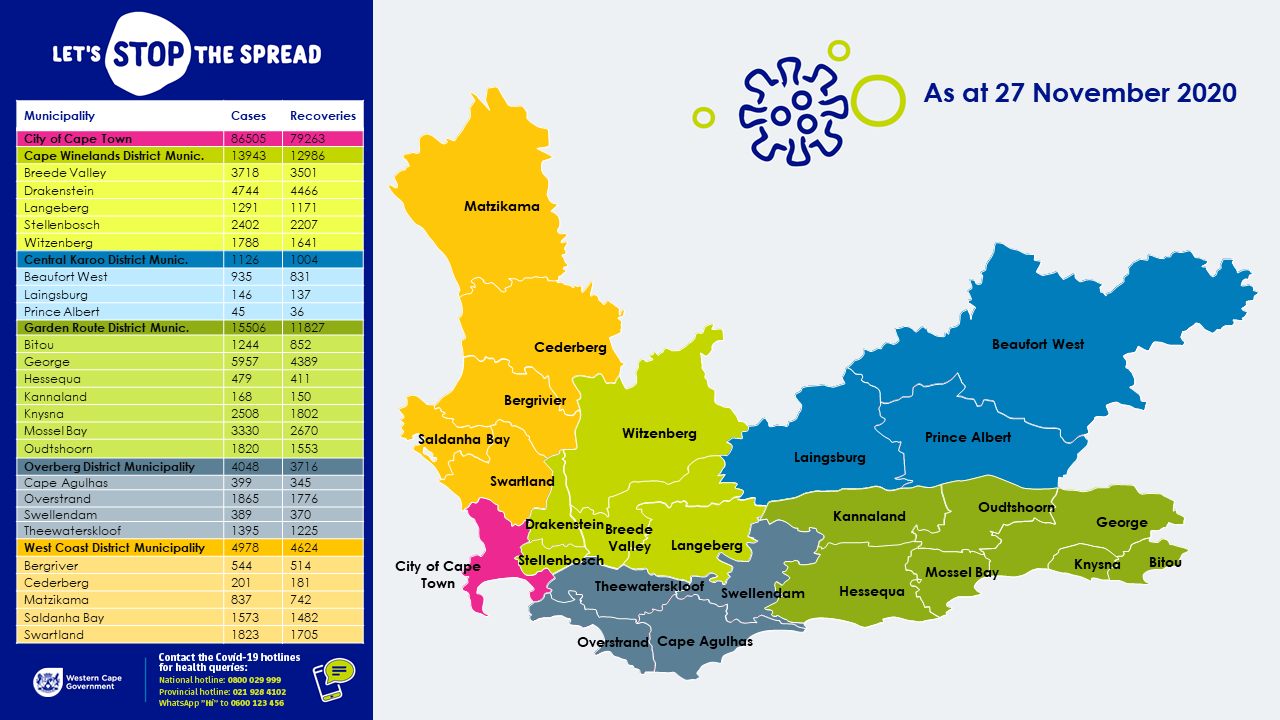 The rest of Winde's statement follows below:
Entrepreneurs recognised
"Last night Minister of Finance and Economic Opportunities, David Maynier announced the six winners of the Western Cape Entrepreneurship Recognition Awards. Rise Uniforms, a Philippi based clothing and uniform manufacturing business run by Ntombi Nonxuba, walking away with the prize in both the women owned business category, as well as the overall Business of the Year win.
"Rise Uniforms employs 46 people from the surrounding Philippi community, and during lockdown, Ntombi was able to pivot the business to start making personal protective equipment and clothing, thereby saving her business and the jobs of her staff.
"Ntombi's inspiring story is just one of many among the 12 winners and finalists and I would like to send my congratulations to all of the winners and runners-up. Entrepreneurship is a cornerstone of job creation in this country and it will play an important role in the Western Cape Government's recovery efforts to grow jobs in the province."
For a full list of winners, read Minister Maynier's statement here.
"As part of our efforts to support businesses and entrepreneurs, the Western Cape Government has committed to further reducing red tape, promoting investment and introducing export development programmes.
"We have also allocated R27 million in relief funding to support SMMES, with a further R12 million announced in the Medium Term Budget Policy Statement yesterday."
The Department of Agriculture has allocated R12 million of its funding for stipends in the wine tourism sector. Applications for this funding remain open until 15 December and more information is available here.
Minister Maynier has also announced a further R8.5 million in support for the wine sector, as well as plans to support small businesses through the allocation of R155 million in funding for basic infrastructure repairs in Western Cape schools.
"I further call on residents to support small and local businesses wherever possible but to do so safely. Each Rand we spend helps to support jobs which in turn, helps to make our communities safer, and promotes dignity and wellbeing."
'We bring you the latest Garden Route, Karoo, Hessequa news'