GEORGE NUUS - 'n Ma van Rosemoor sit met haar hande in haar hare oor 'n "begrafnispolis" wat sy uitgeneem het. Dit blyk nou dat die polis net sterftes dek wat deur 'n ongeluk veroorsaak is.
Indien jy vermoor word, selfdood pleeg, of aan 'n natuurlike oorsaak soos suikersiekte sterf, betaal die polis nie uit nie.
Rochelle Lottering is gefrustreerd, hartseer en raadop omdat sy geen dokumentasie het wat bewys dat dit 'n begrafnispolis is nie. Die transaksie is meer as 'n jaar gelede telefonies gedoen en die paaiement is net by haar rekening gevoeg. Dit is 'n polis van Ackermans, en onderskryf deur Hollard.
Na Lottering se dogter, Zerandy (15), onlangs dood is, het sy onmiddellik na Ackermans gegaan om vir 'n eisvorm te vra.
"Hulle wou verskeie dokumente by my hê soos die doodsertifikaat, bewys van verhouding, afdrukke van ons ID's, bankstaat en 'n polisieverklaring asook die nadoodse ondersoek."
Sy vertel sy het verskeie kere die dokumente per e-pos gestuur asook gefaks, en elke keer is sy gesê daar kort nog 'n dokument. "Nie een keer vandat ek met hulle kontak gemaak het, het hulle vir my gesê dat dit nie 'n begrafnispolis is nie."
Hulle het aanhou vra vir die nadoodse ondersoek uitslae en sy het aan hulle probeer verduidelik dat sy niks kan doen om die ondersoek vinniger af te handel nie. Intussen moes sy haar dogter begrawe en het van moedeloosheid by Pacaltsdorp-begrafnisdienste se Unity Aldalgamony gaan hulp soek. "My suster het my soontoe verwys."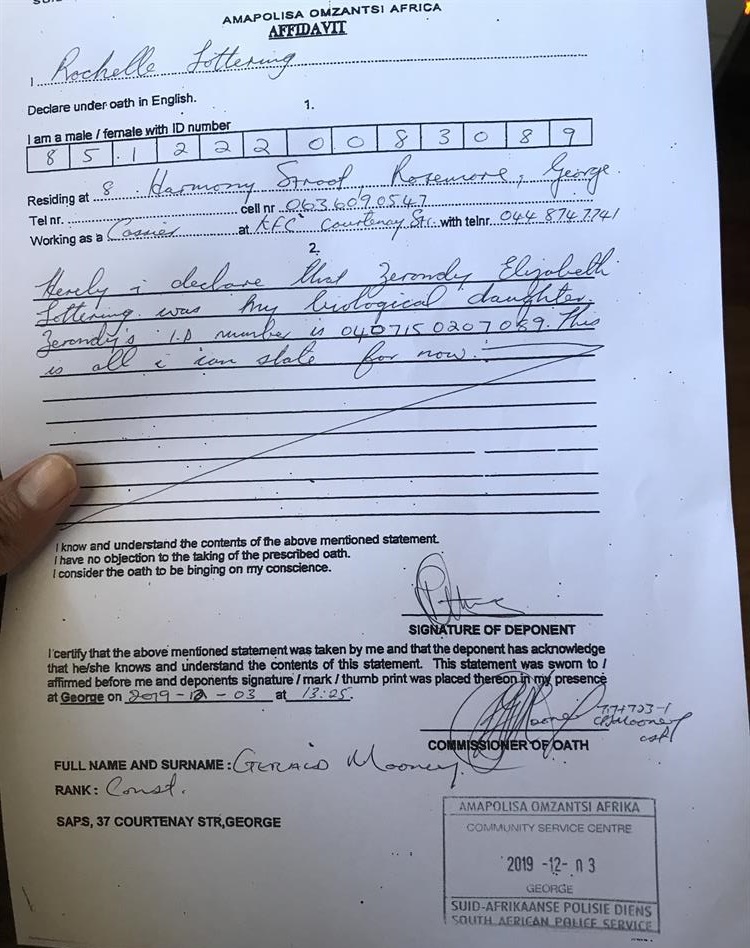 Die beëdigde verklaring waarin Rochelle moes verklaar dat sy die oorledene se wettige, biologiese ma is. Hierdie is een van tientalle dokumente wat aanhoudend aangevra is deur Ackermans se dienssentrum.
Toe Aldalgamony hoor dat dit 'n Ackermans-polis is, kon sy net haar kop laat sak.
"Nie al weer nie. Ons mense word elke keer ingeloop en omdat die plekke en mense so ver sit en nie die mense in hul taal kan help nie, kry hulle nooit waarvoor hulle betaal nie."
Sy het Lottering aan die hand gevat, haar dogter begrawe en probeer sedertdien om die geld van die begrafnispolis te kry sodat sy betaal kan word. Dit was vir albei vroue 'n groot skok om uit te vind dat dit blykbaar nie 'n begrafnispolis is nie.
Zenzile Mogoba, 'n kommunikasiebestuurder by Hollard, sê hulle het al Lottering se dokumentasie gekry, maar het gewag vir die nadoodse ondersoek. Die rede hiervoor is omdat die polisieverslag sê die ondersoek na haar dogter se dood is steeds aan die gang.
Mogoba het aan George Herald verduidelik dat volgens Lottering se ID-nommer het sy 'n "Personal Accident Policy". "Die rede hoekom ons die nadoodse ondersoek wou hê was omdat die polis net sterftes dek wat deur 'n ongeluk veroorsaak is."
Sy sê daar word in die polisieverslag melding gemaak van moontlike selfdood, en die nadoodse ondersoek sal hulle help om duidelikheid te kry oor die ware oorsaak en dalk selfdood uitskakel.
Unity Aldalgamony van Pacaltsdorp-begrafnisdienste het vir Rochelle se dogter se begrafnis betaal.
A Rosedale mother, Rochelle Lottering, has had endless problems burying her daughter after it was found that a Hollard policy she took out at Ackermans was not a full funeral cover policy, as she thought. The policy only covers death by accident. According to Hollard, they are waiting for the post mortem results as the cause of death has not been confirmed. Lottering's daughter was eventually buried with the assistance of Unity Aldalgamony of Pacaltsdorp Funeral Services. Aldalgamony says the policies sold at Ackermans often cause problems as policy holders do not fully understand the details.
'Ons bring jou die nuutste George, Tuinroete nuus'