GEORGE NEWS - Residents of the Camphersdrift area (Ward 3) were up in arms on Tuesday 30 March when a contractor started felling a clump of giant gum trees in their neighbourhood where a popular hiking path starts.
The contractor told the newspaper they stopped sawing after he had received complaints. He did not want to comment further and referred the newspaper to the George Municipality.
Six gum tree types are regulated under the Nemba (National Environmental Management Biodiversity Act) Alien and Invasive Species Regulations. These include the Eucalyptus diversicolour (karri gum), which is applicable in this case.
According to the regulations, gum trees in urban areas are not listed for removal if they have a diameter of more than 400mm when measured at a height of 1m from the ground. The trees that were cut off in Camphersdrift were mostly bigger than this.
One of the unhappy residents, a professional in the timber industry, said Eucalyptus trees use a lot of water but they give a lot more to the ecosystem and environment. They transpire, create rain, remove carbon dioxide from the atmosphere, provide beautiful vistas, and support substantial bee communities, insects and raptors.
"Such giant trees get water from deep down and have little bearing on the flow of stream and rivers. The young alien trees that are growing prolifically writhing the river and stream systems should actually be targeted. They have an impact on the water flow. The felled trees were 100m from the riparian zone or river."
Public consultation
He said there should have been a public consultation process. "These trees were in a public space. They could still have grown for many, many years. Blue gums grow over 200 years. George has already lost a great number of magnificent old trees to the borer beetle and during strong winds last year many pine trees were blown over in the forest here in Camphersdrift."
He said the felled trees were being cubicated on site, which means they were probably being sold to a sawmill. "Were they being felled only for commercial reasons? The value of the timber in round log form is R600 per metre cubed and in plank form is R3 500 per cubic metre.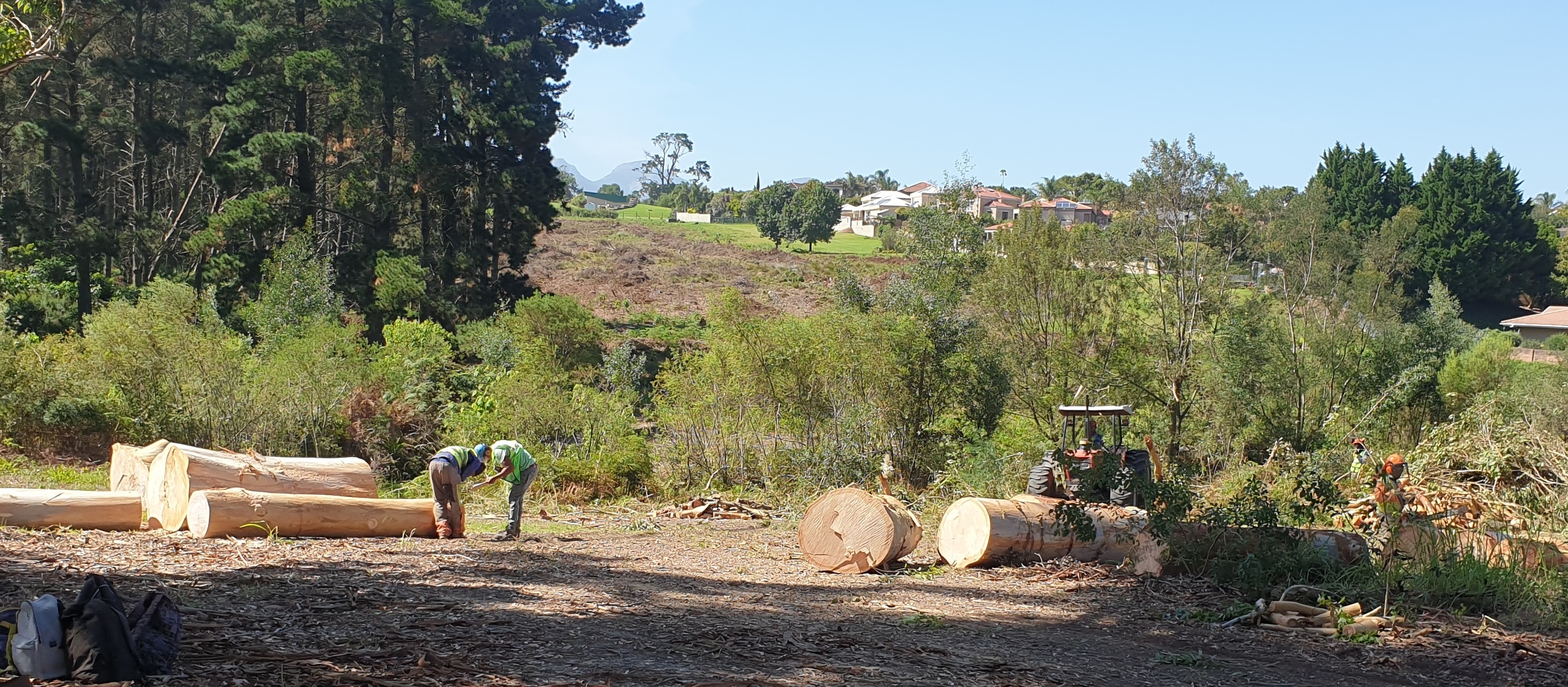 An area in Camphersdrift (Ward 3) was cleared of giant Eucalyptus trees, leaving residents angered. The contractor, who was working on orders of George Municipality, was temporarily stopped until the municipality obtains an expert opinion from outside of the Southern Cape. Photo: Alida de Beer'Need for tree committee of experts'
Monica Vaccaro, a local conservationist, said the contractor went for the oldest, biggest trees.
"The first two to go were the biggest - 1,16m and 1,24m in diameter respectively. These trees may be well over 60 years which means they could have heritage status. The same happened in Blanco where only the biggest ones were removed. The rest were left in the river."
Vaccaro made a plea for a tree committee of experts to be established. "They can give their input so that educated decisions are made based on expert knowledge. We have lost many of our oak trees as well as indigenous trees. We need to be more circumspect about the management of our trees."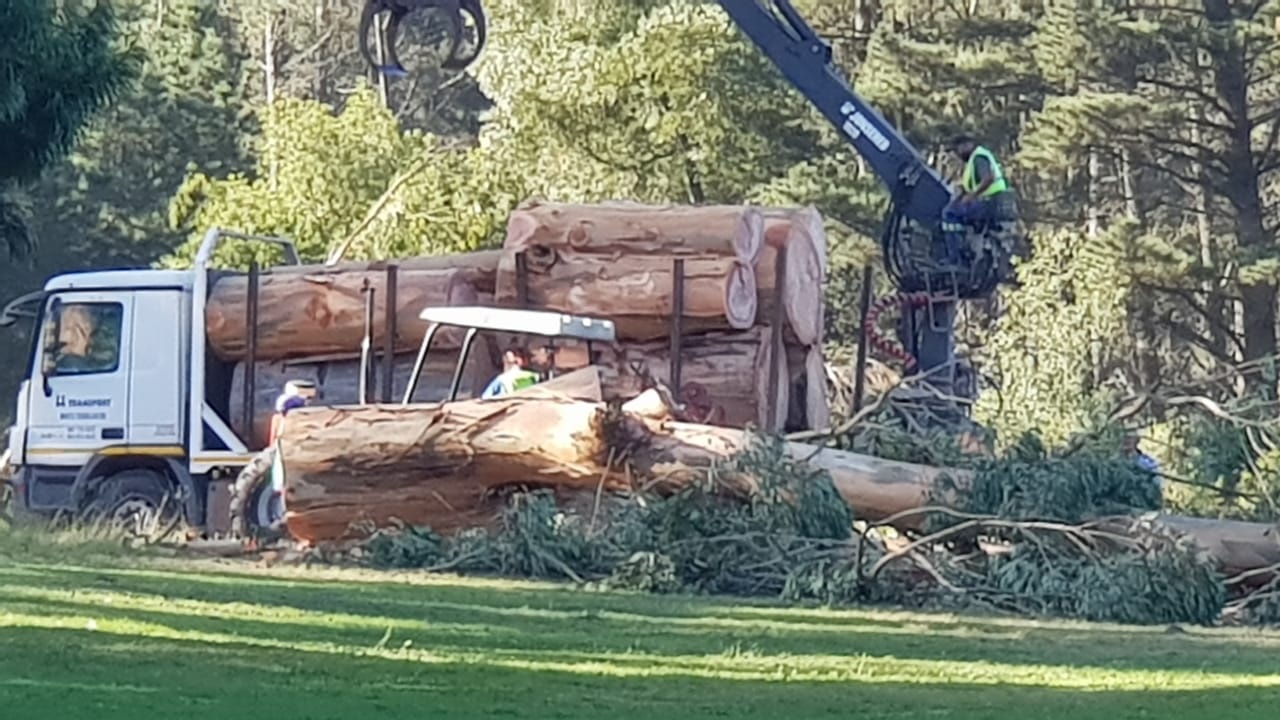 Massive logs of the felled gum trees photographed by Monica Vaccaro.George Municipality responded as follows to George Herald's query:
The removal of the alien vegetation, in this instance bluegum trees (categorised as NEMBA Category 1a) was requested by the George Municipality. The management and control of invasive alien species is governed by the National Environmental Management Biodiversity Act (Nemba) which categorises alien invasive species in the South as follows:
Category 1a & b - must be removed and destroyed immediately.
There has been a tree committee in the past comprising knowledgeable individuals, to assist with decisions. It was upon the suggestion of the acting manager: Parks and Recreation that this be resurrected again to deal with tree-related queries. George "lost" our oak trees to Polyphagous shothole borer and old age and the municipality took a stand to remove the trees as they were dropping branches and were becoming dangerous to vehicles and pedestrians.
It is agreed that the black wattles in Camphersdrift in the riverbed must be dealt with, but the municipality has a limited alien clearing budget. The areas selected for clearance of aliens are in spots where human safety is a priority.
The contractor has been doing the cutting of very large trees for the George Municipality at no cost, thus saving the tax payer sums in excess of R200 000.
The felling of the trees has been temporarily stopped as an expert not residing in the Southern Cape has been contacted to render an opinion on the merits of keeping the particular trees.
Vaccaro commented, "If human safety was part of the motivation for cutting down the trees, why did they start with the ones farthest from the houses?"

Sanbi (SA National Biodiversity Institute) says according to the regulations the following applies:
* If the gums are within cultivated land and are at least 50 metres away from untransformed or natural land (natural land may not be cleared to achieve this) they do not need to be removed.
* Gum trees in urban areas are exempt from removal if their trunk diameter is more than 400mm when measured at 1 000mm from the ground.
* Eucalyptus trees within a riparian area (i.e. within 32m of the edge of a river, lake, dam, wetland or estuary, or within the 1:100 year floodline, whichever is the greater), must be removed. This is necessary to prevent their establishment downstream, and impacts on water, sedimentation and on biodiversity.
* Gums in protected areas (declared national parks, provincial reserves, mountain catchment areas and private nature reserves) must be removed. Discretion can be applied for non-invading species that add value to a protected area, e.g. shade for parking or historical value.
'We bring you the latest George, Garden Route news'